Thank you so much to everyone who's engaged with #Appvent22 this year. Particular thanks from me go to my partner in edtech over at Global Edtech, Ronan Mc Nicholl and of course our fantastic guest contributors: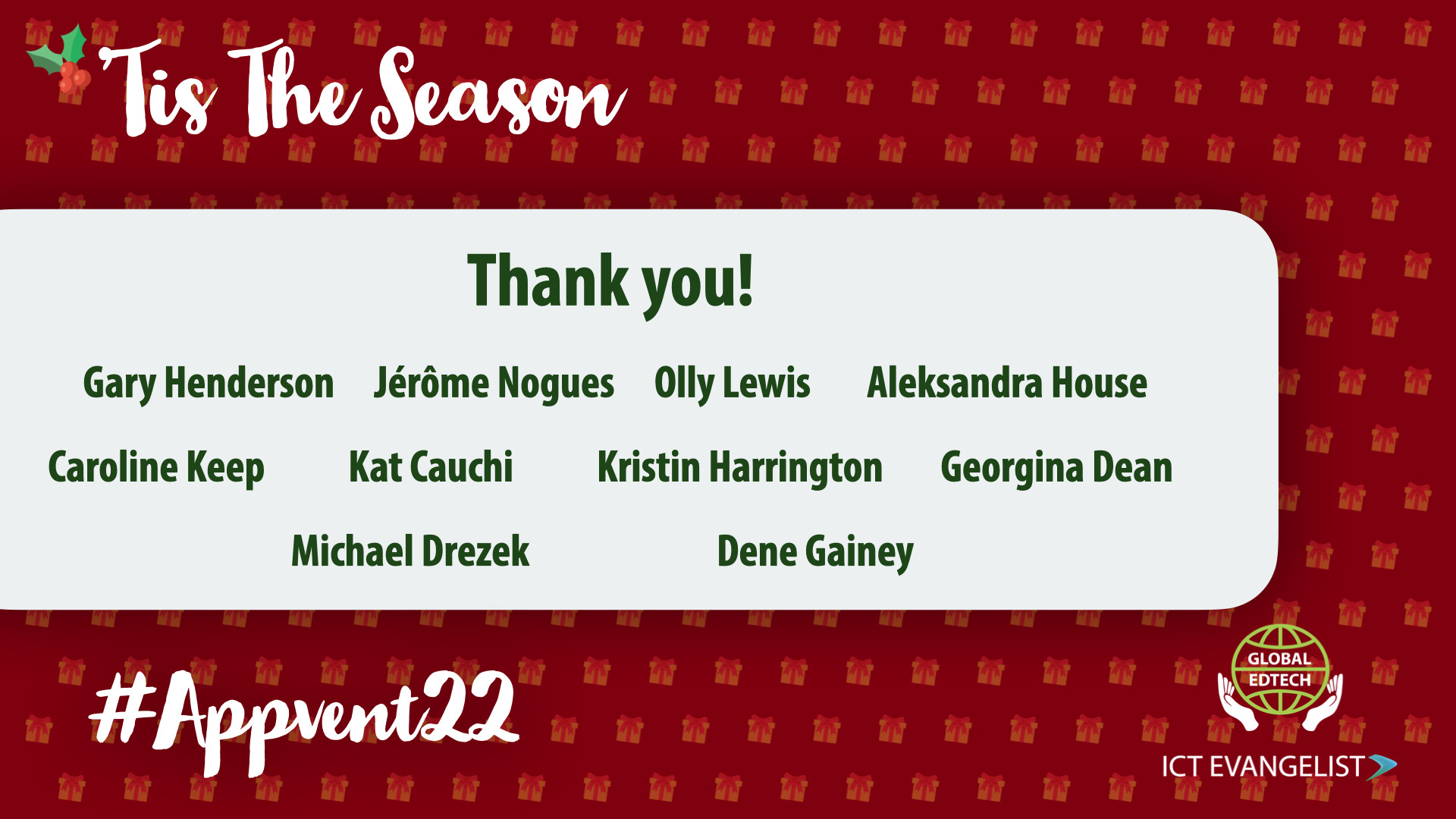 Gary Henderson – who shared about Power Automate on day five
Jerome Nogues – who shared about classroom.cloud on day eight
Olly Lewis – who shared about Project Evolve on day twelve
Aleksandra House – who shared about the useful Read & Write from Texthelp on day thirteen
Caroline Keep – who shared the fab Molehill Mountain on day fourteen
Kristin Harrington – who reminded us about Live Captions in Windows on day fifteen
Kat Cauchi – who shared the great Measure app for iOS and iPadOS on day sixteen
Georgina Dean – shared her love of Adobe Fresco in the nineteenth entry
Michael Drezek – with the useful Elementari on the twenty-first
Dene Gainey – with him sharing about SpacesEDU in yesterday's penultimate reveal
So what about the final reveal?
As you can imagine, there is a fair amount of planning and effort that goes into setting up a daily graphic (x 2) for each Appvent entry and the associated product review and the proofing and checking involved. Normally on Appvent, I would write the final day's post but I've been suffering from the Flu the last week. I'm not going to lie, it's been tough.
So to help out and in doing so, stepping up to the plate, earlier this week Olly Lewis said that he would be very happy to help out and write today's final entry, so here it is.
Always a crowd pleaser, with lots of uses to support learning the classroom, today Olly shares the ever-popular and useful, Microsoft Lens: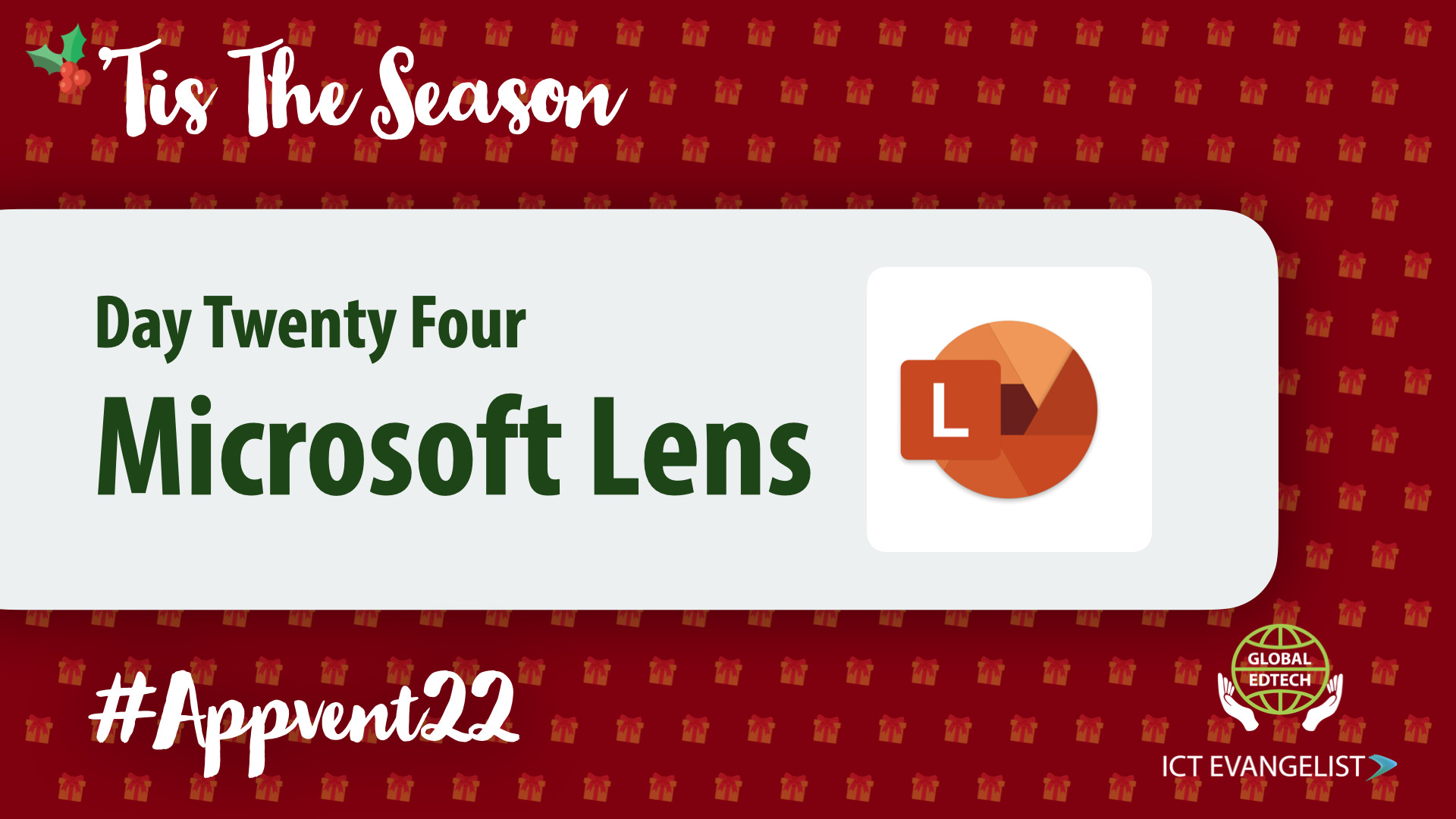 One of the guiding principles that we should always have where technology is concerned is that it should fundamentally make our lives easier, reduce workload, where possible integrate across your ecosystem, and also be simple to use with impactful outcomes. Perhaps it is endemic to the way of the world, or simply that there are so many different solutions out there in the marketplace, yet people aren't always aware of, or remember, or make use of, some of the simplest and most effective tools such as today's entry for the Appvent calendar.
Standing the test of time
You might read this after the big reveal and think this is an oldie and yes it is, but it's definitely a goldie, and for me, that's the hallmark of great edtech; it stands the test of time. Yet, there are still many people that still aren't aware of this great free tool: Microsoft Lens, formerly Microsoft Office Lens.
What is Microsoft Lens?
Microsoft Lens is a bit like a Swiss Army knife within the Microsoft ecosystem and forms a part of the Microsoft Intelligent Cloud platform. It is an app that helps users capture and saves images, and scan documents, whiteboards, business cards, PDFs and other items that you might need to keep or share via OneDrive, OneNote or other cloud storage services. It also integrates with Microsoft's Office suite of applications, allowing users to quickly and easily share their images and documents with others turning them into Word docs, PowerPoints, and more at the click of a button.
5 modes in Microsoft Lens
Actions – 

capture printed text or tables to instantly extract into your own document.

Photo – 

great for taking images of people and scenery.

Document – 

perfect for capturing documents that have details and small words on a page; like worksheets, tables, maps, and posters.

Whiteboard – 

excellent for capturing notes on a whiteboard and computer screens, the app will also automatically adjust the image so that the background isn't too bright and the text is easier to read.

Business Card – 

capture key contact information and save it into OneNote, currently this feature works best in English, Spanish, Simplified Chinese, and German.
Enhanced capabilities
Microsoft Lens can also be used to edit and enhance images, including colour adjustments and cropping plus filters, rotate scans, and scan multiple images at once. You're also able to accurately adjust the scanned image by selecting the edges of your work by tapping and dragging the handles at the corners and sides of the image so that they match the edges of the page you've scanned.
My personal favourite is the ability to take a photo from almost any angle and use the frame to line up the item you wish to capture; Lens then renders it into a perfectly flat image before sharing/saving.
5 ways of using Microsoft Lens in the classroom
.
1. Scanning Documents: Microsoft Lens can be used to quickly scan documents in the classroom and share them with students. This can be especially useful for quickly sharing notes, handouts, and other materials via OneNote, OneDrive or even sharing directly to the classroom screen/projector to show concrete examples or to give feedback. Do you have a learner that needs something translating? Why not scan the document, import it to OneNote and then use the translation tool to translate it into their first language?
2. Digital Portfolios: Microsoft Lens can be used to easily create digital portfolios of students' work to save in a central location such as OneNote.
3. Presentations: Microsoft Lens can be used to scan images or documents to add into your presentations, turn notes or data into an image instantly using Lens, ready for your presentation; you can even export them as a PowerPoint file.
4. Digital Whiteboard: Microsoft Lens can be used to turn any physical whiteboard into a digital whiteboard; quickly scan the whiteboard using Lens and share it with students/colleagues.
5. Interactive Learning: Microsoft Lens can be used to create interactive learning experiences by scanning physical objects such as models, diagrams, and other materials to create interactive experiences for students that integrate into your Microsoft ecosystem. For example, you could take an image of a skeleton model and upload it to OneNote for students to annotate.
Give it a go
As with all edtech, you need to try it to really see the benefits. Microsoft Lens really is versatile, impactful, and most of all easy to use. If you haven't had a go with it, or even if you forgot about it, I hope after reading this you will give it a go.
Download Links:
Grab Microsoft Lens for iOS here
Grab Microsoft Lens for Android here
Mike Tholfsen's Microsoft Lens video shorts demonstrations:
How to use Immersive Reader in Office Lens for iPhone // #shorts – YouTube
How to use Office Lens and Immersive Reader on Android // #shorts – YouTube
About Olly Lewis
Olly Lewis is Head of Digital Transformation at The Thomas Deacon Education Trust.
Olly's website: https://www.ollylewislearning.com
Follow Olly on Twitter: Olly Lewis @OllyLewis@mastodon.world (@OLewis_coaching) / Twitter
Find Olly on Mastodon: Olly Lewis (@OllyLewis@mastodon.world) – Mastodon