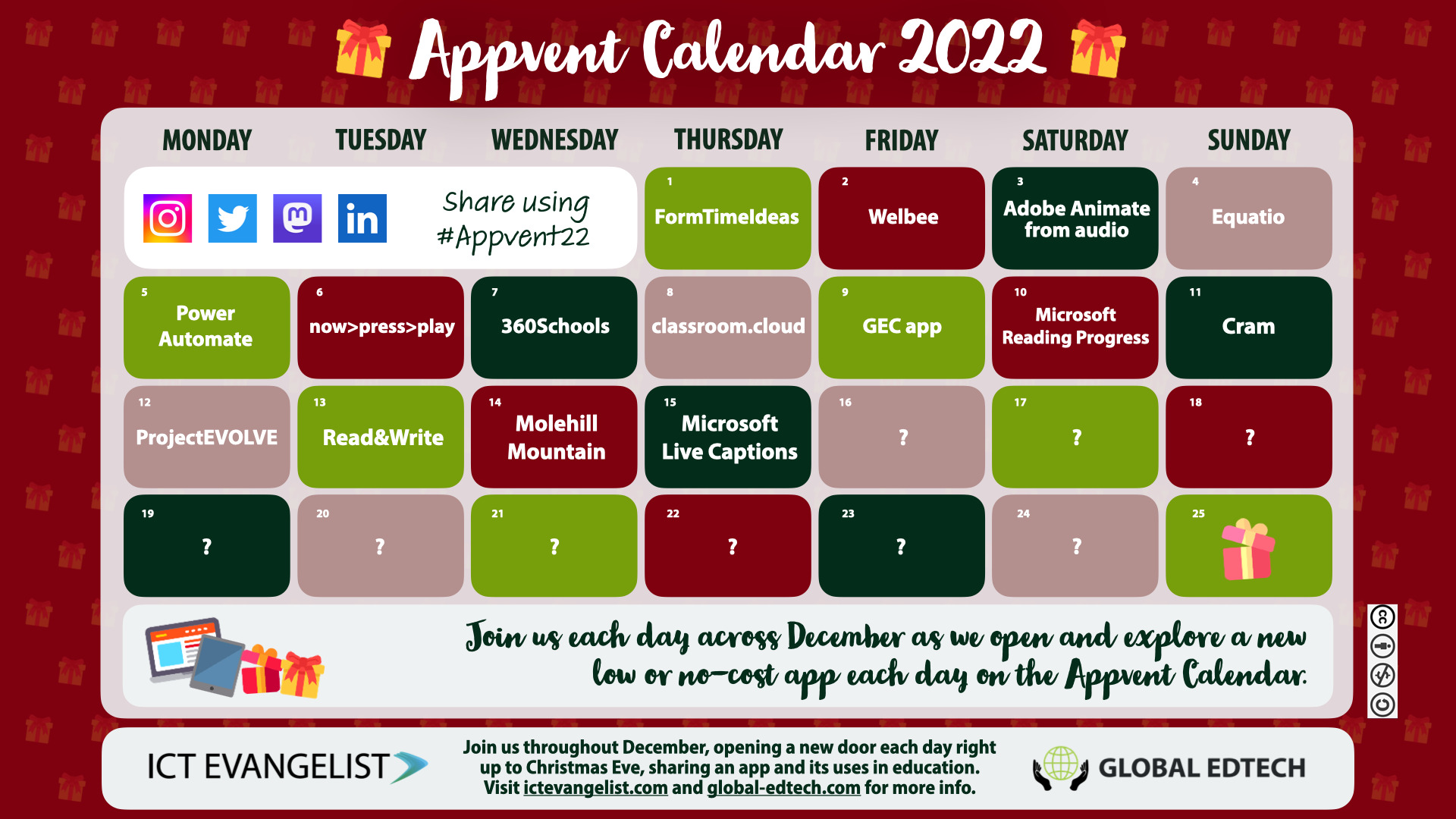 Welcome to day fifteen of #Appvent22, and what a great two weeks we have had.  We would like to say a big thank you to everyone that has contributed to making this a success so far. With yesterday's superb tool for reducing anxiety levels, Molehill Mountain, and our very first day's reveal of FormTimeIdeas.com, we're really proud to be sharing impactful tools to help schools in a wide variety of ways. 
Today's entry comes from Kristin Harrington.  A Global Edtech author, Kristin is passionate about Project Based Learning, Educational Technology, and incorporating student choice and collaboration in the classroom.  

What are Microsoft Live Captions?
This holiday season give the gift of access to your entire audience when you are presenting content during in-person training! Similarly, to presenting virtually through Zoom or Microsoft Teams, Windows 11 Live Captions feature allows you to add captions that hover over your projected desktop and capture everything you say in AI subtitles.
This allows participants to view captions of everything you are saying whether you are sharing a slide deck or showing off their favourite tool in Chrome. The best part is that this feature is customisable, making it easy to meet your and your audience's needs. 
How does it work?
To set up Windows 11 Live Captions, first, make sure you have the following set up on your device:
      Windows 11 is Installed

      Your device has the

22H2 Update
To launch Live captions:
Click on the Internet icon on your computer's bottom right-hand side.
Click on the Accessibility button. 
Turn on Live Captions and click 'Download to install Live Captions'.
Note: You will only need to download the first time you use this feature. 
You should receive a message that you are "Ready to caption". Click on the Caption Options, and select "Include Microphone Audio". Then begin speaking. 
Any Other Features?
Yes!  Live Captions! This feature is essential for those with disabilities who rely on accessibility tools but is useful to anyone. For example, you can use live captions to review the narration of a video, while your sound is muted in a quiet environment. You can also use Live Captions to search for keywords in a video or meeting.
You can customize Live Captions by changing the position on the screen, font type, font size, and even colour. 
To Sum Up
If you haven't encountered Microsoft Live Captions until now then it should definitely be on your 'check it out' list.