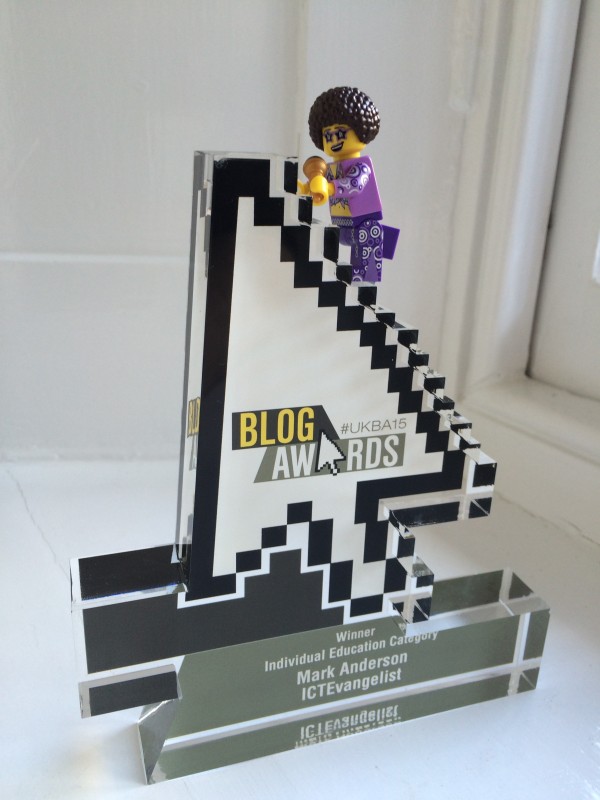 Friday 17 April 2015 saw the UK Blog Awards take place in Marble Arch, London. It was a plush affair from all accounts. I wasn't able to make it as I was working in Istanbul at the #EdtechIST conference.
The process to making it through to the finals was quite a long one. I had been nominated back in 2014 and there had been a public vote to then choose the shortlisted finalists. This blog, ictevangelist.com had been nominated in to the 'Best Individual Education Blog' category. To be nominated in the first place was humbling but to have made it through to be shortlisted in the finals was something else. I didn't think for one minute I would win.
I was up against a number of other shortlisted finalists including the rather awesome Lee Parkinson but, I only went and won it!
I was really proud to have won. I dedicated the award to my Dad. I like to think it would have made him proud. I share what I do to share, that's it. End of. This recognition is really amazing and as those of you that know me know, I'm all about giving, sharing and wanting to have an impact.
I could do what I did on the night and reply to everyone who then went on to say thank you on Twitter (it was a bit bonkers!) but I'll do it in one hit this time. Thank you to everyone who reads my blog and supports what I do, particularly the Independent Thinking family and everyone at Crown House Publishing . It's really humbling.  To think that I could have this kind of recognition is just unthinkable. Thank you.
Over and out.