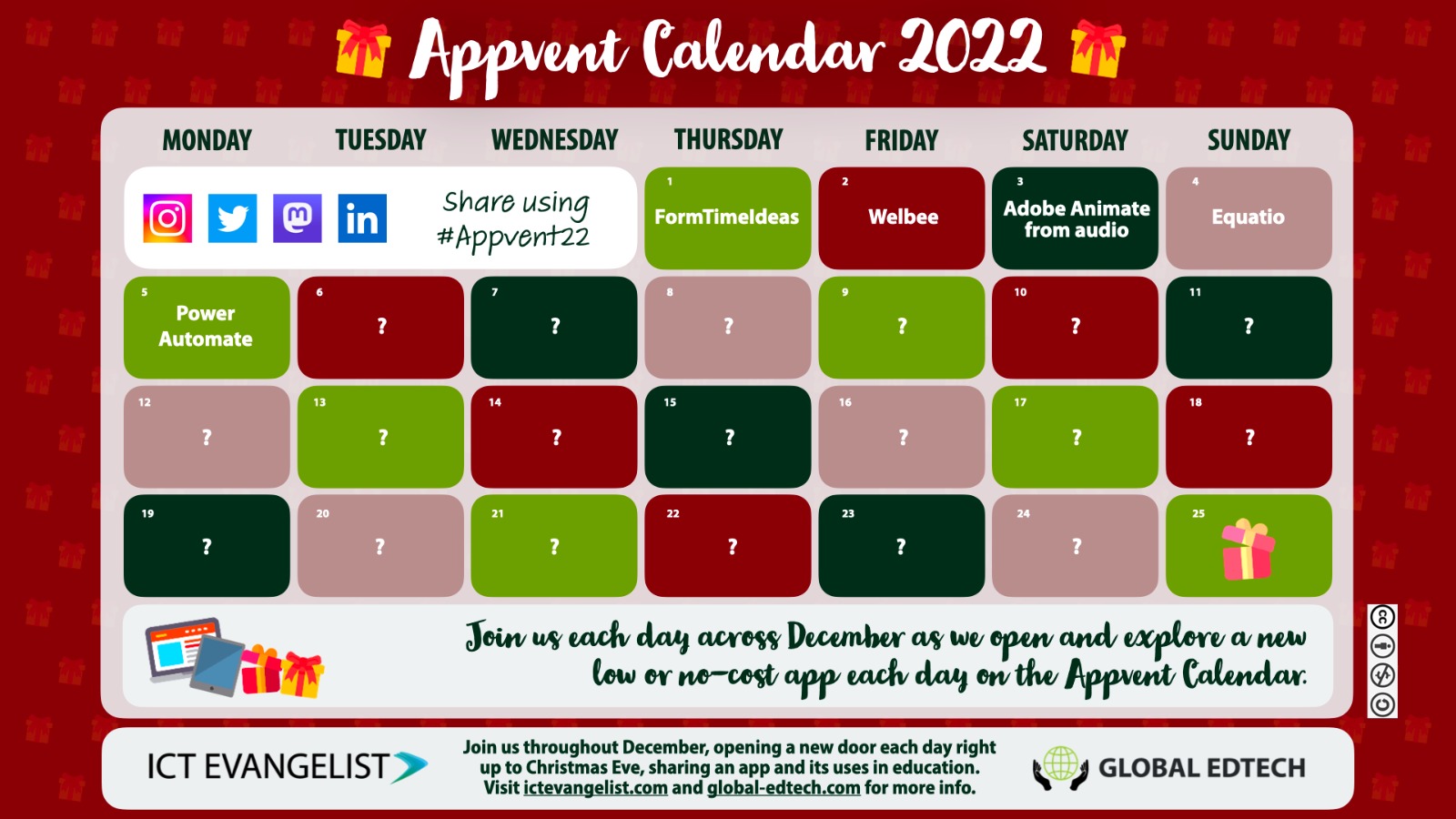 Welcome to Day Five of #Appvent22! Today's offering is shared by the Director of IT and MIEExpert from Millfield School, Gary Henderson. A big supporter of all things Edtech, and a regular blogger on his own blog – here's Gary's choice for today's Appvent22 entry – over to you, Gary…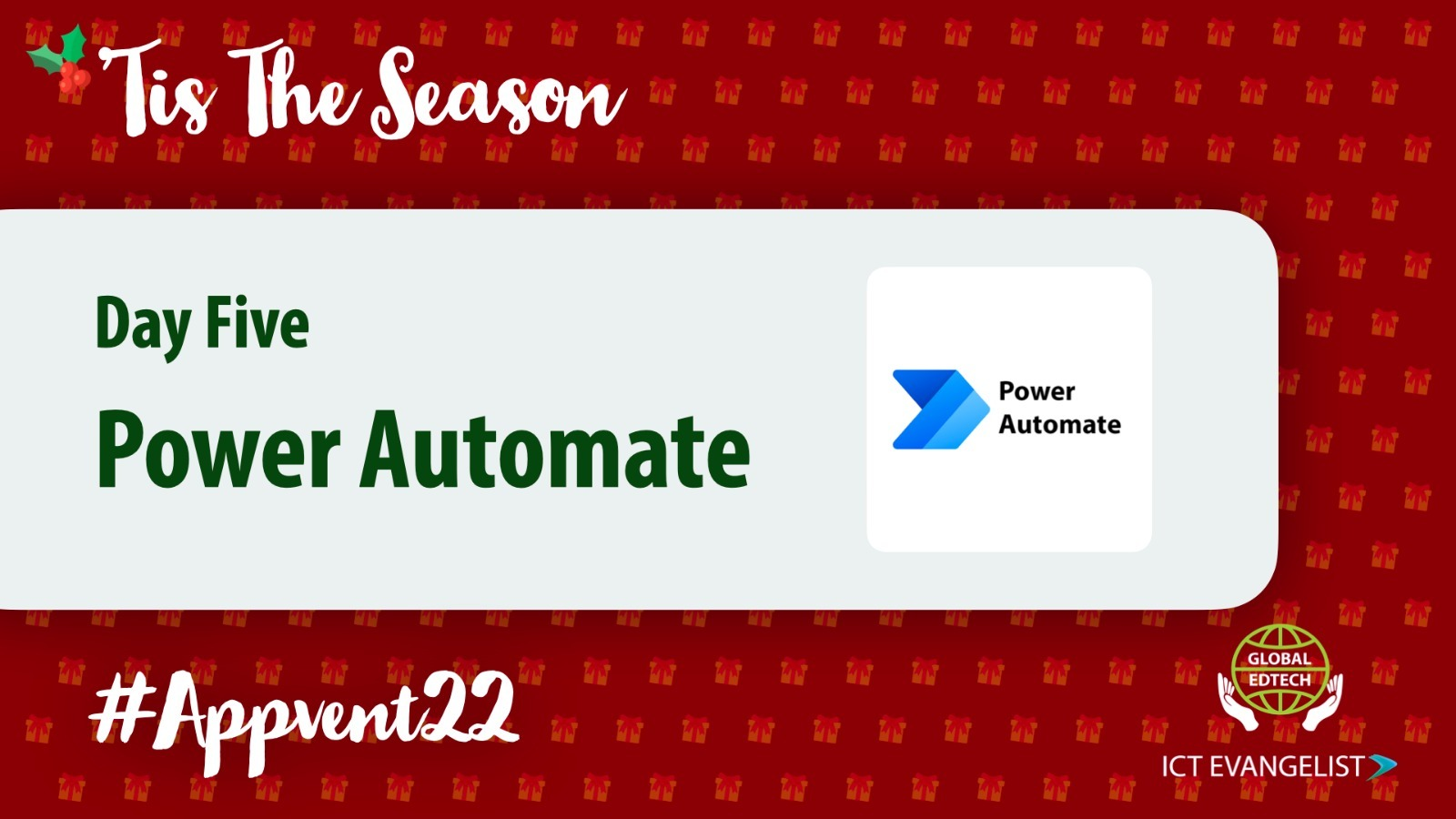 We are increasingly being asked to do more, as any efforts at improvement almost always end up with other tasks, systems or processes being introduced. Counter to this we need to ensure a focus on wellbeing, yet how do we manage this when always being asked to do more?
For me, part of the answer is to look at the repeatable tasks and to seek to use technology to automate them.   And this is where Power Automate can come in.
Power Automate is, as its name suggests, an automation tool allowing you to automate common repetitive tasks.   It is a fairly powerful and flexible tool, meaning it can be used to create quite complex and detailed automations, however, it also comes with a whole range of pre-built templates which can be customised to fit your needs.  This can be as simple as taking specific email content and adding it to Teams, emailing out information received from MS Forms, creating simple (and complex) approval processes and a variety of other options.
Let's take a simple approval process like that for a leave request.  Someone makes the request, which someone else, usually their line manager approves, resulting in emails to HR and the user if the request is accepted.   Using Power Automate we can build this process and automate it such that the user fills in the form, which pings off the relevant emails including an email to their line manager asking them to either approve or decline the request.  Suddenly something that might have either been paper-based or involved a number of emails back and forth can be simplified and made more efficient, and you can even get the approved leave requests added to a shared calendar so all can see who is on holiday and when.   Add to a shared calendar was something I only recently learned how to do.
Other possible uses
There are almost countless possible uses for which Power Automate could be put to, however here are just a few:
 

Ideas or concerns

:  A Microsoft Form could allow students to put in ideas or concerns in relation to different areas of the school, with Power Automate making sure the relevant idea or concern is sent to the people responsible for the area of the school or school life.

 

Appraisals

: Use a Microsoft Form with an approval process so the individual fills in their appraisal form with their line manager then provides the approval and comments as needed.

 

Supplies ordering

: Have a form available for staff to request stationery supplies or IT consumables with the relevant department contacted.   This can even include keeping stock count and providing stock alerts when using alongside a SharePoint list or Excel spreadsheet to keep count.

 

Scheduled Email

:  You can easily create scheduled emails to go out on a weekly, monthly or annual basis.   This might include links or other information for recipients and can also involve sending to Teams rather than email if needed.

 

Helpdesk

: Create a simple helpdesk system where students/staff can log an issue or request, complete with automatic replies acknowledging the request and confirming when it is complete or if it is declined.
The above are just a small number of options with 100's of templates available in Power Automate including templates for automating a number of third-party services including Twitter among others.  
Additionally, I have previously posted a couple of specific examples on my blog including a Staff Leave Request and a Course Booking solution complete with a maximum number of attendees.   There are also lots of resources on the Microsoft Learn platform here, including a basic introduction to Power Automate.
Conclusion
You can build many complex multi-part processes using Power Automate, especially when combined with a little SharePoint to store the data.   You might for example have a new staff process by which different things happen at different stages, such as HR records created, contract signed, IT account creation, lanyard and ID issued, keys issued, etc.   Again, Power Automate can allow you to build this.
And if you want to go a stage further, we can also add a bit of PowerApps, creating little apps for use such that everything can be run from a mobile device, including scanning barcodes, etc.
The reality is that PowerApps is a Swiss-army knife of automation functionality.   As such, start with something simple, a simple email or forms-based automation, and then build from there.