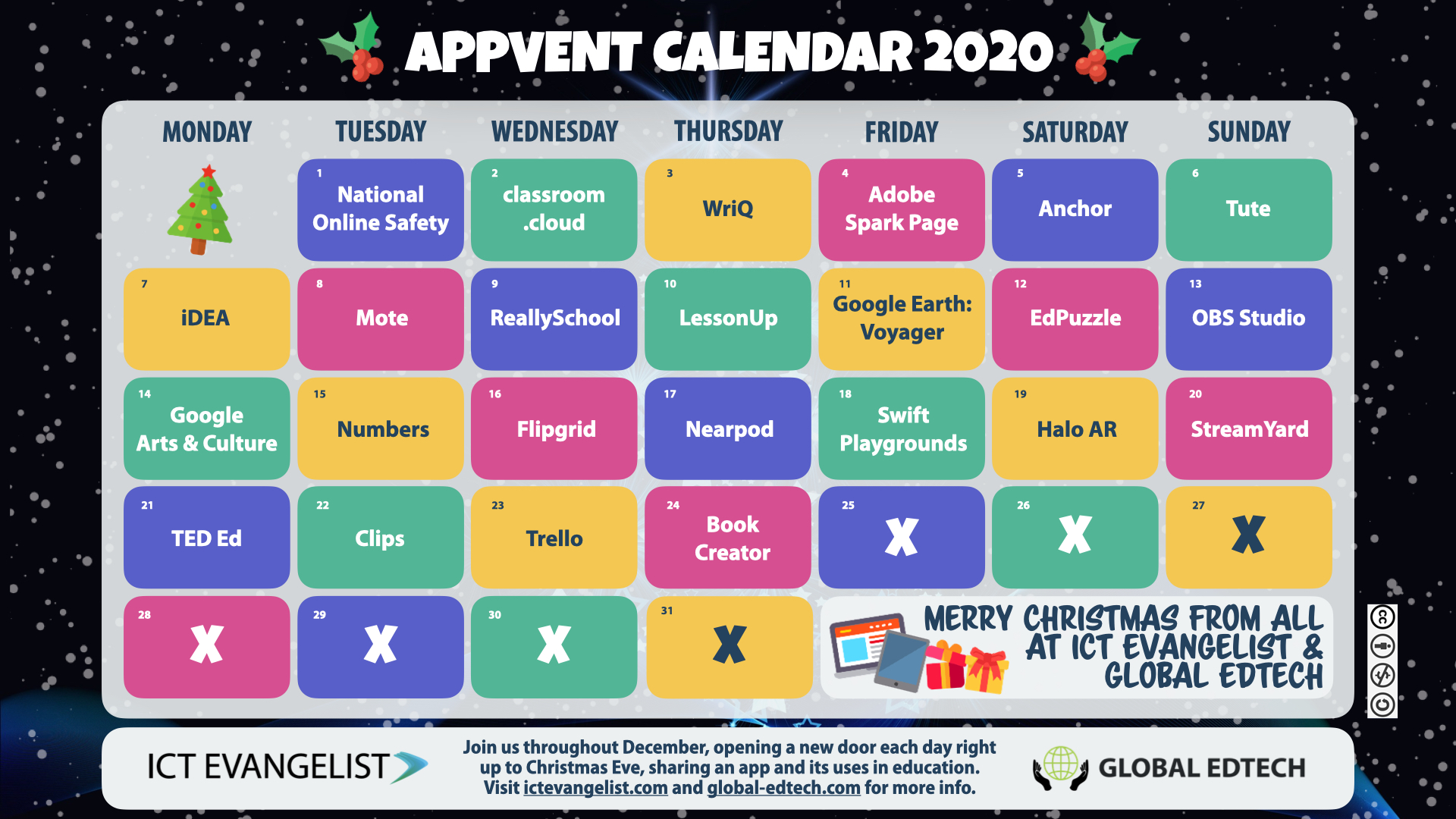 Welcome to day 24, the final day of the 2020 Appvent Calendar!
What a fantastic selection of great apps we've had across the 24 days this year. Alongside my entries and guest entries, this year I've extended the initiative across not just ictevangelist.com but across to the global-edtech.com team and I've enjoyed working further with Global Edtech co-founder, Ronan Mc Nicholl. Watch out for news about a great event we're planning on the 'Future of Edtech' early next year.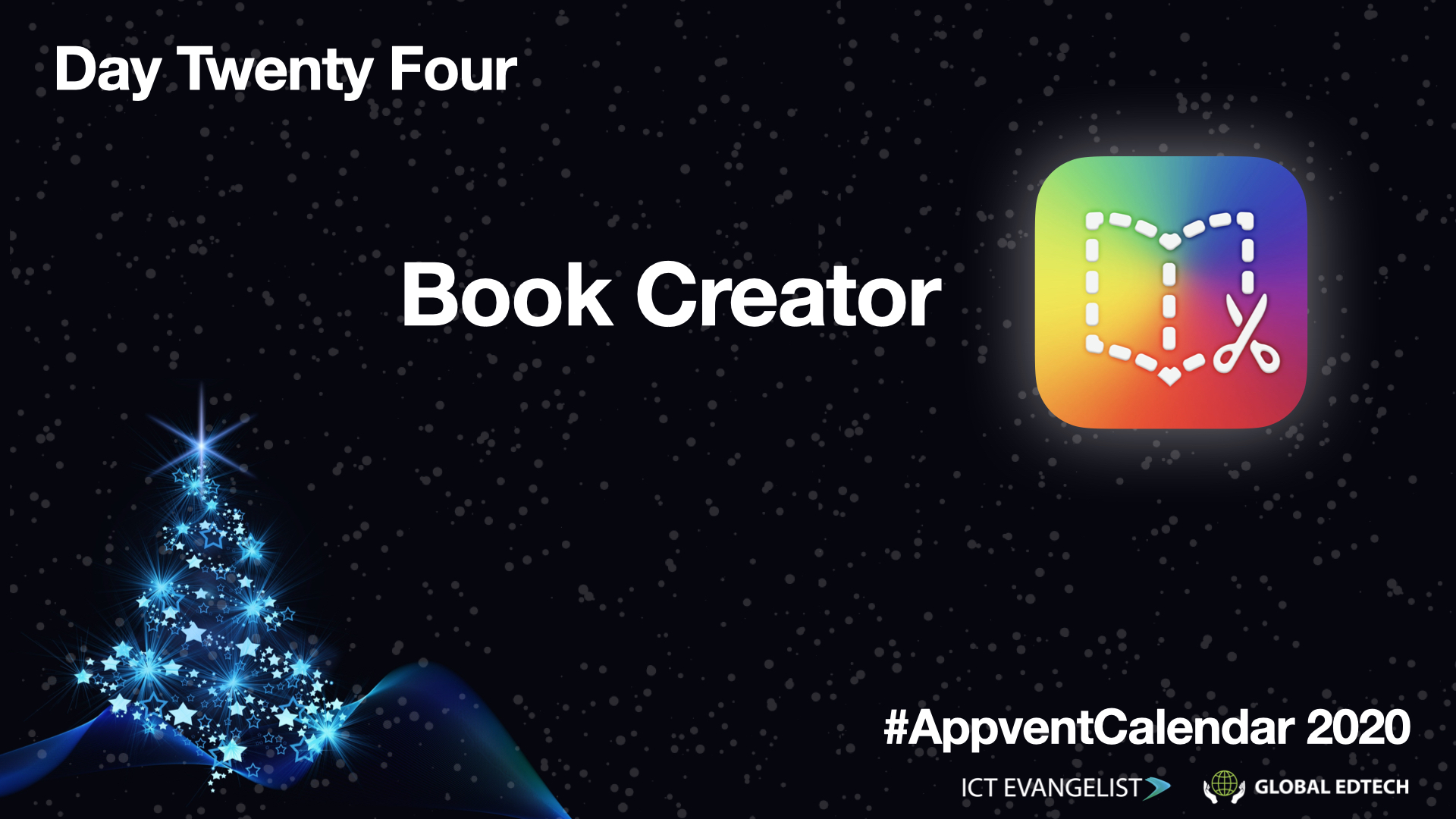 We've had contributors sharing from all over the world. From Scotland to Hong Kong to Abu Dhabi to Panama to England, Japan and the USA. I'm so proud of such great representation, not just globally, but in terms of the products shared too. "Pedagogy is the driver, technology is the accelerator",  Fullan wrote but as we've seen across this, the most unusual and difficult of years, sometimes it's little things such as the ability to see the screens of your learners and manage their devices (Classroom.Cloud), or the ability to easily set asynchronous learning opportunities via video (EdPuzzle) or accessible tools such as today's final entry, which allows learners to create all manner of digital artefacts, both on their own or via collaboration, that can make the difference to learning continuing or not.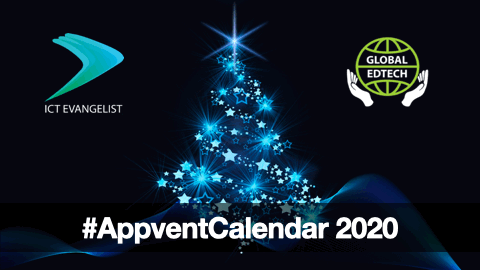 What a year!
Edtech really has come into its own during 2020 and unsurprisingly many of the tools that have made their way onto the calendar this year have been hugely instrumental in supporting continuity of learning and teaching. 
Speaking of teachers. I've always shared that teaching is the best profession in the world, it's why I became a teacher and I've never been so proud of the profession as I have during 2020. 
Teachers have given not just hugely of themselves throughout the year but many have done so do the detriment of themselves. Workload continues to be a huge issue in education and never more so in 2020.  When I've seen school leaders not taking a single day off in months and months and months; it's no small wonder that there are so many plaudits being shared via social media about the profession as we approach the end of the calendar year. Let's not forget all colleagues who support in schools too. The TAs, office staff, site staff, catering staff – everyone has given above and beyond this year. The levels of dedication seen in the education profession are something to be rightly proud of. 
An often forgotten group that I get to connect with now given the work that I do, alongside supporting leaders and teachers, are those companies and individuals who provide services to education. 
Many of these have been hit hard with the pandemic in terms of revenue, but despite that, have delivered their products for free, provided additional support, made fast tweaks to their products to respond to demand for certain product features. So I'd like to pay respect to these companies and edupreneurs for their efforts this year too. 
Speaking of edtech companies, the product behind the final door on the Appvent calendar this year is, Book Creator!
What is Book Creator?
Book Creator is a tool I have written and shared about many times before. As you'll see from the link in the previous sentence, Book Creator is a solution I've not just raved about many times before, but they are a business I have gotten to know over the years too. Starting out locally around Bristol but now in schools around the world and a firm favourite in the edtech toolkit of many a teacher I got to know Dan and Dan many years ago. 
The beauty of Book Creator is that it is a great conduit to creativity. A simple-to-use platform with a name that is what us Brits would call "Ronseal" in that it does what it says on the tin; the outputs you can generate from the platform are vast. The Book Creator team have always been careful not to lose the simplicity of the tool and that is still true today. 

Yes, there have been developments such as a shift across to duality between both iOS and Chrome but there have been some steady introductions of new features. 
Take, for example, the recent addition of shapes to the tool. In and of itself it might seem a mundane addition until you see what is possible when that functionality is added…
What can I use Book Creator for?
There are so many possibilities for showcasing learning in Book Creator. The collaboration opportunities mean it's also great for peer assessment. The ease of which you can leave audio feedback between peers or from you as teacher means it has multiple opportunities to support teaching and learning activities beyond that of purely creating outputs. The collaboration opportunities mean that the books created can be living, breathing documents which also makes it useful for teachers and leaders in creating and sharing their own work too. Book Creator is exceedingly versatile. 

I'm not the only person who is a fan of Book Creator and if you're looking for further ideas on how you can use it, their blog is jam-packed with ideas and free resources for you to access and use in your classroom, such as this recent free Thanksgiving template. 
Learn more about Book Creator and how you can integrate it into your school by visiting their site here.
---
To finish off the post and the Appvent calendar, I would just like to extend my thanks to everyone I've worked with over the course of 2020. There are too many to thank individually, but I am grateful to have had every minute of it and I look forward to getting out and seeing you all IRL (as it were!) in the coming year. Seasons greetings and best wishes, one and all.
Mark