"Tell me and I forget. Teach me and I remember. Involve me and I learn."
One of America's 'Founding Fathers', Benjamin Franklin was recognised as a polymath – someone who is defined as a person of wide knowledge or learning. It is this thinking which, now we are in lockdown, really highlights for me the real power of the offer that Tute has been delivering for years.
I first had the pleasure of meeting the team at Tute and their Managing Director, Vanessa Leach back in June 2018 when working in North Wales for one of the NetSupport Edtech Roundtable recordings. I was impressed then as I am now with the specialist offer they have for education and online teaching.
Great to meet @BrownVJB & @tuteuk Sean with @ty_goddard today and talking teaching and learning 👏🏻 #edtech #elearning pic.twitter.com/ATVemUEjcq

— ICTEvangelist (@ICTEvangelist) June 12, 2018
When looking at the various offers for online teaching to support local authorities, schools and now parents looking to supplement education under the current global pandemic; with more than 55,000 live lessons taught, Tute really has had the time to get the offer right and so I'm really pleased to be able to share more with you about what it is that they do.
How does it work?
Tute is an online lesson service and the delivery model for the lessons via Tute is great. Students are really involved in the lessons and the learning process. All lessons are live and this, coupled with the quality of the platform, is the real beauty of Tute and is what sets it apart. Students simply log into their private account, click on the timetable that shows all of their lessons, choose their lesson at the right time and they arrive in the Learning Cloud – Tute's online classroom, where a qualified, DBS-checked teacher awaits them to deliver a live lesson.
When in the lesson, learners have the following features available to them:
A pedagogically driven approach that is designed and refined to work in the online environment
The ability to see their teacher via webcam, creating a face-to-face experience
The use of audio and/or chat to speak and engage with their teacher and classmates
The ability to (virtually) raise their hand to ask a question of their teacher
The use of emojis to express themselves
An interactive whiteboard that centres the learning with interactive links and videos, polls, annotation tools, upload feature, and assessment for learning opportunities
Live feedback from an actual teacher
Accessibility features to support different needs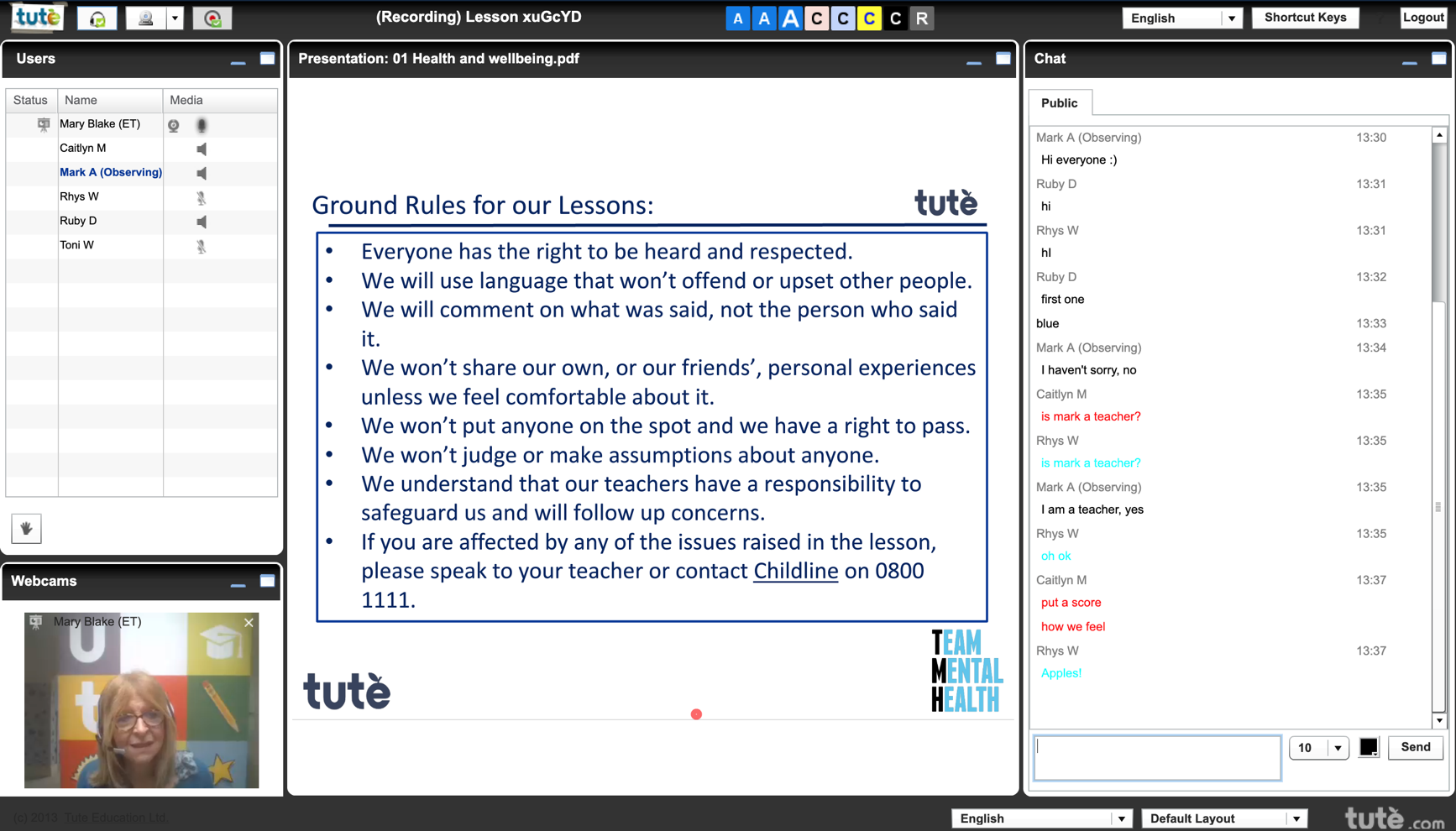 All lessons are recorded, which is a great way to support revision activities and to reinforce learning. Additionally, to support safeguarding, something that Tute is wholly committed to, they aim to achieve (within their context) the same high standards as any school, thus helping you with your DPIA when setting up Tute.
Access to "Tute Spaces" allows learning to continue outside of lessons with homework and collaboration. In the current situation we face as educators, the synchronous and asynchronous element makes Tute a great choice for LAs, schools and parents too.
Within this framework, there are a variety of offers for different stakeholders during this period of school closure, and beyond:
YouTeach
With YouTeach you can create your own-branded virtual school using Tute's online learning platform to deliver live lessons to your students. You only pay a price for each lesson you deliver using the platform.
The team train you, provide ongoing support and give you access to their lesson resources to facilitate a quick move to online.
This is a fantastic offer for those schools looking to supply online learning during lockdown and beyond. As explained below by Dan Finill, Alternative Provision Coordinator at Chessbrook ESC, Watford, Tute has been invaluable in helping them continue provision at the school.
Virtual Home School
Students join a group of (up to) 20 other learners in a choice of lessons based on the National Curriculum to supplement existing provision. This is also useful for parents to help with homeschooling. Lessons run every day of the week apart from Wednesday and it costs £6 per lesson and can work around other activities or provisions that are in place.
Free lessons
LAs, schools and parents can sign their children up for a variety of free lessons to enrich and enhance children's home learning experience.
The current offering of free lessons involves one lesson per week on the topics shown below: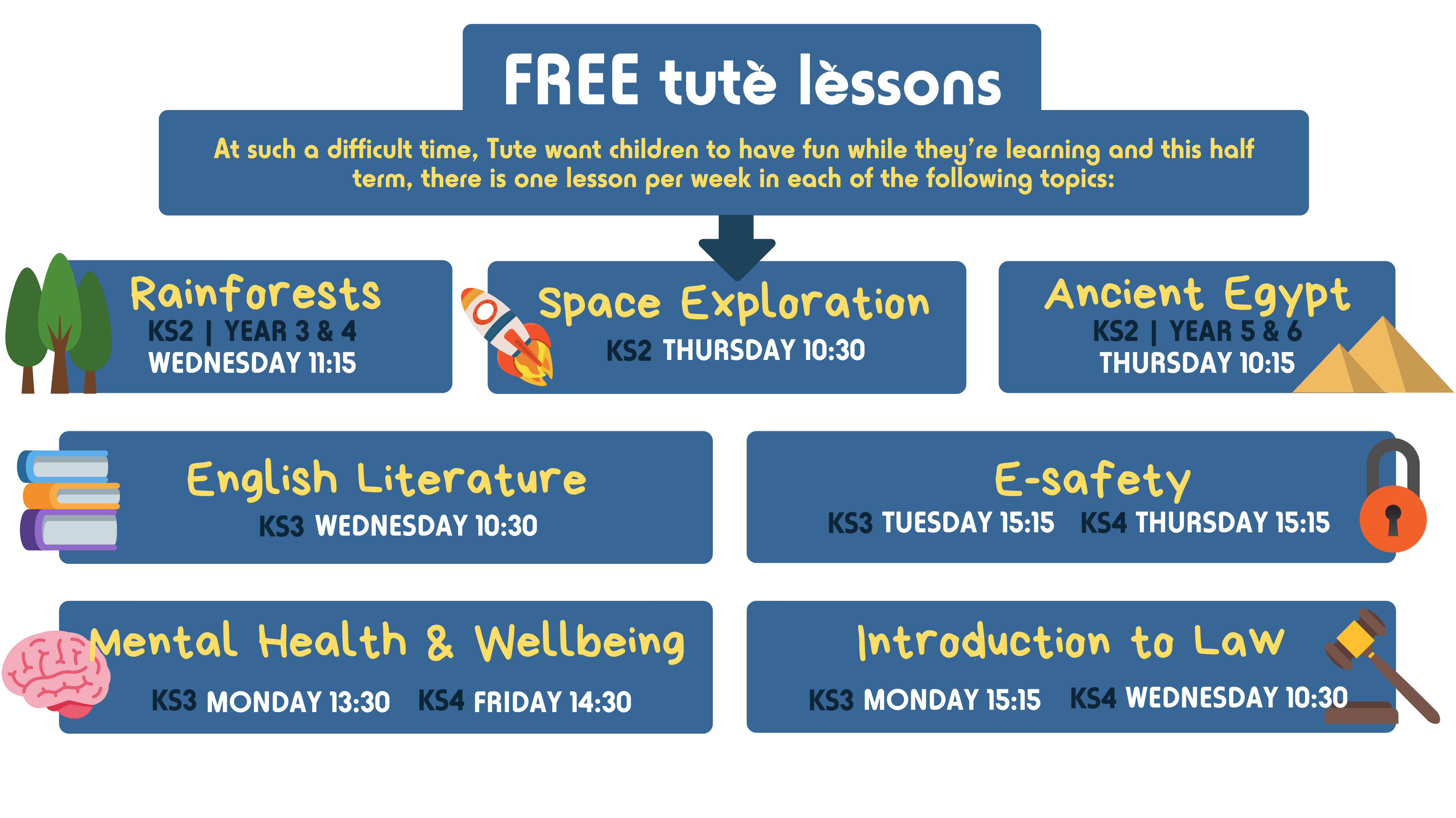 In addition, customers can use Tute's usual products which are running as normal. The solution is the lesson, their product choice is simply the package that delivers it to best suit your needs.
There is an even bigger offering for these lessons of:
To sum up
As you can probably glean from my writing above, I'm a big fan of what Tute has to offer, not just under lockdown but even when things are under normal circumstances. Even when things do go back to 'normal' what will normal look like in your context?
The benefits outlined above, particularly around the ability to have access to all of those different subjects and their BETT-award winning pedagogical approaches and access to a live teacher in a live lesson, every lesson, make it a strong contender for lots of settings and scenarios in education.
Could, for example, Tute be used for:
Alternative provision for students who cannot access mainstream
Day-6 provision
GCSE or A level qualifications to provide more choice
Cover lessons for small groups – ideal for A level
Revision and catch-up
Supplementing or closing gaps in your curriculum
Providing a platform for delivering lessons under lockdown by your teachers
The list goes on…
With this new 'normal', Tute has an offer which can be of help in lots of different ways and should factor into your thinking when looking at your provision. Even if it isn't required, knowing there is a product out there which has you covered under all circumstances will help to give you peace of mind, should you need it. With more than 55,000 hours of lessons taught, it's definitely worth checking out, which you can do by visiting their website here.
Thanks for taking the time to read my post.
This is a sponsored post.