I'll always remember my birthday this year. Things were starting to get closed down everywhere and on that day, the lockdown here in the UK was announced.
Since that day, every day I've seen educators working as superheroes, doing their best to help, be supportive, creative, engaging in our own learning and supporting that of our students and communities and that is before we even start to think about teaching!
Remote learning has meant that we have had to as a profession upskill ourselves very quickly indeed in what is being probably one of the worst experiences for everyone in modern times.
So what are we doing about it?
I've been doing a number of things in my various roles supporting teachers and schools and in this post, I want to share and talk about a project I've engaged with that has been organised by CUE (Computer Users in Education) and Microsoft Education.
CUE And Microsoft Education have teamed up to help and formed the Global Edtech Academy or #GETA as we are calling it on social media.
400 sessions with top educators, free Professional Development through September
That's right, up until the end of September there are just shy of 400 free, PD sessions available to all.
To explore the list of speakers and sessions, save and share these two URLs:
Check out all of the awesome sessions available as part of the #GETA – Global Edtech Academy by visiting here: https://bit.ly/313H0rE
The Global Edtech Academy was formed by CUE and Microsoft to provide a myriad of different support and training opportunities for schools, teachers and educators the world over.
If you need Edtech inspiration, there's a session for you. Need help with leadership, then there's a session for you. There are so many free opportunities here to engage and get support, it is fantastic. And yes… did I mention, it's FREE?!
The Global Edtech Academy featuring some of the world's most popular and experienced education experts, you can access a variety of different opportunities to get support, inspiration and more, each and every day, live from your phone, tablet or PC.
Who is taking part in the Global Edtech Academy?
The list of people taking part in the Global Edtech Academy is huge, it isn't just myself – check out some of these names!
For more information on each speaker, please visit https://cue.org/microsoftspeakers to get their full bios.

So what is on offer?
There are a wide variety of support options available: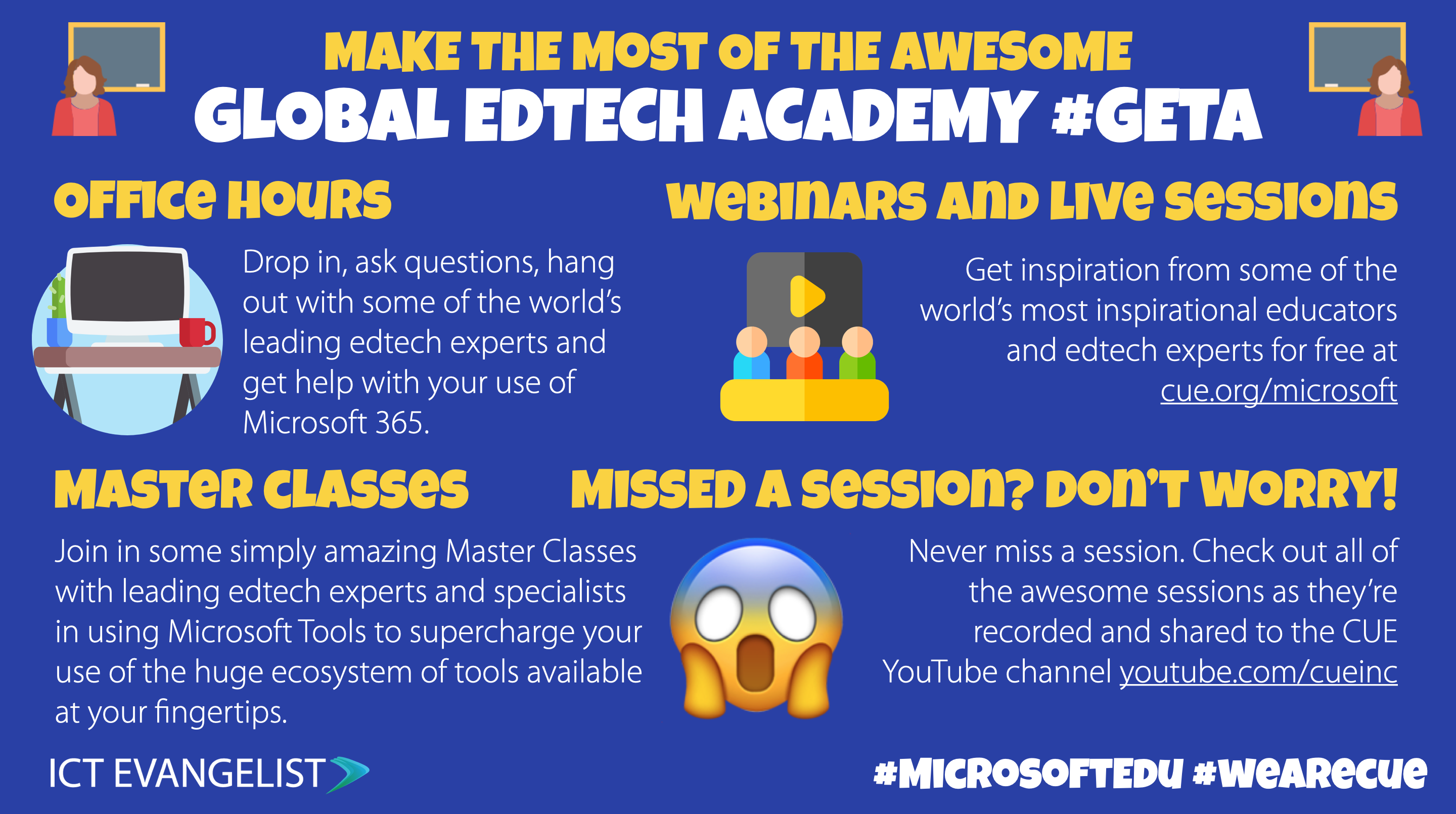 Office Hours
Here you can via the https://cue.org/microsoft site discover Office Hours each and every day when you can simply drop in and get advice, guidance and support on all things Microsoft. With experts on hand to help you, even if they don't know the answer, they have access to swift support mechanisms that can help get you back on track quickly (note this is for teachers not for technical support teams). Across the 14 weeks, I'll be offering a number of Office hours too.
Sessions
These are essentially webinars that are being run by Edtech experts and educators such as myself with a smorgasbord of different professional learning opportunities. The sessions I am offering include:
| | | | | |
| --- | --- | --- | --- | --- |
| Session title | Information | Date | Time (BST) | Time (PST) |
| Using Microsoft tools to improve the quality of explanations and modelling | The research states that one of the ways that technology can be used to impact on learning is to support the quality of explanations and modelling. In this session explore how you can use PowerPoint as a means of positively and simply demonstrating quality models and explanations to help with your teaching and their learning. | 22/06/2020 | 08:00 | 00:00 |
| Using Microsoft tools to improve the impact of pupil practice | Independent learning is a great way of scaffolding and supporting both self-regulation and metacognition, in this session explore how Microsoft tools can improve the impact of your learners use of technology to support their learning. | 25/06/2020 | 08:00 | 00:00 |
| Top 5 Ways to Sustain Engagement in Learners with Edtech | Engagement is a poor proxy for learning but it's a superb by-product of relevant, interesting and innovative teaching with technology. In this session explore some of the great ways you can increase the intrinsic motivation of pupils with the activities and tools you use with your learners which support both synchronous and asynchronous learning activities. | 26/06/2020 | 09:00 | 01:00 |
| Using Microsoft tools to improve assessment and feedback | In a session which does what it says on the tin, learn how you can use the wide variety of tools available to you as a teacher to help improve your assessment and feedback strategies with your learners. | 29/06/2020 | 09:00 | 01:00 |
| Getting The Most Out Of Your Digital Strategy With Office 365 | In this session explore the facets of a strong digital strategy and how you can implement these within your uses of the Office 365 ecosystem: this session will explore, teaching and learning, consistency, stakeholders, sustainability, CPD models, measuring success and parental involvement/engagement. | 03/07/2020 | 09:00 | 01:00 |
| Ways To Use PowerPoint to Develop Learner Confidence and Autonomy | Oracy is a strong and important aspect of your teaching and their learning. In this session explore the ways in which you can use PowerPoint to supercharge confidence, group work and autonomy with student-led innovation projects. | 10/07/2020 | 11:00 | 03:00 |
| Top 5 Ways To Engage In Feedback With Learners | Students learn more when they are engaged in the learning process. In this session explore how you can bring learners into the learning and feedback cycle to help them develop their own strategies that work best for them. | 14/07/2020 | 09:00 | 01:00 |
| Top 5 Ways to Stay Connected with Your Learners | During the pandemic, it isn't so much about the learning as it is about sustaining that important connection between yourself and your learners. In this session explore the ways in which you could use the Office 365 ecosystem to keep those all-important student/teacher relationships alive and help learning along the way. | 21/07/2020 | 09:00 | 01:00 |
| Using Microsoft tools to improve the quality of explanations and modelling | The Office 365 ecosystem works so well together. In this session explore how you can use PowerPoint and other tools to bring together superb models to explain difficult concepts in easy ways. | 28/07/2020 | 12:00 | 04:00 |
| Using Microsoft tools to reduce workload and speed up your working day | In this session explore a variety of hints, tips, shortcuts and tricks that will supercharge your use of Microsoft tools to make you a workload rock star! | 11/08/2020 | 09:00 | 01:00 |
| Top Ten Productivity Tips with Office 365 | Office 365 rocks so in this session, learn more about how you can supercharge your productivity with simple wins for you, your teachers, leaders, learners and more. | 24/08/2020 | 10:00 | 02:00 |
These sessions are all booked in and all of the dates confirmed.
The best way to keep track of all of these is to either make a note of them in your calendar when you spot one you would like to attend above or visit https://aka.ms/GETAschedule where you can discover not just my sessions but those from the TWENTY-NINE (!!!!) other speakers involved in the project – phew!
Master Classes
And if that wasn't enough, there's a whole schedule of Master Classes for you to attend too – all available again via the https://aka.ms/GETAschedule – these aren't recorded so if you want to attend any of them, you'll need to get yourself along to make sure you don't miss out.
Either which way you look at it though, it is a fantastic offer that has been pulled together by Microsoft and CUE and I am so proud to be involved with it. Thank you to Microsoft and CUE for creating this huge partnership and including me in it. I am so looking forward to learning with all of you!
Don't worry if you cannot make the sessions too as all of the sessions are being recorded too and once completed are being shared to watch back again on YouTube here: https://aka.ms/GETAplaylist – please note, that Master Classes and Office Hours are not being recorded.
I look forward to working with you and your engagement in these sessions – I'm excited to attend many of them, let alone deliver some!
To follow the event via Twitter, follow the hashtags #GETA, #MicrosoftEDU, and #WeAreCUE
If you are a school utilising Microsft's tools to support learning and teaching in your school and you'd like some direct help, please do get in touch via my contact form here.