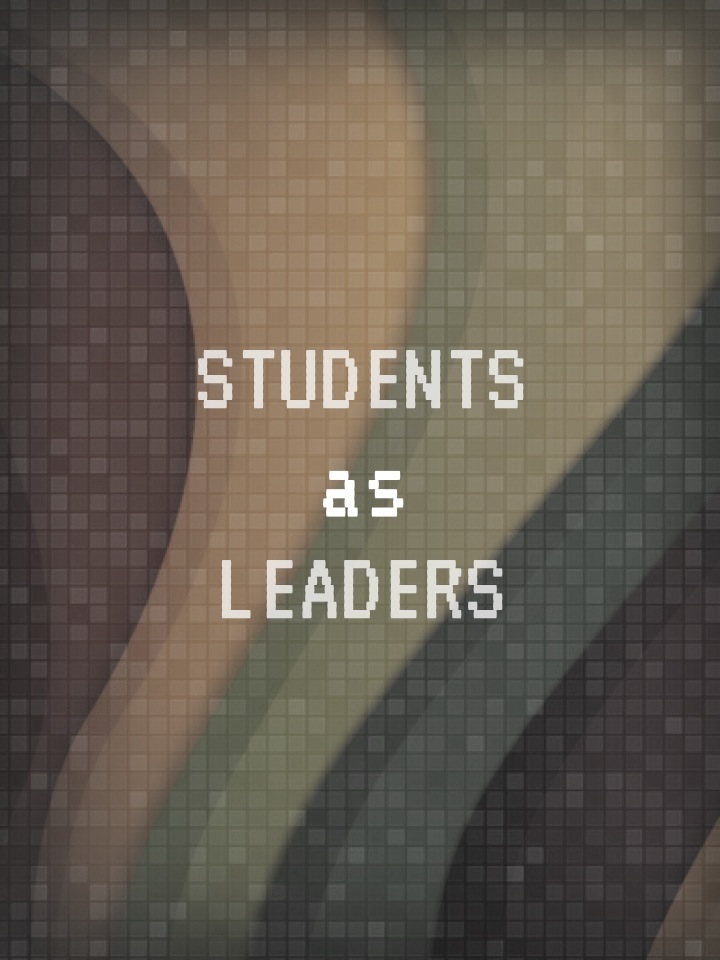 Being involved with students as leaders in my current role is one of the most rewarding elements to my job. I work with the students as digital leaders and I really haven't blogged anywhere near enough about the work they do as I should do, given how much of a strong advocate I am for them. Hence I am writing this post. 
I first started digital leaders three years ago. My first ever 'trial' digital leader is in Year 13 now. An ex student from my vertical tutor group, let's call her Fred; she was a maverick. Earning house points all over the place for helping teachers with their Web 2.0 and other EdTech woes. On top of an already very busy extra curricular workload, she helped me to see first hand how successful digital leaders could be. She may not have seen it, but her work and singular dedication to leading on issues related to digital learning marked a shift in thinking, through the support of others but especially in me. I decided then to recruit more in the next academic year with more of them, guided and given opportunities to develop their involvement in school life and digital learning across the school.
Fred delivered assemblies to each of the Houses in school and from there students were asked to apply for their positions as digital leaders. I wanted to make sure that students didn't just see it as a club but as a position of responsibility. I had some great ideas at the time for how the students could develop their leadership but hadn't quite fleshed out all that would be entailed in their first full year. In review, when I think back about all that they did and all that they achieved just in that first full year; it is amazing. I would never have expected that they would work with teachers, support them in their use of and planning with technology, speak in assemblies, work with primary schools, create their own blog, speak at our Teachmeet to 200 teachers, organise many elements to the night, run their own INSET sessions, the list goes on…
One of my guiding principles for digital leadership has been for students to take responsibility wherever possible. As we have moved in to the third year, we now have senior digital leaders. Each of these have managerial roles with varying responsibilities depending upon their interests. Their roles are:
Bar manager (we have a daily Genius Bar where students and staff can sign up for published EdTech CPD sessions – it's not an actual bar!) – all digital leaders must do at least one lunch time per week in the bar
Social media manager – responsible for tweeting things that the digital leaders do and are doing (@ClevedonDL)
Newsletter editor – a fortnightly digest of what has been happening, app recommendations etc is written and published
Events manager – responsible for organising lunchtime and other training sessions along with other events such as whole staff CPD
Blog manager – responsible for updating and maintaining the Digital leader blog
Screencast manager – responsible for organising screencasts for learning purposes and maintaining the YouTube channel
We have mostly very good weeks. At the moment it seems there is an event on for the Digital Leaders to be involved in every single week. As mentioned above, they are really pivotal to how use of technology has developed and more often than not, they have spearheaded initiatives and developments. One such recent example was when I showed the Digital Leaders the 'THINK' poster which then led to them developing this:
As I've been writing this I have forced myself to reflect upon the values of the Digital Leaders. What they have become. What they stand for and where I think they should be going. To help me do that reflection I created this:
As I reflected upon this, I think this model could be replicated in lots of other areas.
Keven Bartle, who I've mentioned before on the site, Deputy Headteacher at Canons Park School, is running a workshop at TeachMeet Clevedon in a fortnight. His workshop is based around Pedagogy Leaders – creating a teaching and learning policy from the classroom up. Without stealing his thunder, I think he's going to be talking about using students and their involvement and leadership skills to bring about developments in teaching and learning in his school. This example is further exemplified through the use of literacy leaders showcased by Sarah Findlater in her classroom. We know that sports leaders works and is a well established organisation where students can gain a qualification in sports leadership.
Discussing student leadership with Steve Truan this week, he revealed at his school, every year group has Wednesday afternoon off to pursue leadership courses:
@ictevangelist yep!! It's 3 yrs in now, not perfect yet, but over 1500 qualifications. Call it volunteering & leadership hub #ukedchat

— Steve truan (@truan_steve) May 30, 2013
Could this be another way forward? Formalise it and make student leadership pervasive for all students? It's certainly food for thought. In the meantime, I'm going to continue working with the Digital Leaders and push things further and further.
Their next project, whilst continuing with their ongoing work across the school, is to raise enough money in the next five weeks to buy an iPad mini to send to Kenya. Our sixth form students are visiting Kenya this summer doing some volunteer work alongside 'Mend the Gap'. The digital leaders want to send a mini out to Kenya to help the students there with their learning. We are in the process of setting up a 'justgiving' page and students are organising a variety of different fund raising efforts in order to get funds to buy the device and load it up with lots of learning apps. Such is the inspiration of these motivated leaders, they continue to inspire me every day.
I hope this rambling post has been of some interest. If you work with students as leaders in your school I'd love to hear of your experiences. Have I missed anything out in the model above? (I probably have!). I'd love to hear from you in the comments.
Thanks for reading this far!
Cross referencing to this brilliant post which ties together the various strands of 4C's Learner model (explained in more detail via this link) : http://headstmary.wordpress.com/2013/06/07/learners-at-the-centre-iii/