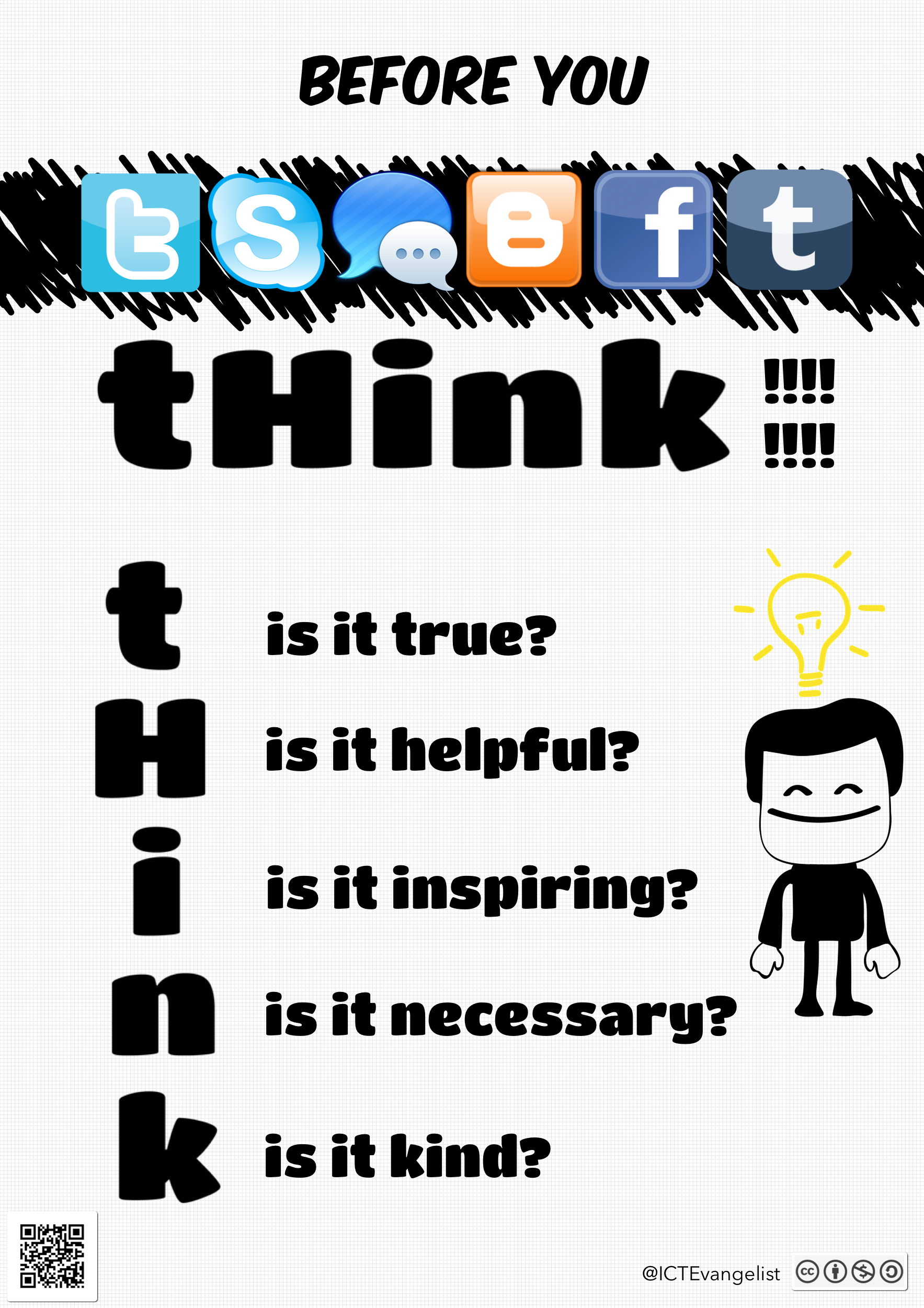 Digital Citizenship is an area of massive importance and if you're interested you should really check some of the links at the end of this post. Following JISC and looking at their work and connecting with the likes of @dughall, @simfin and @dajbelshaw among many others and @naace would be a great way forward.
Digital leaders have been doing assemblies all week on acceptable use, digital citizenship and more and if you're interested in a bare bones version of their assembly presentation it's on the #DLDropbox for you to take. If you're interested in joining the #DLDropbox, please give me a shout on Twitter. As with many of the shared Dropboxes out there, it's a great way to pool resources and share good practice. If you join up, please do share back!
Speaking of sharing, I saw this poster some time ago tweeted by @mrrobbo:
"@mrrobbo: Love this acronym for cyber safety on the walls of Hong Kong International School twitter.com/mrrobbo/status…"

— Dughall McCormick (@dughall) January 24, 2013
…and really wanted a version for us to use ourselves. I thought it fantastic so I've created my own which you can see below. The PDF version will print to A2 without any loss of quality and as above, the poster is also in the #DLDropbox.
If you have any further thoughts or links relating to this topic, I'd love you to share them in the comments. If you end up using this poster in your schools too, I'd love to hear about it too. It's very satisfying seeing them being used elsewhere!
http://esafety.northerngrid.org/
http://www.digitalcitizenship.net
http://edorigami.wikispaces.com/Digital+Citizen+AUA
http://education.alberta.ca/media/6735100/digital%20citizenship%20policy%20development%20guide.pdf
http://learn-the-ropes.wikispaces.com/Digital+Citizenship