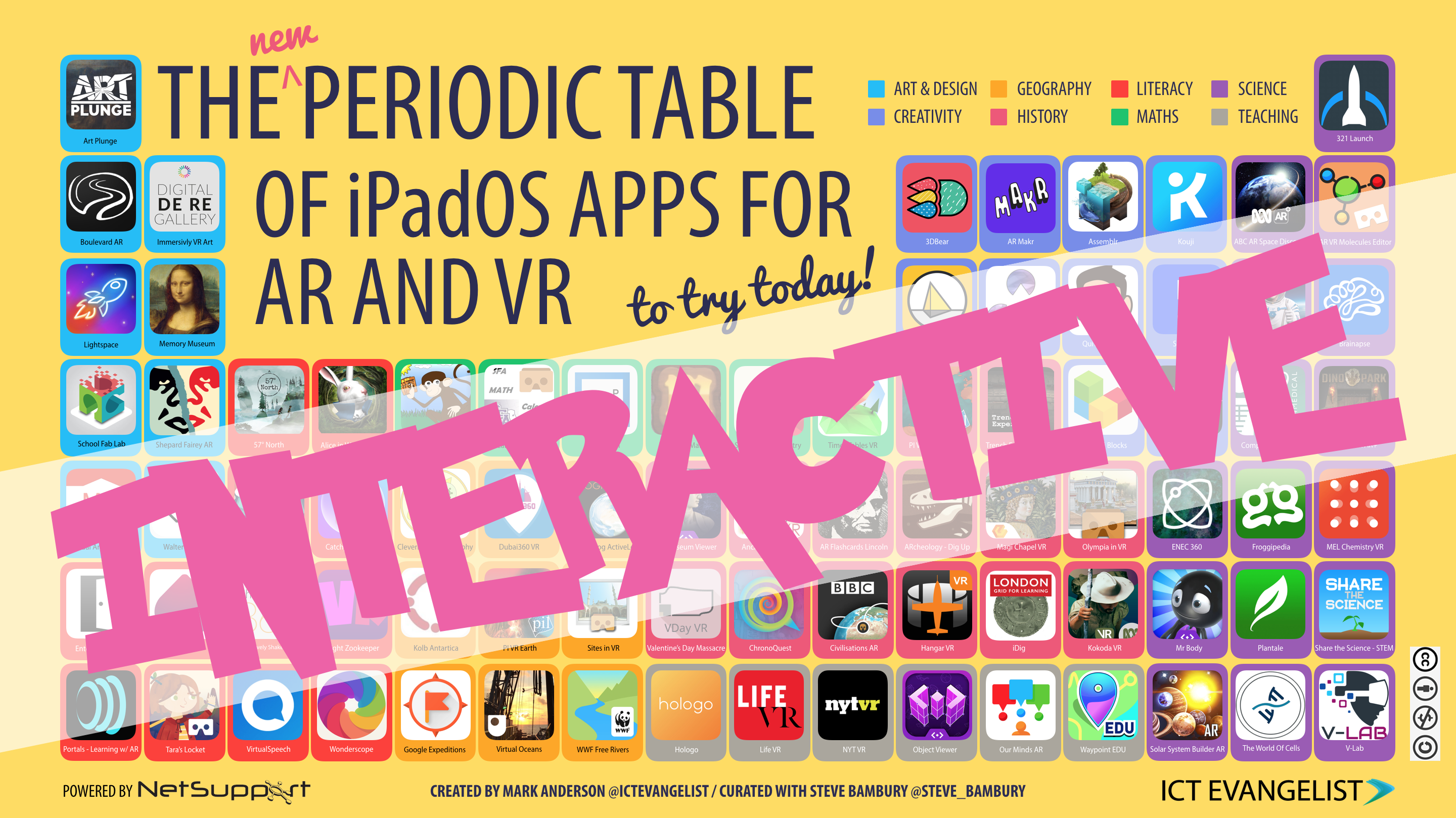 I love being a teacher and working in education. In my role now I am very fortunate to work with educators as I do now. Wherever I travel in the world, people comment on the different periodic tables that I've made over the years. Even just this last week in a meeting with the Event Director for BETT MEA they knew of my tables as some of them had been recommended to them as a resource to check out and had feedback from a local teacher in Dubai who commented on how they'd been using them as a resource for years. It is humbling to see how the resources I create and posts that I write have impact around the world.
Back in January last year I launched my second collaboration with Steve Bambury in the form of our periodic table of apps for AR and VR on iPadOS. We couldn't have been happier with the responses both face to face when we launched it at BETT19 but also on social media. Since that time I've seen it printed out and stuck onto staff room notice boards, shared at events around the world. Here's a tweet shared when Olly Lewis shared some of them at #BETTMEA a while ago:
Great to see the @ICTEvangelist Periodic Tables getting shared further by @OLewis_coaching #BETTMEA pic.twitter.com/KxnQO1OObw

— Steve Bambury (@steve_bambury) April 23, 2019
They've even been shared in Virtual Reality CPD sessions!
It was great to share a little insight about the new Periodic Table of #AR and #Vr apps (that @ICTEvangelist and I launched during #BETT2019 last week) during tonight's #CPDinVr event. #ARVRinEDU pic.twitter.com/cqu61R7VQX

— Steve Bambury (@steve_bambury) January 31, 2019
To help with the location of all of the different apps on the most recent iteration of this table, I made an interactive version of the table using the awesome ThingLink. To my chagrin, I went to the trouble of making the interactive version but then didn't put it here on the blog. So…. here it is!
I hope you find it useful. If you'd like to get in touch about this or any other bits of work that I do, please do drop me a line on Twitter or via my contact form.
If you'd like to see the original post where you can also download a high-resolution version of the table, please visit here.