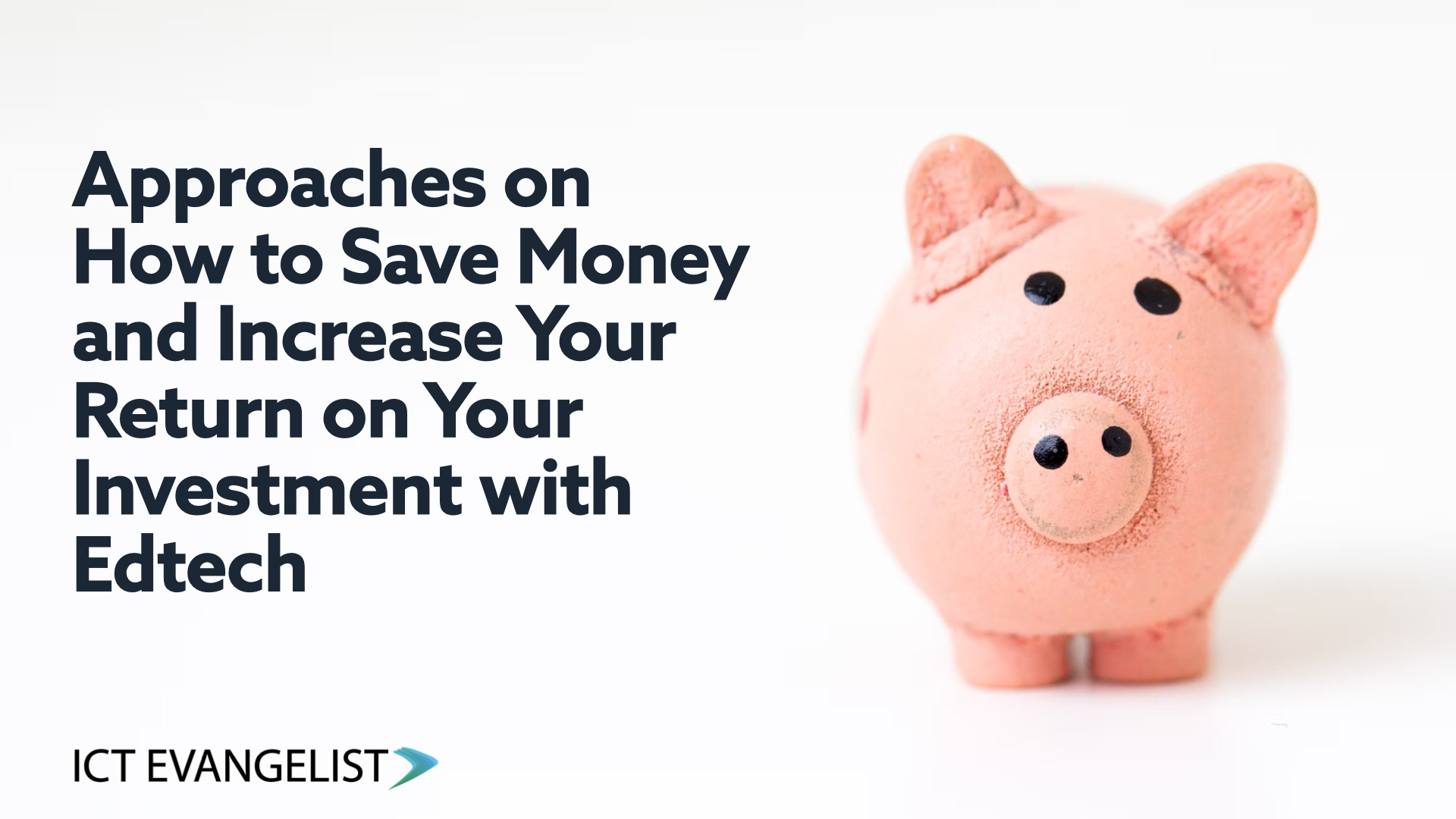 Originally posted and written as a guest blog for now>press>play here.
I have always shared that technology in education is too important (and expensive) to leave to chance, and never more so in these cash-strapped times. Budgets have always been a stumbling block for schools wanting to make the most of technology and the innovations it can bring, but there are numerous ways you can make more of the technology that you have and even use it to save money and reduce your overheads. 
A return on your investment is essential
When you consider the most expensive outgoings on a school's budget, the most expensive item is always going to be your human resource, your teachers, support staff, and colleagues… After that, your next likely big expenditure is going to be related to administration and technology. You should be seeking to get a return on your investment here, just as you do with other expenditures, so efficacy and evidence of how successful technology can be are essential considerations.
Fortunately, we are seeing a shift. Increasingly, both post-pandemic when school leaders rapidly learned just how important a digital strategy is, and now when every area of expenditure is under scrutiny for cost saving, we are seeing more and more school leaders striving to cut down on their costs with technology. 
By planning your digital strategy effectively you can save money so that your budget goes even further and often, technology can help make those cost savings too. 
1. Have you tried turning it off and on again?
That old adage does work wonders for sorting a plethora of computer-based problems, but significant savings can be made when you consider deploying software that can ensure devices are powered down at the end of the day and turned on again automatically the next day. You can set inactivity policies with power management tools so that devices know to turn themselves off after a set period of time. Extend this further and if you think smart and invest in smart rooms you can implement similar policies with lighting, air conditioning, or other power-consuming devices. It all adds up.
2. Is the juice worth the squeeze?
Making even more of the software and hardware you've got is a great way to get more bang for your buck. Take old monitors, for example, don't just throw them away – why not consider upcycling them to become digital signage points for around the school? 
Try exploring how you can get more out of the tools you already have too. Let's take the popular award-winning, immersive audio resource from now>press>play with their wireless headphones as one example – sure they are great for the job they are intended, sharing fabulous engaging and curriculum-aligned experiences for young people, but why not use them for relaxation, or to help focus easily distracted students by playing white noise through them during quiet reading time or even using them (as a few schools are doing) to reward their pupils during 'golden time' with a silent disco?! 
You can upcycle old devices too, such as old PCs which can, for a relatively cheap cost, be converted to run ChromeOS thus extending their life and furthermore, usability for learning activities for students across your school.
3. Save time, save the planet
Let's explore the amount of time teachers spend, standing at a photocopier. Time is money, so they say. If a teacher spends 30 minutes of their day photocopying resources, it's not just the electricity, toner and paper that's costing money; it's 30 minutes of the teacher's time being spent too. That isn't just 'free' time. 
Sure, we all know teachers work more hours than they're paid for, but let's say they stick to the 1265 hours per year, that's £35.57 an hour.  If a teacher is doing that 5 days a week, just so children can then stick those photocopied sheets in their book (don't get me started on glue stick costs) that's a staggering £88.92 pw stood at a photocopier. And what if you multiply across a year and do that for all staff who are using that photocopier…? 
It's not just that going paperless can save money. When you have the technology already available in your school, whether that's through Google Classroom or Microsoft Teams, or even Showbie, Seesaw or whatever, scanning a document and sharing that with your class takes moments and the savings you can make could even make your budgetary constraints seem like budgetary opportunities.
4. The bare necessities
How often do you know what technology you have available to you that is actually being utilised? Software exists which can scan your systems and see how much utilisation it has been getting which can often highlight potential savings. 
Alternatively, if you have a 1:1 device policy, you can also make clever use of your MDM (mobile device management) solution where you don't have to buy an app or electronic book you might want for all of your classes. Simply arrange a rotation on your curriculum so you can deploy a class set of an app or resource as and when they need it. By linking your digital strategy to your curriculum demands and needs, you can make similar savings with your digital resources, just as you are probably already doing with your physical resources. 
5. Who doesn't want to reduce workload?
For those of you that know me, you'll know I'm all about efficient uses of technology. As shared above with time-saving approaches to copying and sharing resources, there are many ways in which you can use technology both simply and effectively to reduce work and workload. I often share the benefits of using keyboard shortcuts to help make your use of technology more efficient. 
There are plenty of other approaches to teaching and learning using technology cheaply (and often for free) that easily help save time and reduce workload.
From the built-in AI of tools such as Reading Progress that can listen to your pupils read and also give feedback; through to the auto-marking of low-stakes retrieval activities using online quizzing platforms such as Quizizz; to utilising tools such as Mote that allow you to use your voice to help close the feedback loop more efficiently, these tools all speed up the feedback process.
The key to an effective digital strategy is mapping out what you want to do with the amazing technology you have in order to make the best use of it, so that it helps teachers and learners, and reduces overheads and workload whilst improving efficiencies.
Without that strategy, it's a bit like being in a well-stocked kitchen but not having any recipes to help guide you. You might start cooking but without those directions, you'll be likely to not end up with the results you had originally wished for, and who likes a cake that hasn't risen?