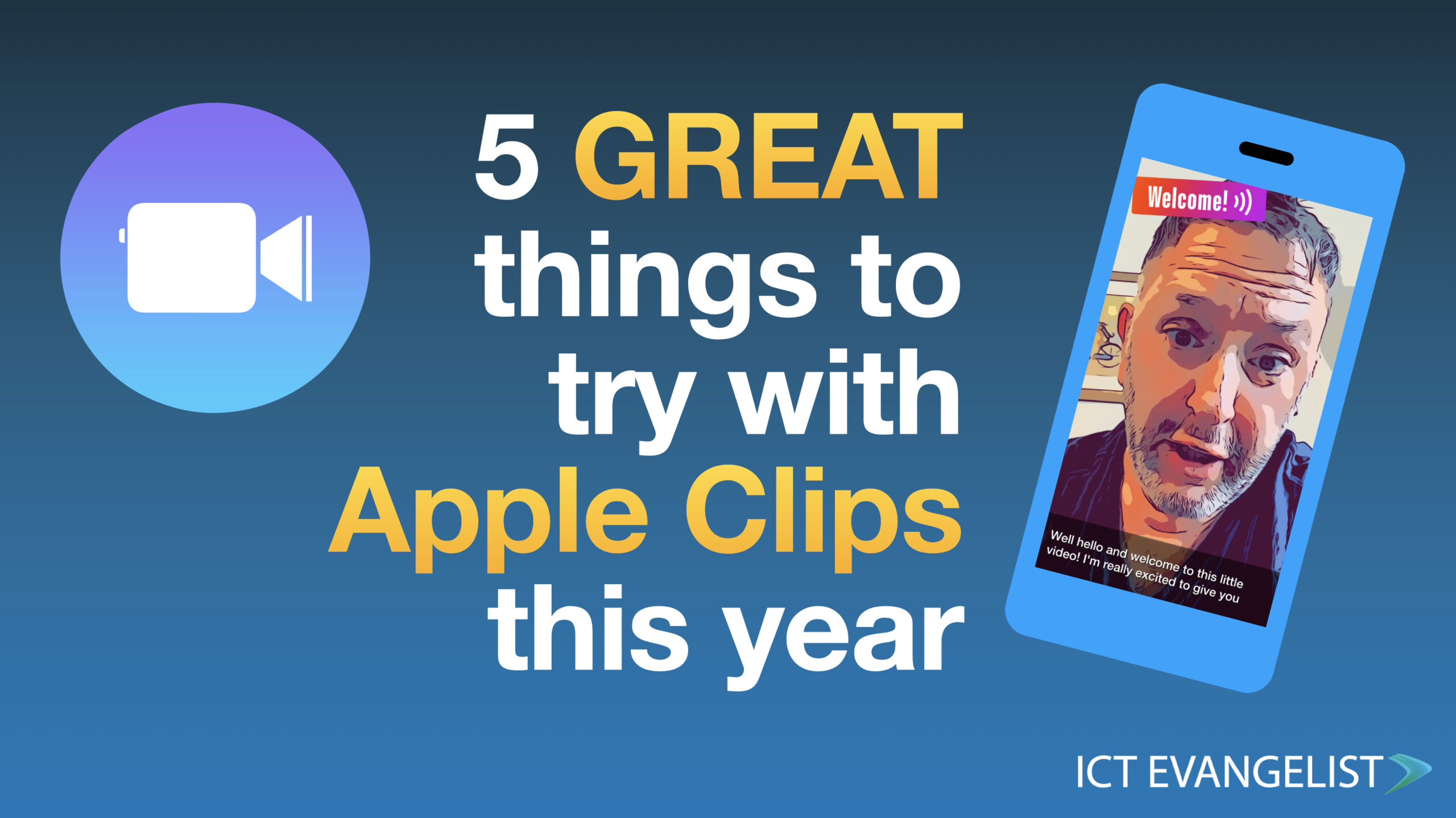 Apple Clips has been around for a few years now. It's a clever app for iPad and iPhone for making short video clips that can be enhanced in any number of ways using emoji, text, symbols, green-screen effects, AR and more! It's become a firm favourite in many Primary school classrooms, is used by lots of teachers to make their own video exemplars engaging, as well as enabling pupils to use technology simply and creatively so they almost don't realise they're learning at the same time!
I've actually blogged about Apple Clips before, but recently, it's had a cool new update that has added to its possibilities (adding LiDAR technology – Light Detection And Ranging – to sense depth and enhance the AR effects), so I thought I'd share five more ways for you to make the most of it with your class!
1. Give every child a voice.
We all know the pupils who literally wither when asked to speak out in class or become visible in any way. Using Apple Clips to make short selfie videos as part of a learning activity can really help these pupils, as they can overlay Memoji over their own face as a mask. The tech is extremely good; the Memoji track your movements and facial expressions, so it's all very realistic. You can do the same with regular emoji too. For hidden learners, this mask removes the risk of speaking out in front of others, making an activity in oracy much less daunting.
2. Pump up your writing!
Getting pupils to write a short story and then turn it into a clip with an appropriate background with superimposed characters is great for encouraging them to not only use their writing skills but also build on those to include oracy and creativity when recording. The app is so easy to navigate that it's never a barrier and it's a fun and engaging way to improve confidence and communication in several different areas simultaneously.
3. Become a roving reporter
Forest, garden, futuristic city – pupils can use the app to put themselves in any location in their recording and deliver a news report from where they are. This engages their curiosity and gets them thinking about the place they are writing about. It's a great way to hook pupils into reading and researching locations, issues and stories, which leads to more creative writing for their reporter clips.
Here's an example my own children created recently to highlight their new YouTube channel:
4. Book review sharing activity
Here's a nice little project full of learning wins: creating short recordings of book reviews with Apple Clips and sharing them afterwards in a fun way using a separate app called Halo AR.
Firstly, pupils read their books and write their reviews. They can then record a clip of them delivering their review and enhance it with effects to bring it to life whilst using Apple Clips. So, for example, if it was about space, they can use a space green screen background and overlay any keywords, symbols and so on that they wish.
Now comes that Halo AR bit. Halo AR is a free app available on Android and iOS that turns any flat object into an AR trigger when it is scanned and it's really quick and easy for children to import and overlay their Apple Clips onto these triggers. Then, for example, whenever a pupil scans the room with their device's camera and picks up one of these triggers, a book review magically appears on each one. Great for teamwork, a group of pupils can work together to load their book review triggers, another group can find them and the teacher can ask the class questions about the books, the characters, reviews, recordings and so on. I wrote about it previously on last year's Appvent Calendar.
5. Accessibility
It's never too early to start teaching pupils the importance of creating work that's accessible to others. Apple Clips can help them be mindful of what people who can't hear or see need in order to access their creations. To assist, when pupils are speaking during their recordings, Apple Clips can automatically generate live captions to go along with their voices.
There's also another learning activity you can do here, and that's reinforcing the idea that automatically-produced captions need to be checked because, as we know, it's still an imperfect technology and often, words come out wrongly (e.g. 'their' instead of 'there') and need to be changed to make sense. Pupils can edit the subtitles quickly and easily within the app.
Learn more…
Apple Clips is a really versatile tool for the primary classroom and one that makes learning fun, which is so important for engagement at this stage.
If you didn't see my original five things to do with Apple Clips blog, you can read it here. And if you'd like to see practical ways to use the app, I recommend you check out this YouTube video channel by Jacob Woolcock, who has a great playlist of explainer app demos for all things iPhone and iPad – including one for Apple Clips. It's really well explained and great for getting an overview of the app's possibilities.
I hope you find these ideas useful to add to your use of Apple Clips in your classroom!
If you were interested in learning more about how you can work with me on projects such as these, please do not hesitate to get in touch via my contact page.