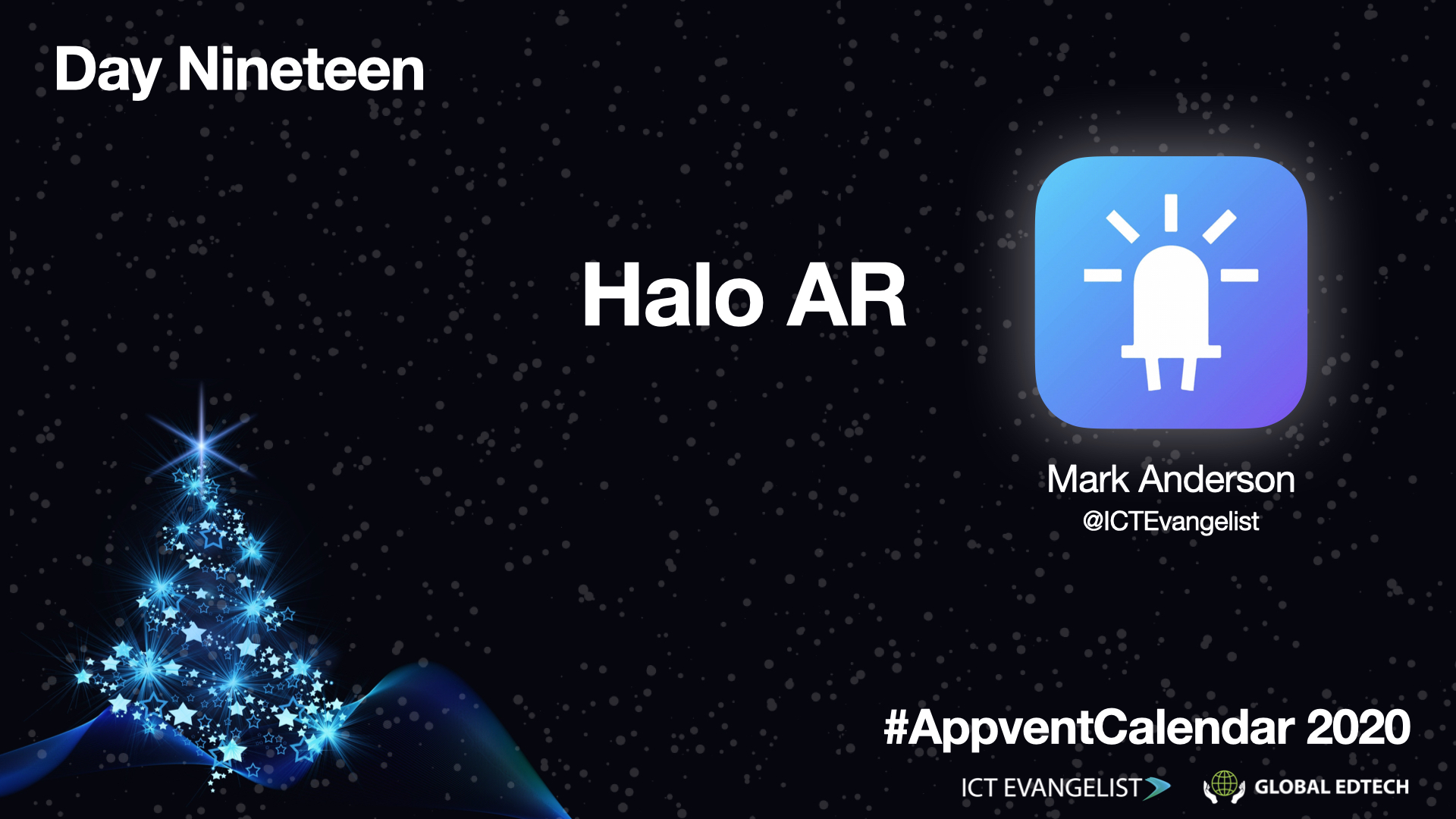 Welcome to Day 19 of the 2020 Appvent Calendar
Throughout the Appvent calendar this year we have seen lots of tried and tested, good old favourites appearing, which has been lovely because so many of these tools have made such a big impact during the pandemic. 
It would be remiss of us, however, to not include some new favourites, with today's entry being such a new favourite and one shared to me by ARVR guru, Steve Bambury some while ago. 
There are many teachers who have lamented the loss of the HP Reveal app. This fantastic AR app enabled you to add interactive overlays onto static objects and was used by many a teacher who engaged their learners in creative activities where they would ask students to create overlays for a wide variety of pieces of work that they had created as part of their learning process, to explain their learning and journey behind their creation. 
Since HP stopped supporting the app and it no longer worked, there has been a gap in the market with no other app really filling its place, until now…
Enter today's advent entry Halo AR!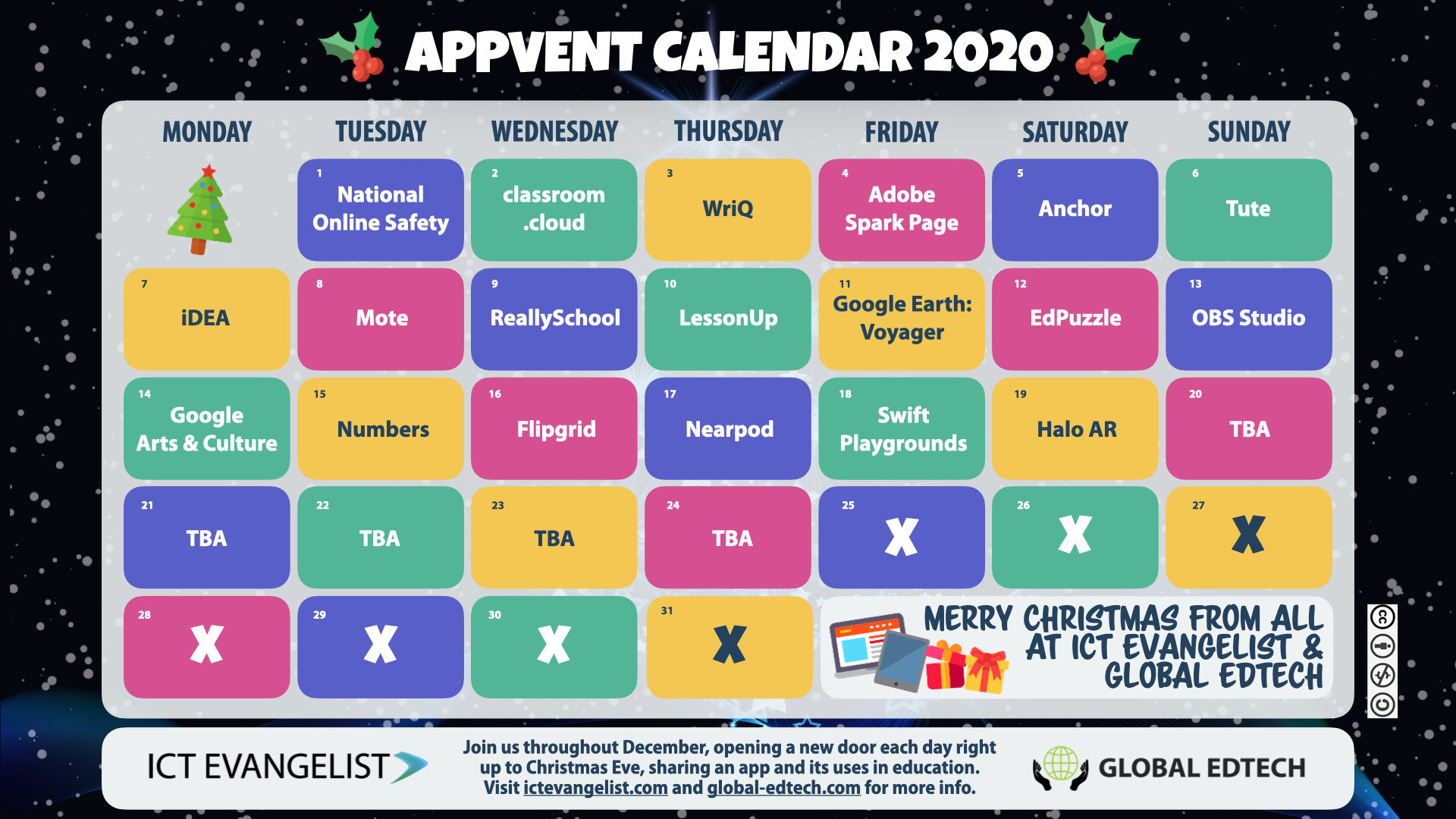 Using the app is super simple but I strongly recommend having some content that you would like to work with before you get started. 
You'll need the following in order to get it to work:
Your choice of trigger – for my example, I wanted to share a book review of a book so I got my copy of Priya Lakhani's 'Inadequate' book ready

The resource that you want to appear as your overlay. Halo AR accepts four types of media to add as your overlay to your trigger:
Gallery – this is simply images that you have stored in your Camera Roll – Halo does not currently accept videos from your Camera Roll.
YouTube URL – this, once pasted in, will play a YouTube video overlay. This is what I did in my example below
Image URL – this will pull an image from any online location where there is an image you would like to use as an overlay
3D Models – at the moment there are only three sample 3D models in the app; the moon; a giraffe (see photo below) and a tree. Clearly not that useful, yet – but as you'll see from the giraffe photo they are pretty amazing (can't wait to see developments in this area!)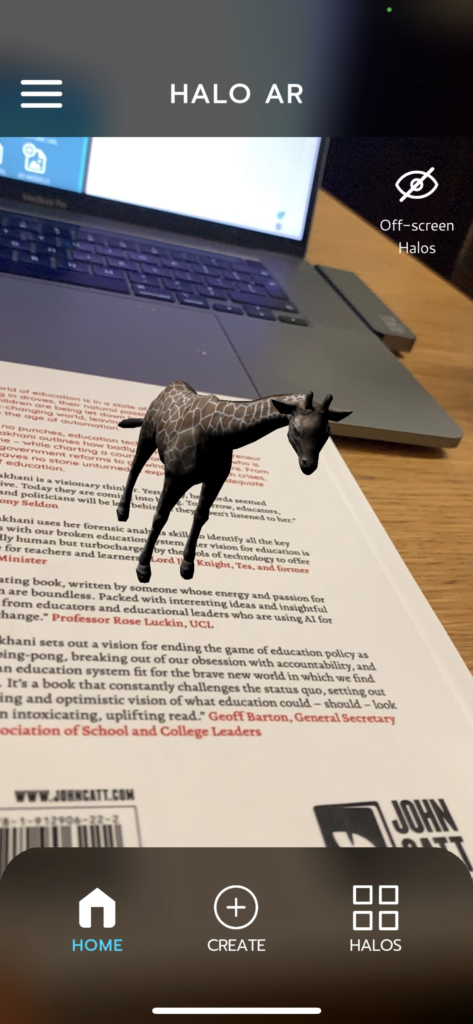 With the example I made, I wanted to re-create a book review example with a video. Unfortunately, the only way (I could work out) to do a video overlay was to record the video and then upload it to YouTube. I did try adding a video from an open link to the video file I created on Google Drive, but this, unfortunately, did not work. Therefore, if you're looking to add video overlay's currently, YouTube is your only option unless you've worked out a way to do it – if so, get in touch! 
I uploaded my video to YouTube via iMovie and made it unlisted so it didn't appear as a random video on my YouTube channel and to see if this could potentially be an alternative option for schools. It worked as you can see from the example below:
What else?
As with HP Reveal, Halo AR has a community aspect to it too, enabling others to view your overlays with their own devices. In order to do this simply go to the Halos section via the navigation at the bottom of your screen and simply tap on the + icon. 
Once you've done that, in order to see someone else's overlays simply add their username and the collection name their overlays can be found in. When completed, you'll be able to use your Halo AR app to see the overlays that others have made too. 
If you'd like to see my overlay working, simply follow 'ICTEvangelist' and the collection 'Test Halos' – once done, try scanning the front and back covers of Priya's 'Inadequate' book and let me know how you get on!
With this sort of app, the sky is the limit in terms of the activities you can engage learners with. Could it be a virtual art gallery? Could it be book reviews from the library and all students follow the library account? The opportunities are endless.
As with all of the apps and tools used in your schools, please make sure that you assess whether there are any data privacy issues related to the app. It is an exciting tool, but some of the ways in which you have to use it, such as YouTube for videos, may give you cause for pause, so make sure you do the right checks and balances with your DPO before you start using it with your classes! In the meantime though, it's the Christmas Holidays so you can certainly start playing with it and seeing if it would be of interest to you!
The app is developed by popular AR developers 'LightUp' and can be downloaded on iOS for free here. 
If you'd like to check out Priya's book, you can learn more by reading it here.