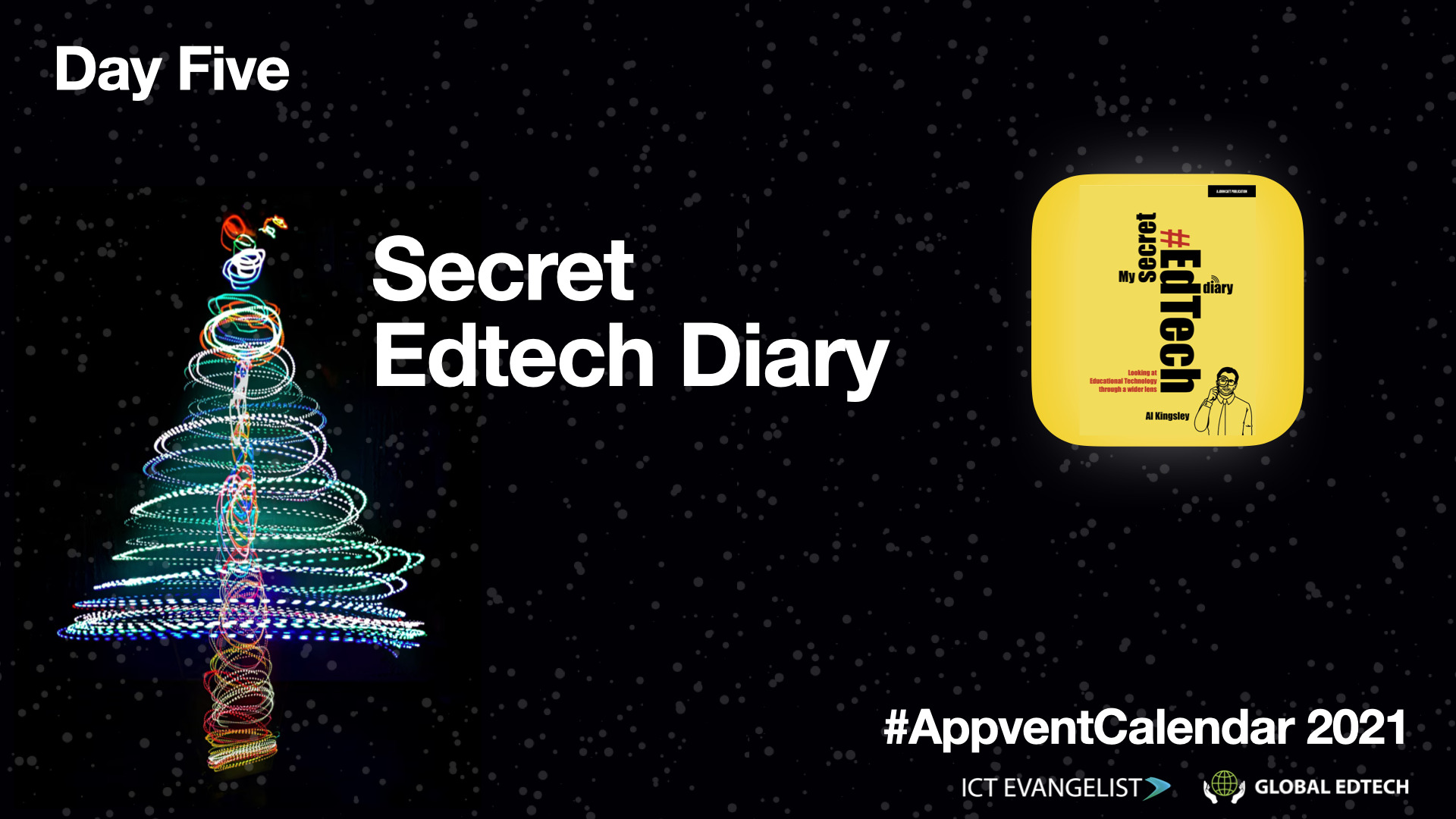 As we open the door today to find Olly Lewis' recommendation behind door #5 we discover not an app, but a book! "My Secret Edtech Diary" from Al Kingsley – we'll let him explain!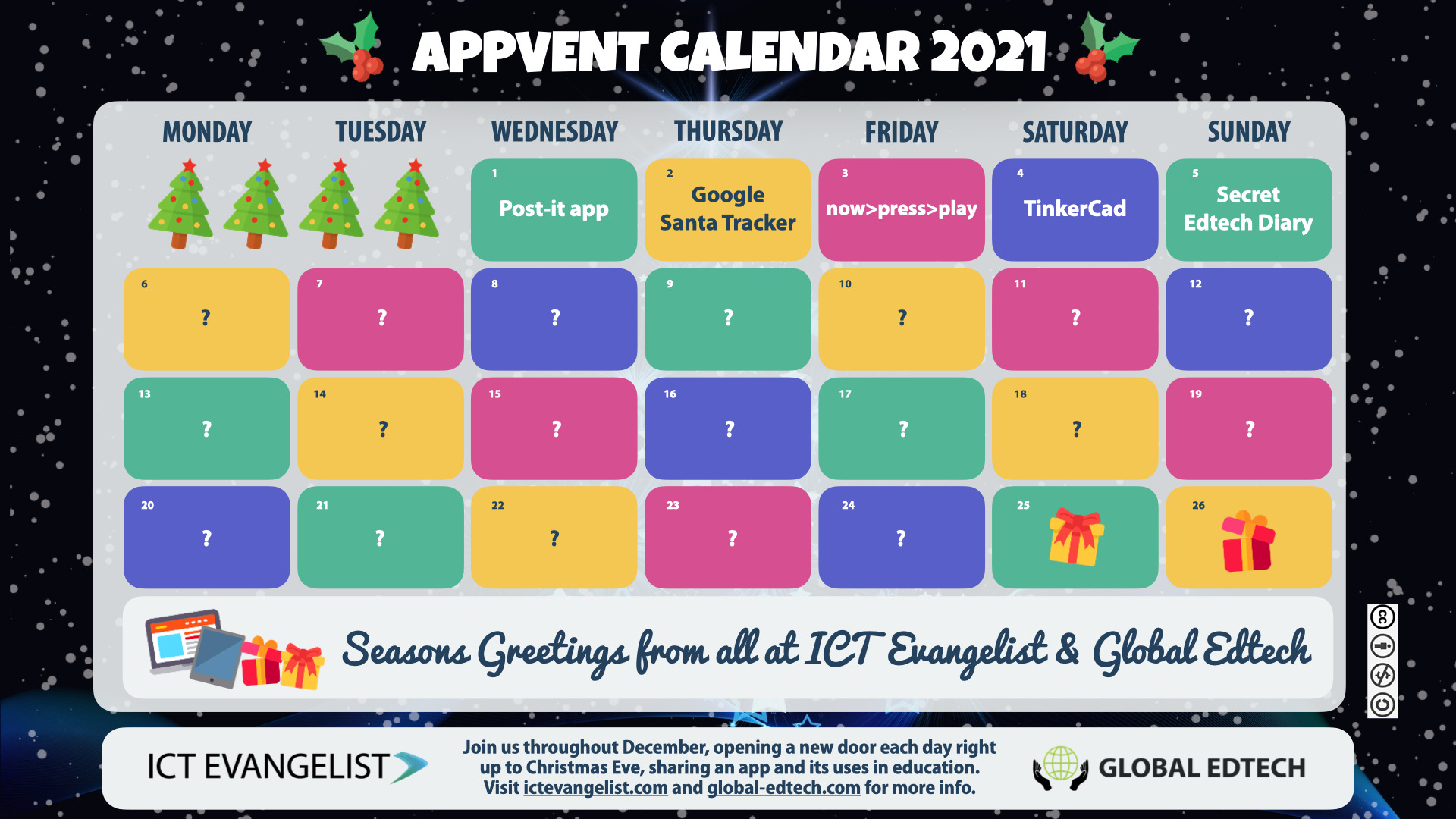 If you follow me on social media, you may know that getting my hands on a copy of the superb "Secret Edtech Diary" was somewhat difficult given I live and work in the UAE. I was so pleased however to get a copy of this excellent book.
When I was asked by the global edtech team if I would contribute an app for the Appvent Calendar, whilst I could recommend lots of different apps to use in a purposeful way; Al Kingsley's 'Secret Edtech Diary' has had such a profound impact on me and my thinking, that I simply had to make it my entry on the calendar.
When I decided that I wanted to include the book on my Appvent entry, I even requested to change my date to earlier in the month so that it would give everyone an opportunity to grab themselves a copy, ready in time for Christmas.
Whether you are new to the profession, a teacher, a middle leader, or on school leadership, there is plenty in here to help everyone, regardless of your role.
So what's in there?
From setting the scene early on in the book in the section 'Unpicking Edtech' which explores the history of technology in education, right through to a superb section on 'Digital Strategy', to the brilliant 'Voices aligned' section which includes helpful advice around making the most of technology in the classroom. The voices come, not just from Kingsley, but from a huge array of educators, I respect who've had an amazing impact in their various roles leading on and teaching with edtech.
Add to this there's great advice and information on many of the powerful and purposeful frameworks you can explore, all linked to some really compelling advice and evidence, Kingsley's diary is a superb and helpful read from cover to cover.
To top it all off, his final section in the book, titled 'Places to learn from – my top 10s' is another great section listing a selection of people, blogs, podcasts, expos and conferences, worth attending or checking out the hashtags of, from around the world.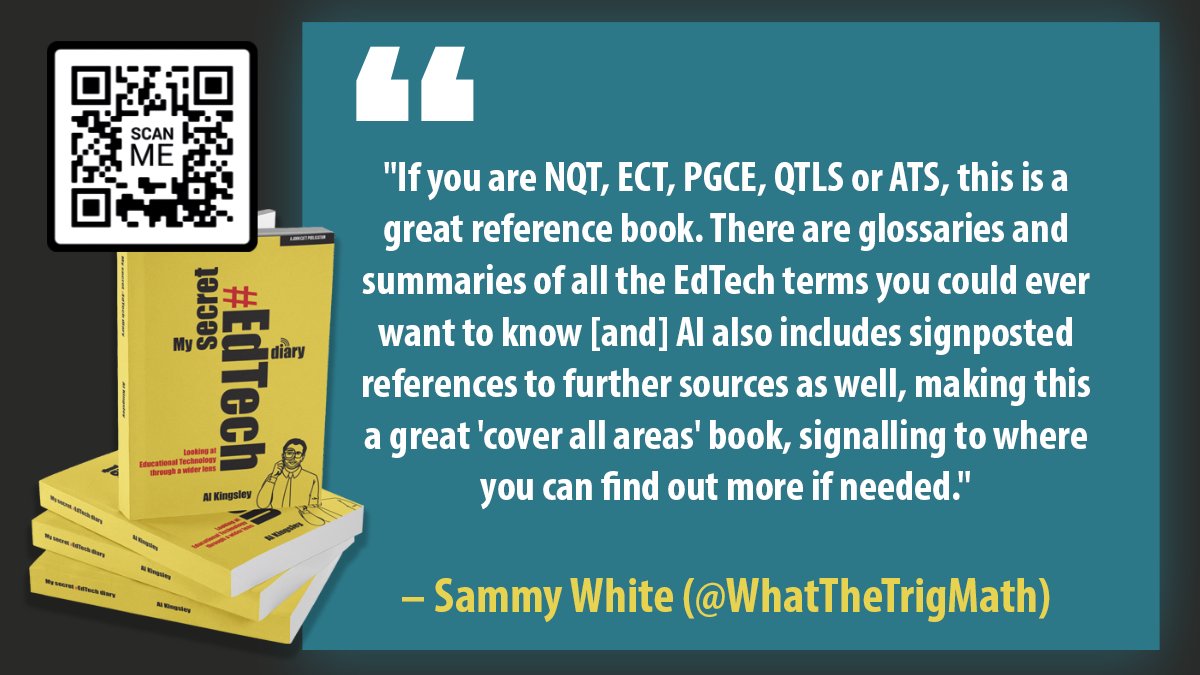 As someone who sits on both sides of the fence, both as the CEO of a hugely successful edtech company for more than 30 years, plus the Chair of a number of large Multi-Academy trusts and a member of the Regional School Commissioner's board; Kingsley really does understand the pressures teachers and leaders face at the chalkface whilst being mindful of what it takes to make edtech work well within school settings.
With all of this in mind, it really was for me, a no-brainer to recommend the 'Secret Edtech Diary' as my entry on the Appvent Calender. Within it, you'll not only pick up plenty of great apps and tools that work in education, but you'll also learn some of the approaches and background required to make informed choices about efficable edtech within your setting too.
You can purchase your copy of 'The Secret Edtech Diary' on Amazon and from all good bookshops and sellers.
—–