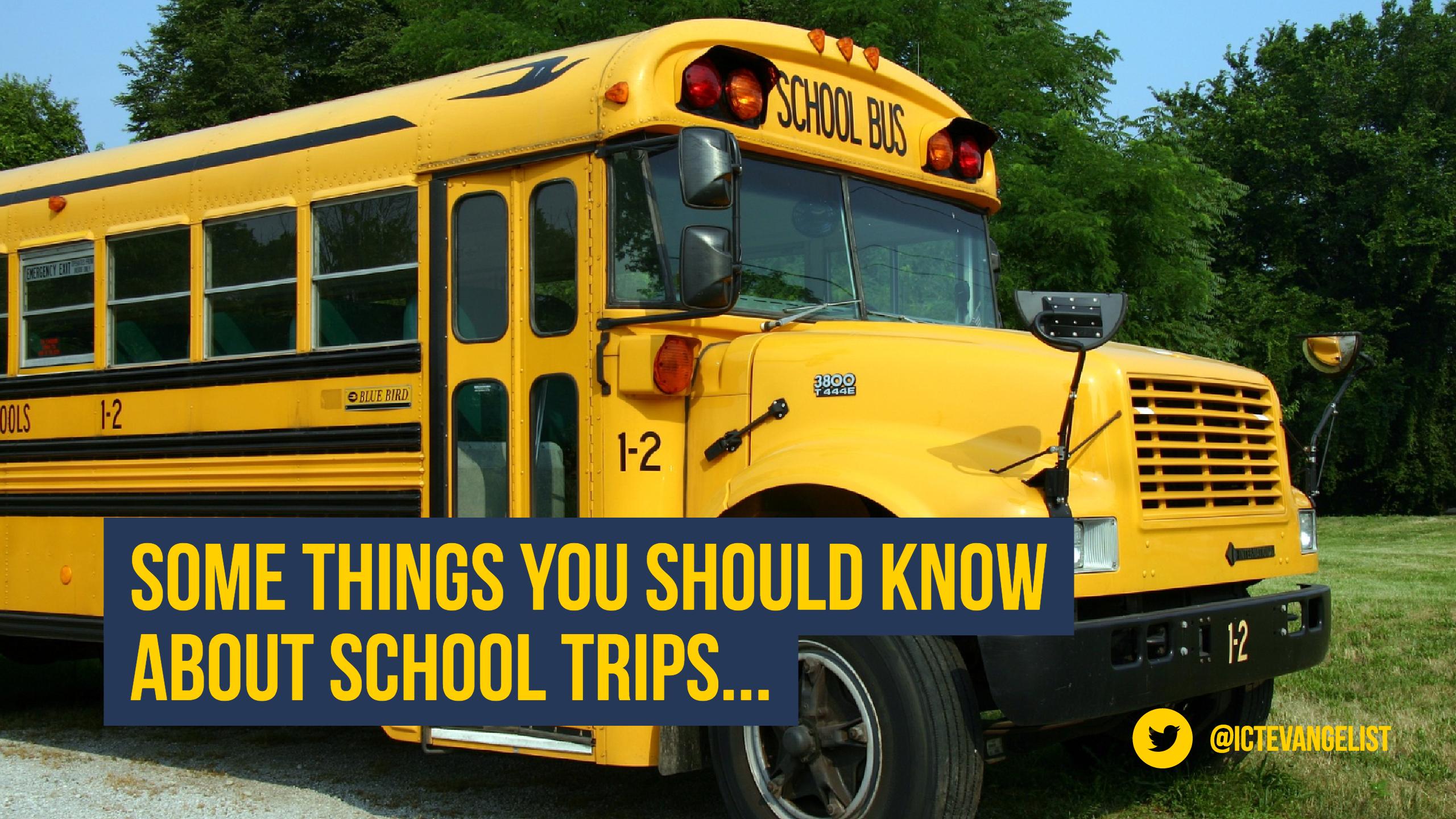 You may have seen in the news recently that Ofsted's Amanda Spielman commented that an ""over-cautious culture has developed in our schools". She went on to say that this "deprives children of rewarding experiences, of the opportunity to develop resilience and grit and which makes it hard for them to cope with normal everyday risk".
One of my favourite memories of my time in one school I worked in was that of Activities Week. All manner of things took place from canoeing in France, to London theatre trips to sporting expeditions to Math camp; pupils getting to decide which extra-curricular activities they would like to attend; the idea being that the Activities Week would give pupils the opportunity to experience things that were linked to their interests and the opportunity to explore them further. Pupils would look forward to these weeks all year long and I enjoyed organising and participating in lots of the different activities that took place over the 8 or so years that I worked there.
I certainly remember the trips that I went on as a child myself too; from choir trip to the Gower coast to various French and German exchanges and more.
Reflecting upon school trips, I reminisced about some of the best things about school trips and I thought I would share them with you.
And we're off!
Firstly, anyone thinking of undertaking any kind of school trip should know (as Ms Spielman alludes to) that they are a bit of a beast to organise. Filling in risk assessment forms, organising parent information evenings, creating lists of kit to take, insurance, buses, contact numbers, so forth and so on – and getting a team of colleagues to agree to come with you (and getting the gender balance right) can be a tricky business. Try to make sure too that there is equity of opportunity in the trip you organise for those children who come from families who cannot afford everything. Is it a curriculum-linked trip or one to give students experiences beyond that of a regular school day? Are there funds in your school to help support families with trips and if so, will your trip be eligible? Find out!
One of the things children love to do now which didn't happen so much when I was on a school trip as a child is take selfies. Watch with glee in the first 50 miles of your trip while pupils run down the batteries on their phones before the first service station stop. Invariably, children will pack more in the way of things to charge mobile devices, sugar based sweets (and watch out for that Year 8 with a can of shandy) than bring the list of suitable clothes you spent a lot of time compiling in your list. Be mindful too of the children on your trip with inappropriate clothing; sometimes that means inappropriate in terms of length of skirt or messages on t-shirts. The other thing to be mindful of is the child who doesn't bring weather suitable clothes. Make sure these expectations are really clear on your guidance to parents. You'll invariably have some parents who won't read the guidance or come back saying that they've had to buy special clothes for your trip. It's a can of worms but it's important you're clear on what is needed.
In your teacher arsenal things you should be prepared to take with you (and trust me, I've had to carry all of these before):
sick bags
more sick bags
bin liners to collect coach rubbish
adult nappies for that unfortunate teenager
first aid kit
and more!
What else?
As you all arrive in the morning before your trip your mind will start to boggle pretty quickly when you see the luggage students turn up with. A 2 day trip shouldn't equate to 3 suitcases! #justsaying
As everyone arrives so you'll start doing that amazing feat of head counting moving children. Making sure you have everyone knowing who they are buddied with and sitting with can be a real source of anxiety for some children. Be mindful of this. Something I always used to do once all the children were on the bus was to give them a number and we would use this for a roll call to ensure everyone was present and if someone was missing it was easy to ascertain who it was. Adding in a competitive element to this on timing (get a colleague on the stopwatch or yourself) can make for very quick and efficient registers.
Often there is a teacher on your team who rushes to the back of the coach quicker than the pupils do too. He/she may think they are far too cool to sit with colleagues but don't lose sleep – having a colleague at the back of the bus is a good way to cover supervision for any pupils who might misbehave on the coach.
Stopping at your favourite services en-route is often essential. Getting 80 pupils off a coach, into the motorway services and back onto the coach again in under 30 minutes is a feat and a half. Be mindful of those 13 year olds who try to go on the fruit machine area – "No James, you are not 18".  I often smile too at the things children buy for parents, siblings and loved ones as gifts from the trip. Check out their purchases as they make their way back to the coach. I also recommend some supervision in or around the toilets too as your pupils go in there. Poor student behaviour will directly impact on the good name of the school and so keeping them in check is always a good idea and not just at the services.
Whilst you might think that a nice walk around London would be good for the students, be prepared that they really do not like walking. Often, one of the favourite bits of any trip for a student is the bus ride there and back! Factor in an extra ten minutes a mile for them. Be prepared too for a sleep rota, especially on residentials – getting all 120 of those 14 year olds to sleep in bunk beds isn't going to be an easy task. With late nights and early mornings most likely a given too, make sure you factor in your coffee intake. Knowledge of which services on your motorway route stocks your favourite Costa or Starbucks can be a lifesaver for many a teacher. I always used to try to carry a few sachets of Nescafé just in case! Speaking of food too, if you are ever in the situation where students are allowed some free time; check out where they go for lunch. Strangely, they will come back having gone to mostly McDonalds, BK or similar. Never to a local shop but to the brands that they know and love.
Way home
The journey home can bring its own stresses too. One my favourite bits about school trips is the bonding that takes place. Not just between you and the children you work with but also with your colleagues too. Some of my best friendships in teaching have come from the bonding that takes place whilst on a trip. You find out a lot about yourself, your colleagues and the children you teach. The confined space of a coach after having been together for a long time in each others pockets can bring some frayed nerves. Often a number of the children will fall asleep but these bundles of energy will keep on going. Keep on top of the litter they will produce from the dregs of their sugar supplies.
Remember on the trip home to keep the parent phone / hot-line updated too. Something I started to do as it became more easy to do so was to create a Twitter account for the school trip. This was a great way of not only sharing important information such as return to school times but of sharing the various experiences students were undertaking on the trip – it's a great non-intrusive way of sharing what those on the trip are up to for parents who may be missing their children more than the children are missing their parents.
Prepare yourself for the last part of the trip too. No matter how many times you share the return arrival time; updating people through phone trees, your trip Twitter account, the school website, students messaging their parents… there is nearly always that moment where everyone has gone home bar all of the teachers and 2 children. Just when you cannot wait to get home yourself you are there stuck waiting for a parental pick up. Don't worry. The responsibility for staying until they arrive normally falls onto the organiser of the trip – I try to, whether organiser or not, to stay until the bitter end, but that's something you can decide amongst yourselves.
To sum up
School trips are hard but immensely rewarding undertakings. If you're in your NQT year by all means sign up to attend a few trips but let someone else take the lead on your first few excursions; or if you're keen – get someone from your department or faculty who have organised trips in the past to give you a hand. Your school will have a policy on school trips and most schools will have a guide and a person who takes overall responsibility in the school for trips for you to speak with. Use them and get as much help as you can. From step one looking at the affordability of your trip idea to saying goodbye to that final child who gets picked up by their late parent; organising a school trip is a stressful and difficult one. Is it worth it though? Absolutely 100%. These are the things that are some of the best things you can do to share your passion for your subject with the students in your classroom. And that's why we do it.
Good luck with your school trips this coming year!