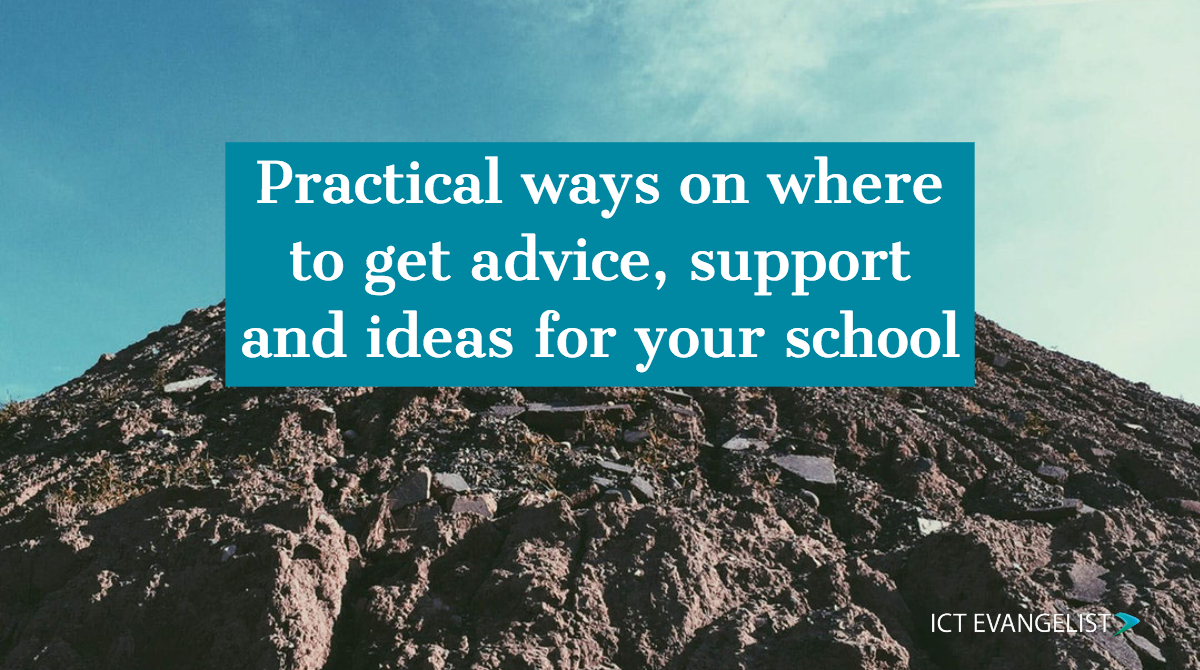 Getting support, advice and inspiration for the myriad of different aspects of school life can be a difficult task. Breaking away from your local authority as part of academisation or forming a MAT can make things more difficult as those services you once had easily available can make decision making quite an isolating thing. To that end, I thought I'd share some of the people, bloggers, tweeters and more that I turn to for ideas and inspiration to help you in your school too. This is clearly not an exhaustive list and if there are people you would like to recommend to me to add to the list, then please do so in the comments section below.
Leadership and curriculum
Always keeping things focused upon core business, I find Tom Sherrington's blog invaluable in this regard. Oozing common sense and a clear focus on improvement, Tom has it covered. If you haven't come across his blog you can find it at https://teacherhead.com/ and you can follow Tom on Twitter at @teacherhead. Tom is also available to support your school on a consultancy basis too.
Another great person to follow for strong values-led leadership is Hannah Wilson. Co-founder of the WomenEd movement, Hannah is as inspiring as she is humble. Follow her on Twitter here to find out more and be inspired.
Michelle Thomas, Executive Head of the New Wave Federation is another fantastic follow for inspiration around the amazing work being done in the Federation. Daily ideas and sharing of the superb work being done in her school provide me with new ideas on an almost daily basis.
Another great blogger around all areas of leadership, John Tomsett is another fantastic follow, both on Twitter and via his excellent blog. I've been inspired by John's work numerous times over the years and if you dig into his blog archives I'm sure you will be too.
Someone else good to follow from a more Primary perspective would be Tom Rees too. I recently read his 'Wholesome Leadership' book and this is superb. Another definite person of interest for leadership would be Andy Buck and his book 'Leadership Matters' is essential reading for everyone involved in education.
Teaching and learning
There are lots of great people to follow on Twitter when it comes to teaching and learning such as Shaun Allison, Zoë Elder, Jim Smith, Independent Thinking, David Didau, – these people share ideas readily and with transparency and are definitely worth connecting with. All of their books on teaching and learning are worth a read too. Jennifer Gonzalez and her team @CultOfPedagogy is a great follow both on Twitter and via their site too.
If you're looking for more inspiration and ideas for your classroom too, the following are great to follow too such as Brett Salakas (Australia), Blake Harvard (US), Carl Hendrick and Robin Macpherson (UK) – their book here is a great read too. You would also do well to follow the likes of Amjad Ali, Isabella Wallace, Pete Sanderson and Russel Tarr.
Governance
The role of the Governor is a tricky one. On the one hand, it is great to bring in skill sets from professionals who have experiences and understanding that comes from their world, often from business, but making sense of it all and applying that knowledge to an educational context can be difficult. For support, help and ideas around governance, particularly around how you can make things work with MATs, IT infrastructure support and online safety, I find Al Kingsley to be a great one to follow. Coming from the business world but having lots of experience of education, MATs and the aforementioned topics, Al is a great one to follow. You can follow him on Twitter here. As someone I've worked with on numerous occasions, I know he's always happy to share advice and support others as part of his sharing on Twitter.
Technology in education
My PLN (professional learning network) is brimming with amazing educators to follow around the positive use of edtech. To pick just a few is hugely difficult for me but keeping the context to those who I have worked with I can strongly recommend the following people for inspiration and ideas. People such as Alice Keeler (Google), Paul Watkins (Microsoft), Steve Bambury (VR/AR), Simon Pile (Primary iPad), Laura Dickinson (Primary iPad), Jon Neale (iPad / Google), Aram Schalm (Apple / Microsoft / Google), Mike Tholfsen (Microsoft) and James Donaldson (Microsoft / ALN/SEN).
Mental health and well being
Never before have mental health and well being been so high on the agenda in education, not just for our learners but for our teachers too. Due diligence as she is a great friend of mine but in this space, my go-to for advice in my PLN is Nina Jackson. You can find out more about her and her work on her website but dropping her a quick message on Twitter will always receive a response, wherever you are in the world. Other good follows in this space include Dr Pooky Knightsmith, Mike Armiger,  Sam at School Well, and the Youth Mental Health Action Group from Canada.
And more?
Well, of course, I could talk about the likes of Rob Smith from Literacy Shed and Jane Considine for Literacy, Mary Myatt for Leadership, the great work being done by Megan Sumeracki, PhD and Yana Weinstein, PhD over one their Learning Scientists site (here's their Twitter) around research-informed teaching and learning techniques… The difficulty is that with so many great people out there to inspire, provoke and support is huge and like any list of sorts, it's always difficult to include everyone which leads to exclusion. The trick is though, that whilst I haven't included everyone in my PLN, the many people I've mentioned in this post will probably know of others who can help out too. These people are in my PLN for a few reasons. They respond. They interact. They help… So it may well be that you're not using social media or reading blogs on Medium or Flipboard and you might not be using Twitter, but maybe you should be. Why not try reaching out to some of the people mentioned in this post and find out what they're doing, read some of their blogs and books. I'd love to hear how you get on!