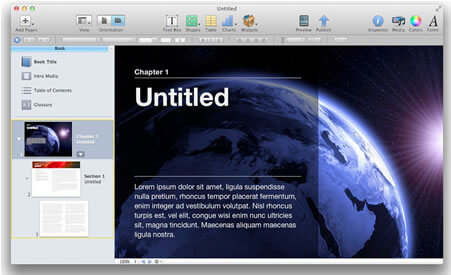 You won't have failed to notice the big launch by Apple a few months ago with various links to education. They released 3 big education related items that have (if they hadn't already) made educational establishments really sit up and notice the iPad as a serious learning tool.
iTunesU app was released which gives amazing access to hordes of online courses from universities from all over the globe. For free. This I will blog about later.
iBooks2 which included developments in interactivity within the books  you can read within the app.
Finally and I think perhaps more importantly, they introduced the new iBooks Author app. An app which gives educators the power to create their own interactive learning experience for their students, the like of which we have haven't really been able to put together before.
The following hits are reasons why iBooks Author tied with iBooks2 is a complete win for schools, particularly in 1:1 type scenarios.
Teachers can easily (yes, easily!) create their own interactive books
The books bring learning to life, right in front of the students eyes
Students can interact with 3D images to enhance the learning experience
Interactive images can bring learning to life
Study cards based on notes or glossary items (which are created automatically!!) can reinforce learning
Students can email notes to other applications for further write up, reflection and study
Books come alive
Presentations can be embedded within the books to give extra weight to the learning experience
Students can review their learning with reflective learning multiple choice quizzes
Drag and drop activities further reinforce the learning that can take place within the book
Image galleries can make good use of space within the book and engage students further with the tactile interface
The possibilities for fantastic books to be created for all subject areas is immense. For MFL you could embed vocab on to the glossary for learning. You could embed audio to help with students practicing the pronunciation. You could have drag and drop activities to assist with sentence structure. You could include images of the native country where the language is spoken and have a drag and drop activity to drag the correct words to describe the scene on display. You could embed using HTML code a translation tool. You could…… The list goes on. And that's just for MFL…
I could go on with some of the 'win' features that iBook Author can bring to the fore in the creation of books but suffice to say, it is superb. The interface in iBooks author is completely intuitive too. It took me as a non Mac native with my assets ready, under an hour to produce a book containing two weeks' worth of learning content. If you are a Mac native, it is simply a cross between Pages & Keynote – you'll take to it like a duck to water. Publishing your book is a breeze too. Simply save it as an iBook file and you can share it with your students. They simply need to just download it to their device and away they go.
As someone who has traditionally been a purely MS based user, I really can't see any reason why I either shouldn't be using both OS and devices now, or even, actually, just move completely over to Mac. To quote another big corporation – I'm lovin' it!