Twitter as a source of professional learning is an interesting premise. As someone who has been heavily involved in using Twitter as a source for my own professional development for more than a decade, taking control of my own professional learning before I even realised that was what I was doing; in this post, I'm going to share five ways professional learning and the education sector has grown as an indirect benefit by the many thousands of educators who use Twitter on a daily basis.
In this article, I will work on the assumption that you already have a Twitter account and that you follow regularly shared and understood approaches to its use, how you present yourself, such as with a profile, relevant avi (photo to represent yourself) and are following other educators. Many of these are outlined in this superb sketch by a long-time member of my PLN, Simon Johnson.
Ideas for the classroom
One of the clearest ways of making the most of what is available on Twitter from educators has always been the sharing of resources and ideas. Many educators freely share not just ideas for the classroom but also how they're using them with their learners. Take this idea for example from Ceridwen Eccles (@Teacherglitter on Twitter).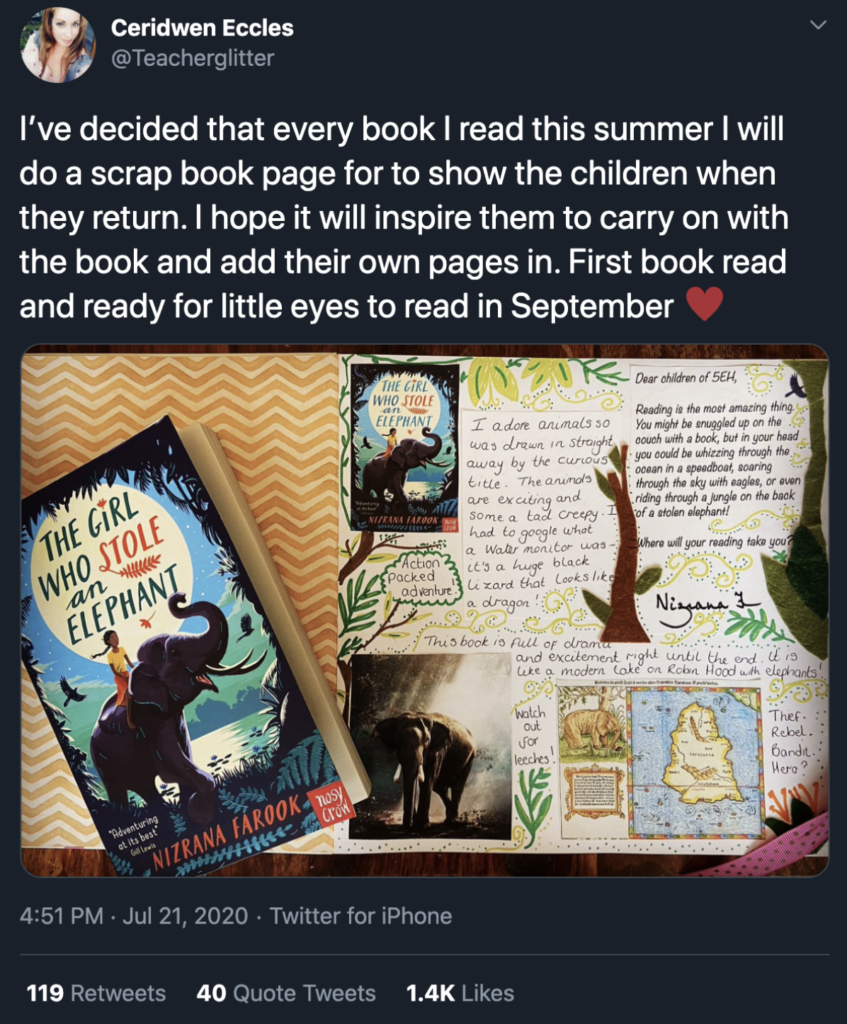 And the ideas aren't just for the Primary school classroom either. There are many amazing examples being shared each and every day in many different areas affecting schools, such as this recent share from Katy Potts (@katypotts on Twitter) from Islington's Community of Schools:
Many educators too share to Twitter via their blogs and so Twitter is also a great route into finding out more about activities going on in classrooms, just not from around the UK but from around the world, such as this example shared via Global Edtech. by Global Teacher Prize finalist, Gustavo Calderón De Anda:
Rethinking education for the 4th Industrial Revolution – an article from Gustavo Calderón De Andahttps://t.co/AZfWe4QEtI#education #EdTech #eLearning #edutwitter #edchat #edtechchat #onlineeducation #GTP2020 #GlobalEdTech #STEMEducation #STEM pic.twitter.com/HrMtKJOIml

— Global EdTech (@global_edtech) September 16, 2020
Professional support
I was recently working with Worcester University who had asked me to come and share with their trainees about how you can use social media such as Twitter to support professional learning. To help with this, I asked my PLN to respond to the following question and they certainly responded well. Having access to this wealth of support from educators from around the world is superb and a hallmark of what "EduTwitter" does so well, in supporting others. Check out the responses in the following Wakelet curation:
The response to this was huge as you'll see from above and with so much wisdom and professional sharing being given, it's easy to see more of the positives of the use of Twitter for teachers.
It's not just these responses either. As a collective, we are stronger when we work together, even if we don't always agree. Courteous and respectful dialogue should be a cornerstone of our profession and this should also be reflected in the conversations we have when using any social media.
Contextual responses
How many times have you been seeking inspiration or support around a new topic or idea and have gone to Google search and found the results to predominantly be those resources you have to pay for such as those found on the TES?
Twitter for teachers is like a Google search on adrenaline.
When you have a solid professional learning network on Twitter, you have access to ideas, resources and activities that are grounded in a teacher's pedagogy. These are often supplied and shared contextually and relevant to your needs. You are able to have a dialogue with those you connect with, give them the frames of reference that even the most advanced of algorithms hidden deep within Google search can only begin to fathom, such is the power of a human response compared to that of Machine Learning.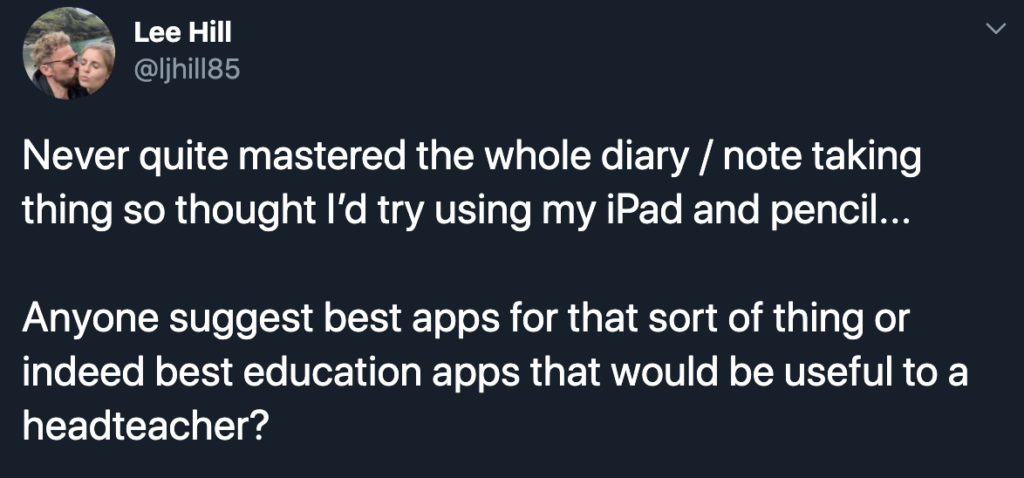 This recent example from Primary headteacher, Lee Hill (check out the thread and responses here) had many supportive and helpful responses to his query, grounded in the experience of those who replied. Some might argue that there were too many responses, however, those responses were not paid for as many links are within a Google search, plus again, completely grounded in responses from experienced practitioners who use these tools regularly. One response by Deputy Headteacher, Claire Jones, even included a video of how she uses the Notes App directly on her iPad!
I said I'd make a little video on using the app 'Notes' so here you go… it's fantastic for organising everything!

This might be useful to you all too: @MrsSMcD @miss_murphy97 @MissKHoldsworth @MrsHSPaul @miss_bennett20 @middlehurstmiss pic.twitter.com/Z1x4MG6CiH

— Claire Jones #TVTTagTeam (@DepHead_Jones) September 14, 2020
…how amazing is that!?
Professional learning
There are so many professional learning opportunities shared by educators on Twitter. From free conferences such as the LearnLiveUAE conference, I'm organising for 16 October with my co-host on the show, Olly Lewis, to the weekly shows I do on Monday evenings (#LearnLiveUAE) and my other show with Bukky Yusuf on Thursday evenings (#UKEduStories) that offers professional learning and dialogues every week.
Apologies for the shameless plugs, but there are so many other great opportunities if you dig a bit deeper on EduTwitter.
There has been a notable rise since we started in lockdown of online teacher events taking place, far more than ever before.
With educators becoming more confident in presenting and sharing using online tools through times of remote teaching, so there has been a recent explosion in free, high quality, online professional learning shows and events, many borne out of grassroots teacher-led movements. And it's not just through videos and shows. Through using Twitter you can easily discover some of the best professional learning conversations which we can all be a part of and what's more, you can ask back and get responses from all the people who are sharing on these wide forms of media. From podcasts, vlogs, conferences and live shows, debates, themed series and more all being shared freely:
In his article, "The best ideas show up after the 'dip'", Walter Vandervelde explains:
If you think brilliant ideas just simply drop out of the sky, you are wrong. A recent scientific study of Brian Lucas and Loran Nordgren shows that the best ideas actually occur only after the 'dip'. So creativity is far and foremost a matter of persistence.
…and so it is clear to me that despite the great innovations and ideas we have seen from educators using social media during the last 6 months, despite us all perhaps feeling a bit of a dip at the moment, our best ideas and ways to learn with and from each other are yet to come!
Finding your tribe
It is interesting that when you look for synonyms for 'tribe', it brings up words such as 'family', 'society' and 'association'.
One of the great things about connecting with others using Twitter as an educator is that it connects you to people who share similar values to you and often become your 'edu-family'.
I have made lifelong friends alongside many 'colleagues' in using the platform. I mentioned Simon Johnson at the start of this article as someone I have known for a long time and would class as a friend but, there are so many more as highlighted in this tweet by the 'Learning Dust' team writing up my mentions in our recent interview for their podcast.
We are all only able to do what we do by "standing on the shoulders of giants" and so it is important to also recognise and both credit and thank those who have helped us on our respective journeys.
Done! Labour of love that one! @ICTEvangelist pic.twitter.com/JHpx8ZoRky

— LearningDust (@learningdust) September 21, 2020
Most of the people mentioned here are here because they form my professional learning networks on Twitter. Most have inspired, helped, developed and supported me over the years. There are so many people I am thankful to for their support, friendship and professional challenge over the years.
A great way I have found to help develop my thinking has been by engaging with those who don't agree with me.
It is important to note, I think too, that my PLN does not just comprise of people who share just my values. I follow lots of educators who have broad and diverse opinions and thoughts on education. A great way I have found to help develop my thinking has been by engaging with those who don't agree with me. By engaging with those educators, they have helped to reinforce my core beliefs whilst allowing me to take on new learning and approaches that I might not have otherwise discovered just by listening to similar voices.
And these are some of the unintended consequences when you connect with other educators… Yes, your beliefs about education may be different, but (for the most part) professional discourse and dialogue helps us all.
The pandemic has brought many educators to the platform and brought many of us together in ways that wouldn't be possible if it wasn't for the technology. The support networks that have sprung up on Twitter have been huge.
One such initiative that springs to mind is that created by Toria Claire with her 'TinyVoiceTuesday' initiative.
'TinyVoiceTuesday' is aimed at bringing together like-minded voices of educators who don't have a large following to call upon to engage and do many of the things that I mention above. The initiative has a simple premise, that by using a 'follow/follow back' approach to those who share every Tuesday morning from a tweet that she publishes, brings people together to help them develop their supportive PLN.
Unsurprisingly the initiative has had huge success as you'll see from today's example shared by Toria from her account:
Welcome to #TinyVoiceTuesdayUnites. I am so happy you are here!
To connect:
– Reply to my tweet – introduce yourself & add #tinyvoicetuesdayunites
– Like this tweet & retweet it
– Now the important bit – 'Find Your Voice' – chat, follow, connect.https://t.co/CDCUuWZ3gm pic.twitter.com/Qofoc3OhIy

— Toria Bono FCCT #TVTTagTeam👂 (@Toriaclaire) September 22, 2020
Unsurprisingly, one of the enormous benefits of using Twitter to those who chose to use it is the amount of empathy and support you get from those members of your tribe.
Sharing that you need help on Twitter has always, for me, brought superb levels of support, resources, ideas and more. If you need help, ask for it. Twitter is, for me, the best staffroom in the world and its use has hugely helped me throughout my career since I joined.
A word of caution
It would be remiss of me to say that these things are always the case. As with any 'society', there are those that would seek to use it for nefarious reasons. It isn't always as shiny and as 'lovey-dovey' as I might make it out to be above.
As any educator who has used Twitter will tell you, it isn't all a bed of roses. There are spam accounts, those who tweet using anonymous accounts, parody accounts and those who seem to get a kick out of causing a kerfuffle and problems with argumentative approaches or dismissive comments about the things people have shared.
Courteous and respectful dialogue should be a cornerstone of our profession and this should also be reflected in the conversations we have when using any social media.
My best advice in these situations, if you find yourself in one, is to act appropriately. Take a deep breath. Try not to rise to an inappropriate response. Report them through the features of the platform. Block them. Mute their negative comments. Twitter is fantastic for all of the reasons mentioned above, however when someone tries to flame you, remember, a fire requires oxygen in order to grow. Don't feed these accounts oxygen. Ignore them and move on and if you need or want to, call out to your PLN for advice and support.
This is why as part of my session with Worcester University PGCE students I also took time to mention grassroots organisations that aim to help protect and support educators on the platform when things aren't as supportive as they could be, such as "The Safe Space". They aim to take "a stand against inappropriate behaviour towards women on edutwitter. We offer fully confidential listening and support. By women, for women."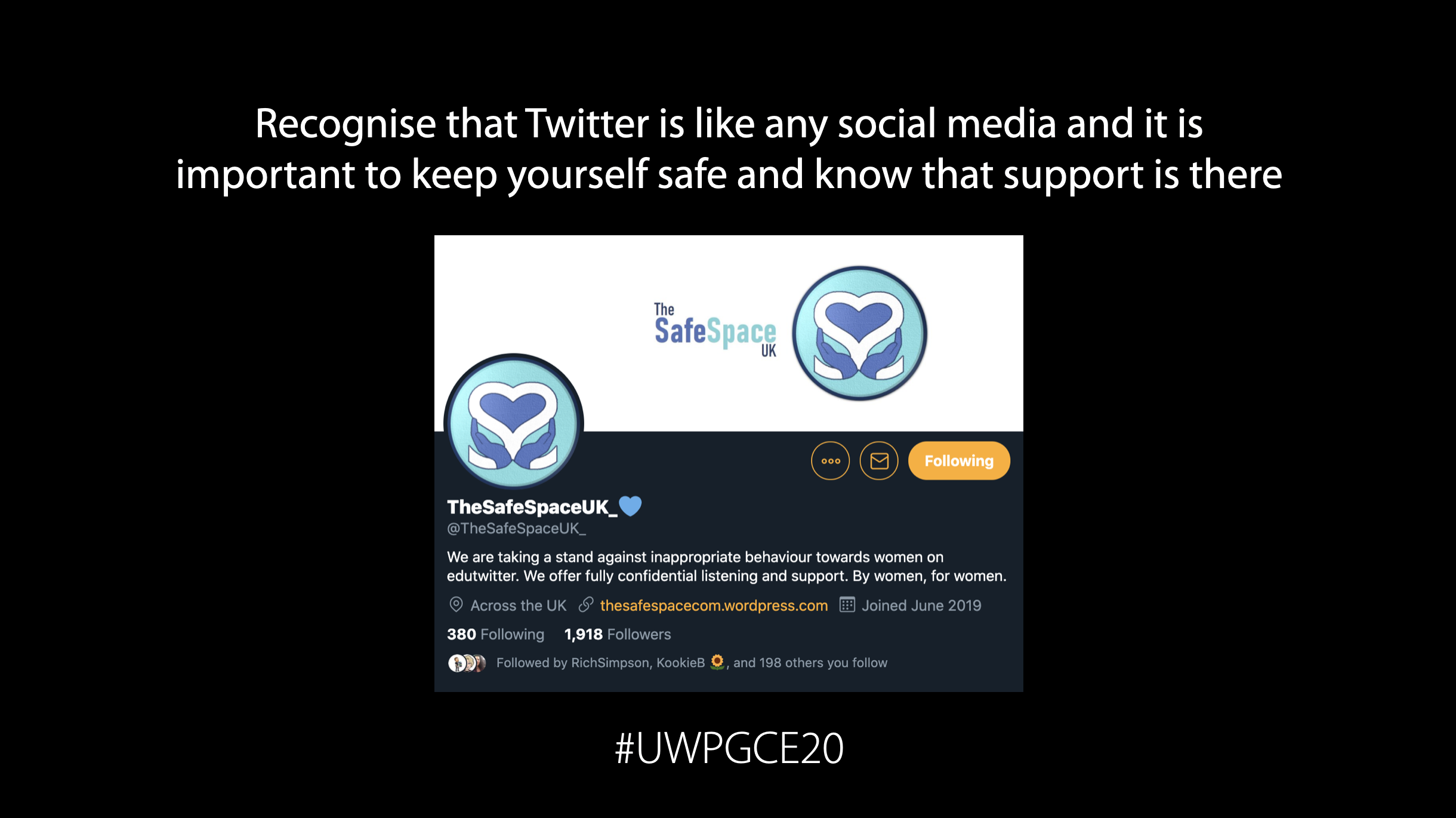 All of that said, whilst there are always exceptions to rules, it is important to be mindful that for the most part, Twitter is an overwhelmingly positive place to interact with other educators. I wouldn't have written this article if it hadn't been from support from my PLN saying that there was a need for it. And if you need any help, please do tag me into your tweet. Education is a force for good and I am always happy to try to support other educators who need it.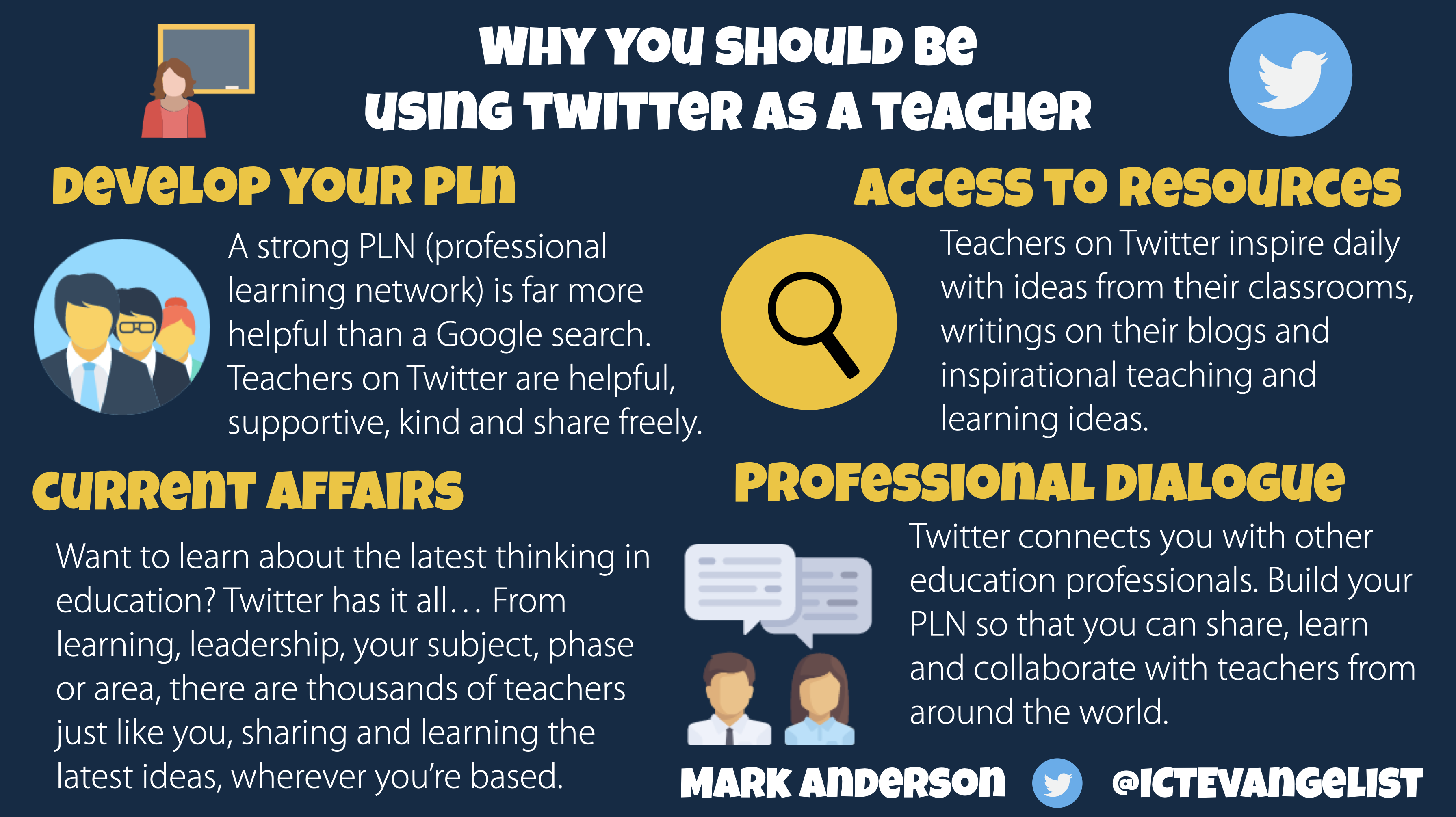 Thank you for taking the time to read this post, I'm aware it's quite a long one but I hope and trust you find it useful. If you would like to work with me on any of the topics mentioned here or would like me to talk with students on your courses about these powerful networks, please do get in touch via my contact page.