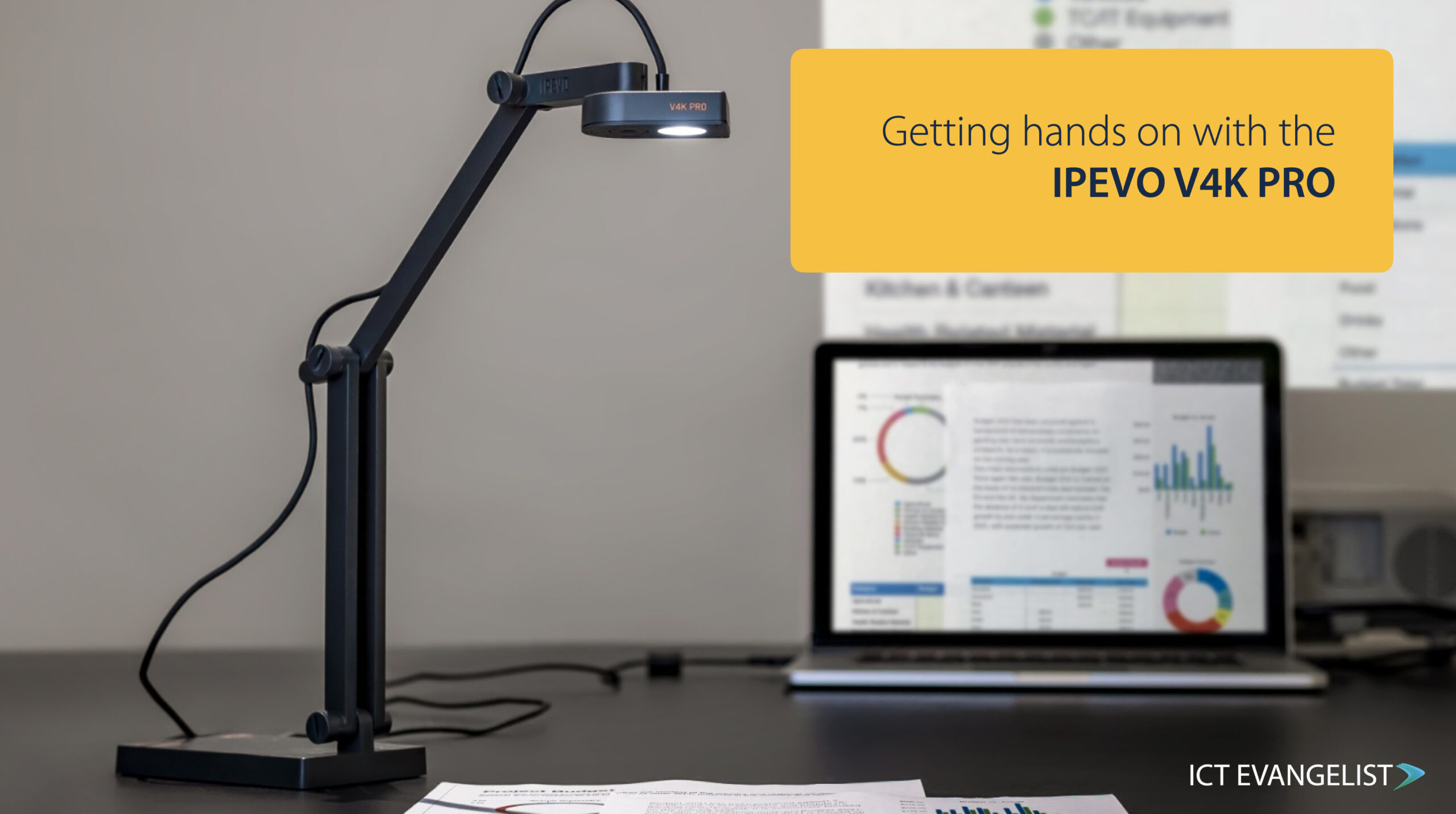 If you know anything about my work, you'll know how passionate I am about evidence-informed approaches to using technology in the classroom.
One such piece of technology that has repeatedly shown positive effects on learning and teacher instruction in the classroom is the humble visualiser, so I was thrilled when leading visualiser manufacturer IPEVO got in touch to ask if I'd review their latest offering, the V4K PRO.
Feature-rich with an 8-megapixel sensor from Sony, high-resolution lens, LED light source, and an AI-enhanced microphone, you can easily share documents, complete live marking activities and so much more.
The V4K PRO has superb high resolution and so you're not only guaranteed high image quality but by filtering out background noise with its AI-enhanced microphone you get amazing sound clarity too.
Why use a visualiser?
One such area that technology can help with teaching and learning is in improving the quality of explanations and modelling, as explained by the Education Endowment Foundation in their 2019 report, "Using Digital Technology To Improve Learning". 
In the report, they specifically mention "using a visualiser to project worked examples onto a whiteboard" and other scenarios such as where a teacher can "use the visualiser to increase the precision with which they explain worked examples, which has consistently been found to increase learning (e.g. in mathematics)." [Source: Education Endowment Foundation (2017) 'Improving Mathematics in Key Stages Two and Three'].
How does the V4K PRO help?
The V4K PRO is light, well-built and very portable. Whether you're wanting to use it in your classroom or take it home to create some resources, the V4K PRO easily fitted into my work bag alongside my other technology. It easily folds down to reduce its overall size with its angle-poise setup and easily adjustable head, there are many ways you can set up the device to assist you with your activities.
Out of the box, setting up the visualiser took less than 5 minutes. The device was connected immediately, and I was able to quickly and easily use it in Microsoft Teams by changing the camera option in the device settings and with the microphone being so useful too, it was just as easy to change the audio option to the V4K PRO's awesome microphone: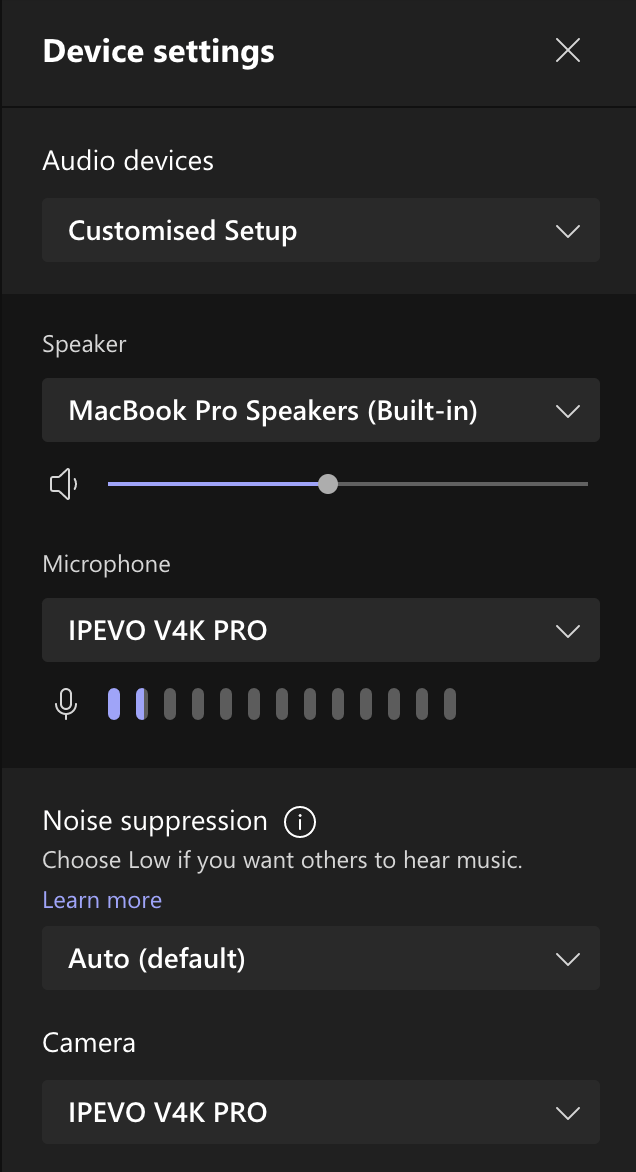 Having had the opportunity to have a play it was similarly easy to make these changes inside Zoom and Google Meet.
Build quality and performance
The build quality of the device is robust with a well-weighted base to ensure it doesn't topple over and it comes with a long 1.5-metre USB-A cable. It utilises a classic angle-poise method for angling the visualiser and the camera itself can also rotate on a 270° axis to allow for multiple angles. If that isn't enough, the IPEVO Visualizer software allows rotational control of the camera too, so regardless of how you position the camera, you can still get that perfect shot of the activity you are sharing.
The buttons on the top of the device are well signposted and sturdy with positive presses indicating high build quality. You can use these buttons to:
Focus the camera (which you can lock if necessary by pressing and holding the focus button – useful for hands-on activities ensuring a consistent focus)

Turn on the LED spotlight (to highlight your activity in low-light settings)

Turn on the AI-enhanced noise suppression (for awesome audio recording)

Increase and decrease the brightness of the shared image (for consistency of view)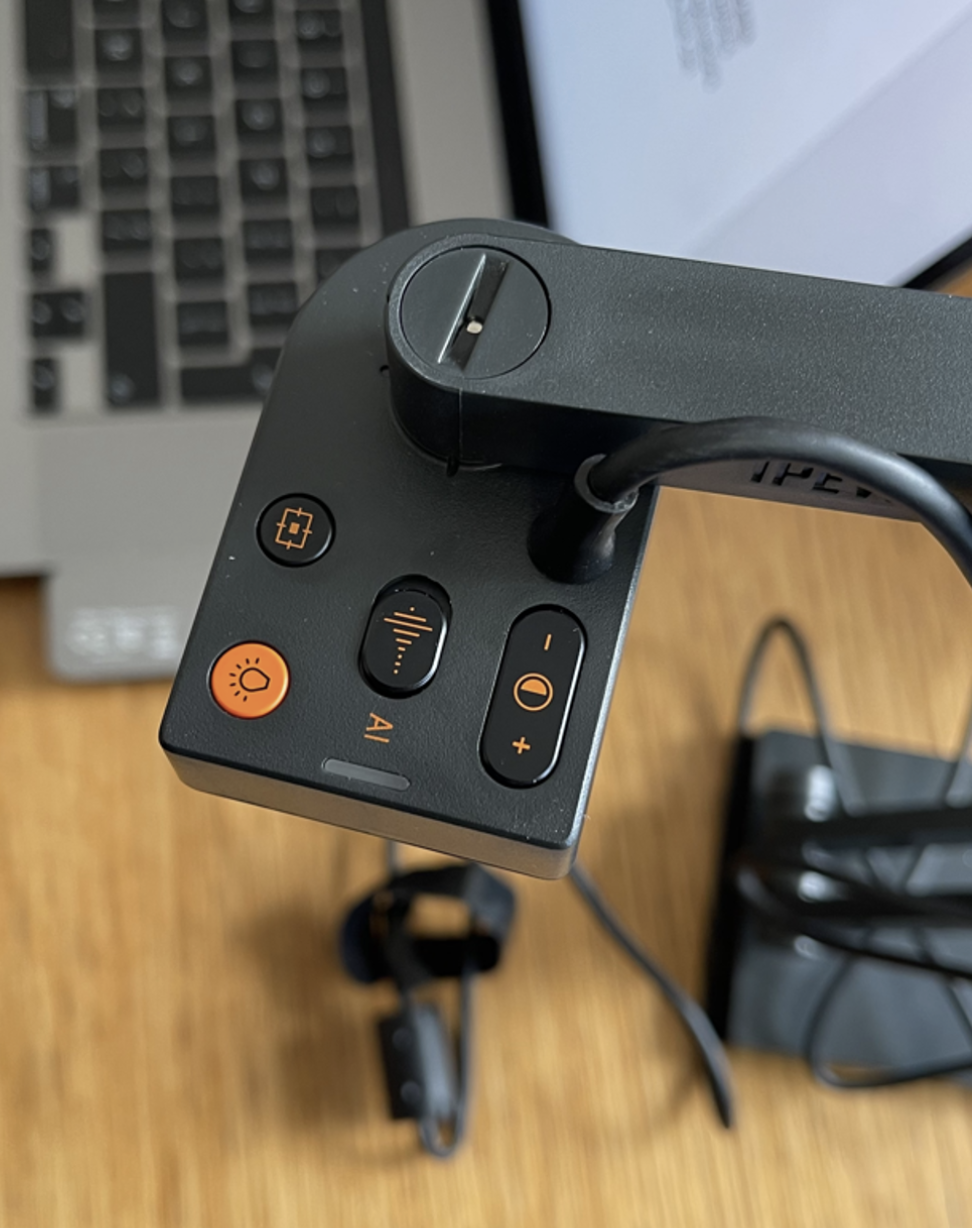 Why choose the V4K PRO?
The USP of this visualiser is the AI-enhanced microphone, powered by IntelliGO's voice technology. The microphone is equipped with a noise filter, trained by more than 500 million distinct data and is fantastic at removing background noise while maintaining the natural sound of the voice that is closest to the microphone.
As you will hear from the audio quality in the example video I created below, the sound quality is superb. Given a popular use case for the visualiser is in a classroom, it is therefore perfect for recording in a classroom environment, making sure that not just the visual is powerful, but the audio recording that goes with it is too.
In summary
If you're looking for a high-quality, durable, easy to set up and use visualiser for use in the classroom or the office or at home, then you should consider the IPEVO V4K PRO. It's portable, light and comes with some great software to help you create your resources or use live in the classroom and the audio and video quality is superb.
Find out more about the V4K PRO by visiting the IPEVO site here.
For transparency, this is a sponsored review however it does not impact the views and experiences shared in this post.