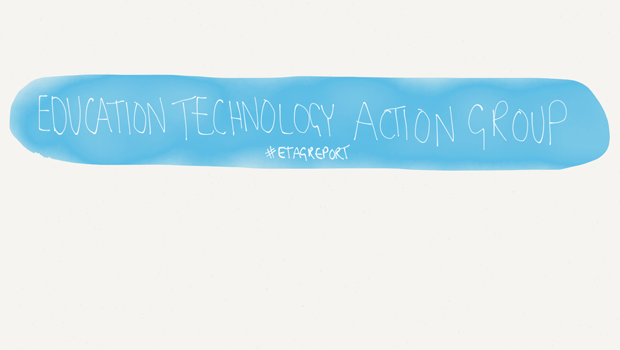 If you haven't heard of ETAG, it is an independent group set up by DfE ministers and BIS to advise on how digital technology might empower teachers and learners by enabling innovation across schools. You can find out much more by visiting: http://etag.report/
If you look at the group of members via this link, you'll see that it is quite literally a who's who of educators and education technology experts who really know what they're talking about.
You can see this in a sketch note made by one of the members:
During Bett, they released a report highlighting their findings:
I can highly recommend reading the report. For me there are a number of key takeaways…
– "Fundamentally, we concluded that the use of digital technology in education is not optional. Competence with digital technology to find information, to create, to critique and share knowledge is an essential contemporary skill set. It belongs at the heart of education. Learners should receive recognition for their level of mastery; teachers and lecturers should too."
– "…digital technology adds to the pedagogic repertoire available to support learners and learning. To
make informed decisions about what uses of digital technologies might make learning better everyone, from teachers and students to policymakers, need to properly understand the portfolio of possibilities on offer. That might include informed decisions to not use digital technology of course."
…which go to the very heart of what I believe about the use of technology to enhance the curriculum. Educational technology is not a silver bullet. We do need to provide scaffolding and support for professionals so that their technophobia doesn't manifest itself in ensuring that these "entitlements" do not go unchecked, unused or under-utilised. Unpicking these two quotes, there is clearly lots of sage wisdom from the group. Elements of TPACK present themselves particularly with the "informed decisions to not use digital technology".
Next steps:
With the various key recommendations from the different action groups there is a lot to take on board.
Workgroup 1 – Access, equity and funding
Workgroup 2 – Leadership and professional development
Workgroup 3 – Assessment and accountability
Certainly what I think is most important here is that the ETAG report, its findings and its key recommendations start a really interesting and important conversation about what is required, what is missing and what we should do about it.
Some of the most interesting elements for me here link to:
the development of CPD for colleagues and how that might look;
the development of student digital leaders across all age groups;
the development of digital technology enabled assessment for qualifications
I highly recommend having a read of the report. There's a lot to unpick and decipher and there is lots of good practice out there already to facilitate some of its aims, goals and targets.
I'd love to hear your thoughts in the comments.