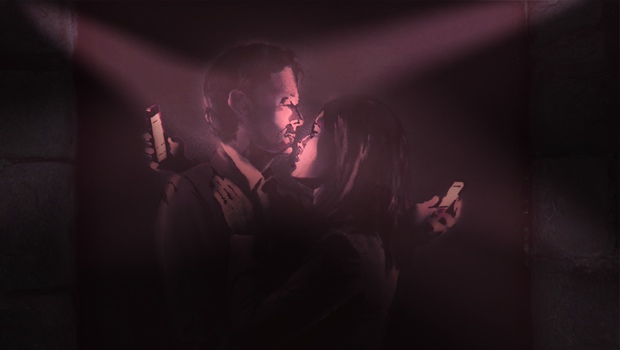 I love street art. Really love it. Living in and around Bristol I'm lucky to have such a heritage of it available to me. There is some simply amazing street art around the city; not to mention all of the work by Banksy.
A recent piece by Banksy has inspired me. The title of the piece inspired me before I'd even seen it because it shares (pretty much) the name of one of my favourite Daft Punk tracks.
Digital Lovers by Banksy, like many of his pieces has an interesting story to it.
"Banksy has made a rare intervention into public life to ensure that one of his artworks – probably worth millions of pounds — goes to a boys' club in Bristol.
In doing so, however, the mysterious graffiti artist may have revealed a new detail about his past.
When his piece 'Digital Lovers' – an image of two lovers kissing while using smartphones – appeared in a doorway in Clement Street in the city, it was taken away by the leader of nearby Broad Plain Boys' Club to help its fundraising effort.
Bristol City Council then appeared to claim ownership, saying the work was on its property, and took it to a museum.
However, Banksy then wrote to the club to say: "As far as I'm concerned, you can have it."
The letter is signed in graffiti style and has since been authenticated by the artist's representative, BBC News reported.
The letter opens: "Dear Dennis, I hope this finds you well. As you know I recently painted on a doorway near the club."
He says he does not usually admit "committing criminal damage" but added that he was "a great admirer of the work done at the club" and would be "chuffed" if his letter would help the club claim the picture.
"I assume you're familiar with the quote attributed to Abraham Lincoln – 'Things may come to those who wait, but only the things left behind by those who hustle,'" he adds.
Dennis Stinchcombe, the club leder who found the note, said: "I'm absolutely elated. Words don't express how delighted I am. As soon as I read it and saw the signature I knew what it was."
He said he thought the artist had visited Broad Plain during his childhood.
"I think as a young man (Banksy) went to Barton Hill youth club and probably came into my club several times," Mr Stinchcombe said. "He's come clean to us and it's lovely."
George Ferguson, the mayor of Bristol, said Banksy's intervention had resulted in a "proper resolution".
"We've done our job by looking after it and in the meantime we've collected a bit more for the boys' club, and thousands of people in Bristol and farther afield have seen it," he told the BBC.
"This was never a case of Dennis and I not seeing eye-to-eye. Dennis has said that if it fetches as much at auction as it could do, the money will go not just to the boys' club but also to youth projects in Bristol."
Taken from The Independent 8 May 2014.
I don't know when folk started questioning the validity of the use of technology as a vehicle to support learning. For me, it's never been of any question. I don't know if it was the watching of futuristic Sci-Fi programmes in my youth where technology pervaded everything. It was never of any question. I had the pleasure of talking with Fraser Speirs some time ago and he said then about his philosophy with technology being linked to when e though of his children at University in 15 or so years time; would it be more or less likely that they would be using technology to support their learning…. the answer is obvious. To me at least it is. Of course, as mentioned throughout my blog, purposeful use of tech has to link to great teaching and learning – of course it does.
Banksy's piece goes to reflect how much impact technology has on society. I was at the park with my two boys yesterday. In the park were the usual suspects. Young children with their twenty-something mums. All of the mothers had their heads buried in their phones. It's just like you see in Banksy's artwork. It's reflected in what we see in our schools too. Students wanting to use any number of social messaging apps. Seeing Banksy's artwork has kicked my brain in to gear.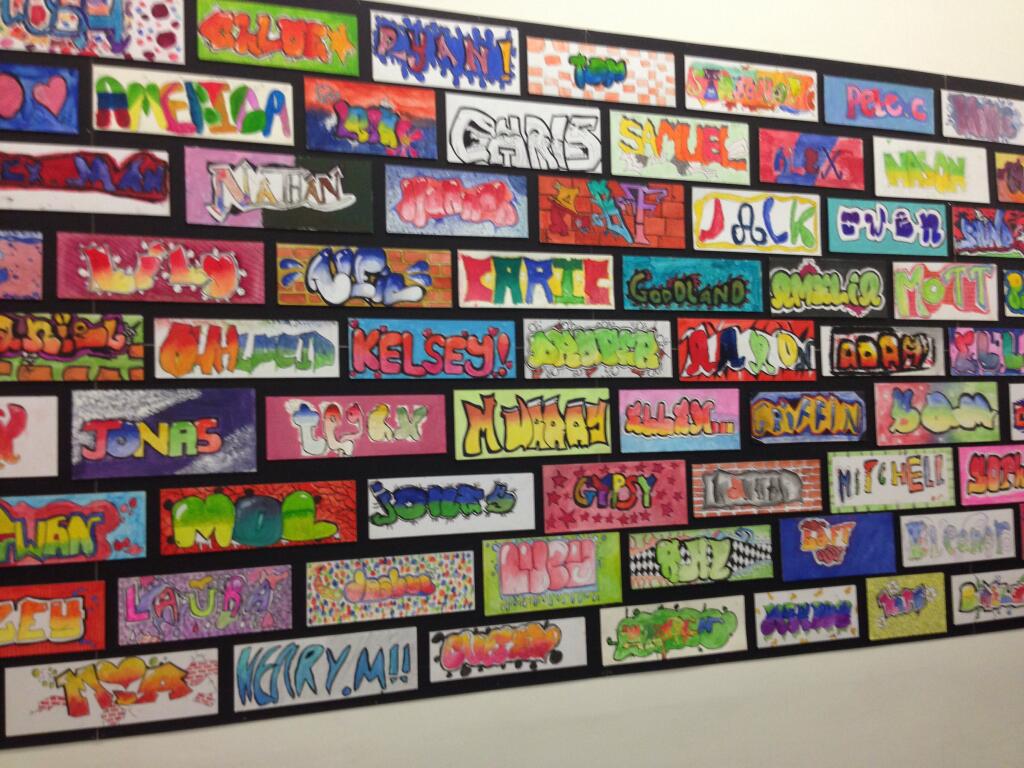 Street art is studied at my school already and as you can see from this wall display students are clearly engaged by the topic with their own unique stamp.
I have begun to devise a Scheme of Learning for students to devise their own digital artefacts, reflecting their thoughts and research in to modern digital life. This will link to the new Computing framework hitting the programme of study linked to Digital Literacy. The aim of the project is to ensure that students are able to demonstrate their ability to "responsible, competent, confident and creative users of information and communication technology." I feel the project too will hit the requirement for students to be able to:
undertake creative projects that involve selecting, using, and combining multiple applications, preferably across a range of devices, to achieve challenging goals
create, re-use, revise and re-purpose digital artefacts for a given audience, with attention to trustworthiness, design and usability
Source: Computing programmes of study for KS3 & KS4
Linked to this I've been really hit with the idea of appsmashing of late. Ok, so it is just another word for work flow, but it is far more sexy. Smashing Apps? How cool?! It really marries up with the idea of using multiple devices and / or applications. With this in mind, I've recently been sharing ideas through the #AppSmashLive Google Hangouts – conversations with educators from around the world such as Greg Kulowiec, Richard Wells, Joe Dale and others. These have proven to show how the work flow of Apps now is much more possible than it was say 18 months ago.
One thing that really struck me was how by using multiple Apps to create learning outcomes the more likely you were to hit modification / redefinition levels on the SAMR framework.
To this end, I've started to devise a new Scheme of Learning where students based upon their inspiration from the street art around Bristol, in particular the Digital Lovers image, students will create their own digital artefacts. These artefacts must be created by including at least 3 different Apps in the creation process. The project is broken down in to four sections with a feedback loop between making and the critique so that students refine their work until it is truly excellent.
When the project is complete I aim to make all of their work public in an online exhibition.
So that's it.
That's how Digital Lovers inspired a new scheme of learning.
If anyone who has read this far and is still awake is interested in the resources to go with it: ebook, outline scheme, lesson resources, etc – drop me a line.