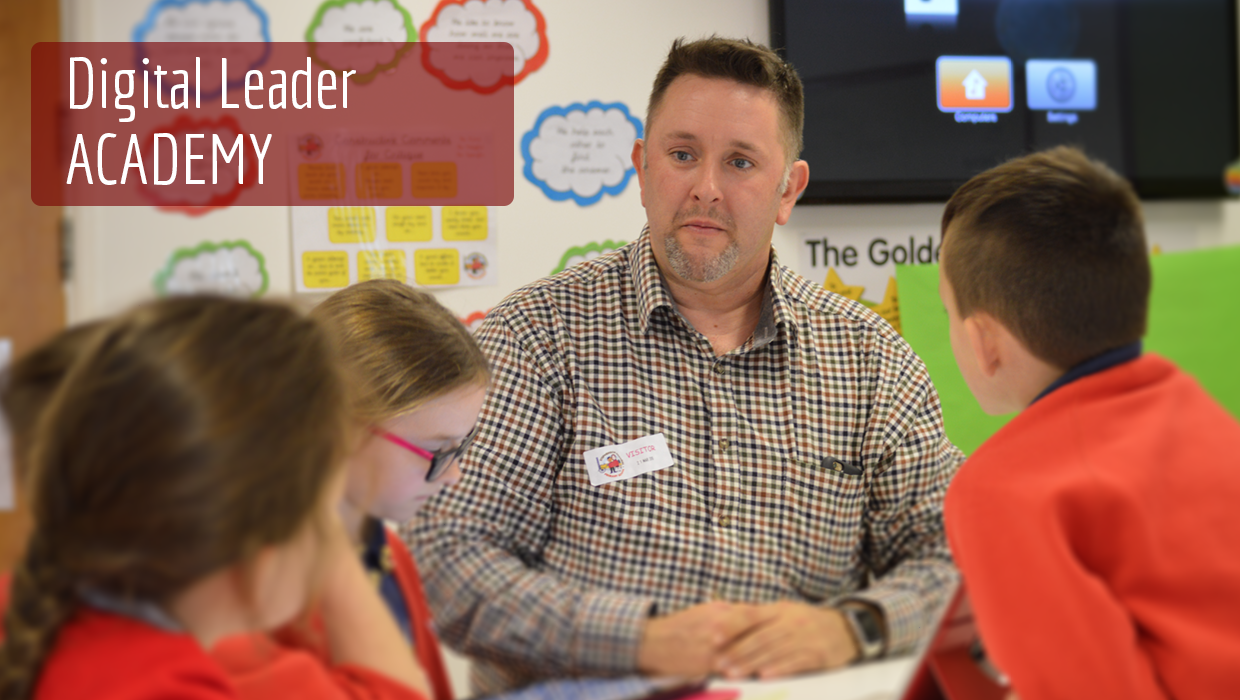 It's no secret that I am a big advocate for student voice through the digital leader initiative. I've seen the initiative become such huge success stories for those schools that develop student digital leader groups. It was from this that I developed the digital leader academy to continue my work in North Tyneside following my support of the launch of the RTC (Apple Regional Training Centre) at Stephenson Memorial School in North Tyneside.
In November 2016 I went to the school and we saw 8 primary schools come together to work with me alongside 
Laura Dickinson
, the eLearning Lead Practitioner for the North Tyneside Learning Trust, to develop their skills in using Apple technologies, set up their blogs and inspire them following their successful applications to become student digital leaders. The first two days were brilliant and I've been loving seeing the updates on their work since our first pair of days together.
Both the teachers and the children enjoyed and were inspired by the days and their work since then has clearly had an impact in their schools on an ongoing basis.
Following on from those inspiring two days, Claire Jones who is Assistant Headteacher at Layton Primary School wanted to run a similar Digital Leader Academy pair of days. It took a bit of organising but a few weeks ago, we had our first pair of Digital Leader Academy days in Blackpool. In total, twelve schools set up student digital leaders in their schools ready for the Academy and we had yet another pair of great days. The children were inspired, as were the teachers:
https://twitter.com/Claire_N_Jones/status/707659884670672896
@ICTEvangelist thanks for today's Digital leader information the children and myself loved it #plentyofideas

— mrwalshsjv (@mrwalshyear2) March 9, 2016
The event even made it into the local paper, the Blackpool Gazette… twice!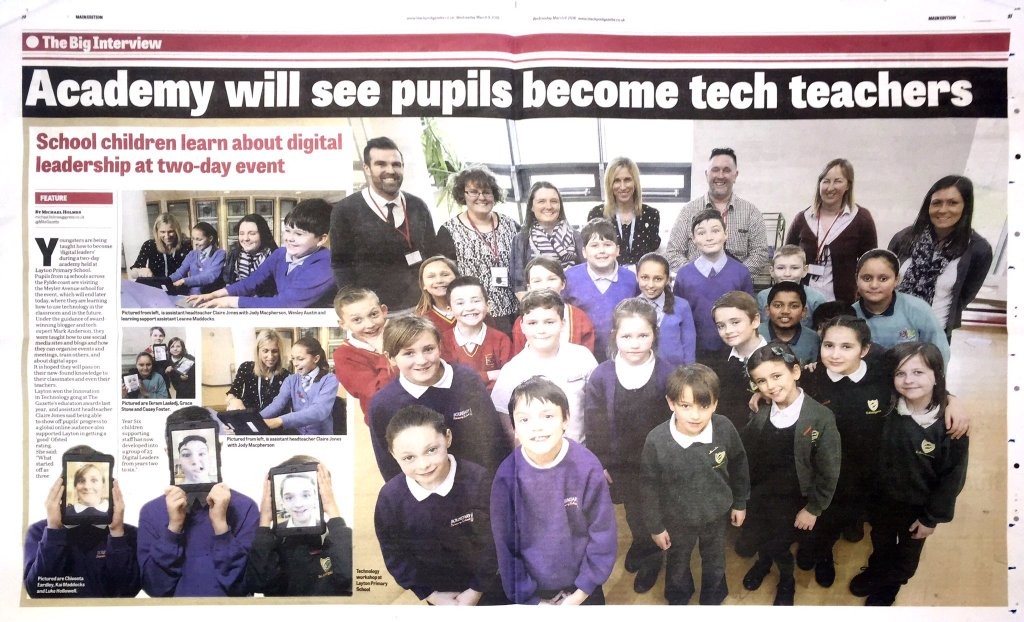 This week saw me return to the Stephenson Memorial School to work with the original schools that I met back in November; the idea being to check in on how they were getting on and to share some of that impact too.
In the morning of the two days, we spent time thinking about design work and how they could best design their resources to have a big impact and look professional. We learned about and practised the use of lots of different apps and their impact on learning too, such as Adobe Post, Snapseed, Book Creator, Heart Cam, Google Street View, AirPano and the airpano.com website, LifeLiQe and many more.
Across the two days, the children developed some resources to demonstrate their work as student digital leaders and the impacts that they have been having. They also made some screencasts to showcase their favourite apps for learning. They combined all of these different resources into a big book using Book Creator.
Additionally with teachers, I created an intro video to go into the book with some training for Laura on how to use Final Cut Pro to make quality bespoke videos.
All of this culminated into one pretty amazing book.
So what did we do with that next? Well of course, we published it.
So after just one day for each of the schools we produced a 39 page multi-touch book available to 51 countries around the world incorporating the work of the student digital leaders from North Tyneside. Amazing.
We are officially published authors #NTLTDigiLeaders!! Download our iBook here: https://t.co/nZVj2RqOVY pic.twitter.com/yQNoLh6AGA

— Laura Dickinson (@eLearning_Laura) March 22, 2016
If you would like to download the book created with the student digital leaders at the Digital Leader Academy, you can do so by clicking here.
The book is available on iPad, iPod Touch and iPhone. The children would absolutely LOVE it too (if you did download it) if you could leave them a review and some feedback.
You can hear what the children think about being a digital leader below: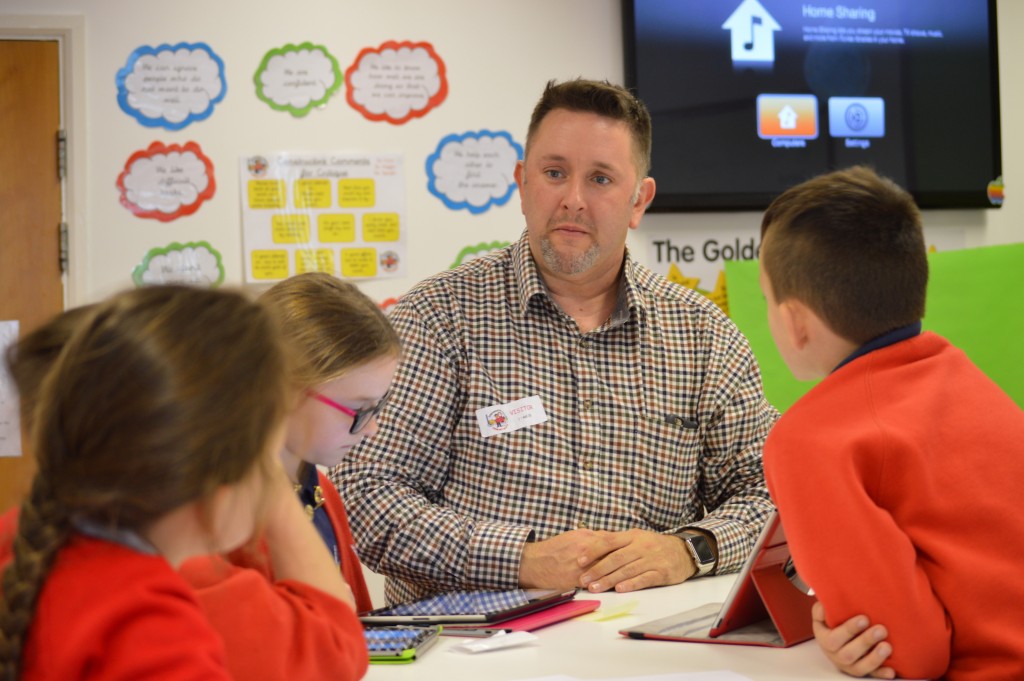 The two day event was capped off at the end of the second day with a KidsMeet event where all of the schools came together and the pupils shared two presentations about their work. One of these was 5 minutes, the other one being 3 minutes.
I was blown away by the confidence and quality of their presentations. I'm co-organising TeachMeet London which is taking place tonight and I hope that the teachers that are presenting do as good a job as these brilliant young people.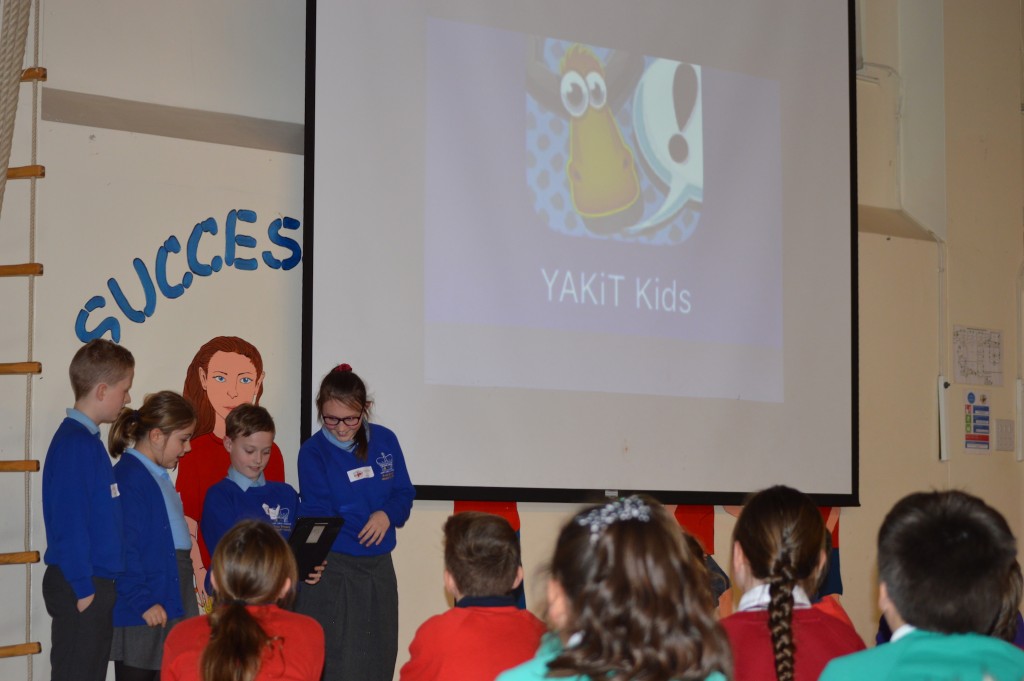 If you like what you're reading here and are interested in running a Digital Leader Academy in your school for local schools to attend, such as that across a MAT or for a local authority, get in touch. The impact that student digital leaders can have in your school to support learning, both with and without technology, is fantastic.
My thanks go to Head Teacher Emma Overton from Stephenson Memorial School, Laura Dickinson and all of the teachers and pupils who attended the North Tyneside Learning Trust Digital Leader Academy. We are going back again for more in July, so watch this space! Thanks too to Claire Jones for the event at Layton Primary and all of the teachers and pupils from there too. I can't wait to come back for our second set of days.