Welcome to Day Three of the 2020 Appvent Calendar!
We are so pleased with the amazing engagement from educators around the world in this year's Appvent Calendar. Described by Carmel Bones as 'an annual tradition', we are very proud to bring you some of the amazing tools, apps and services that can help support with teaching, learning, productivity and being safe online. 
💕 the #AppventCalendar 🗓 which has now become a tradition, more important than ever this year. Thank you for sharing 🤩 https://t.co/uOJpbUZk71

— Carmel Bones (@bones_carmel) December 1, 2020
As you may be starting to notice, many of the tools shared this year have really come into their own these last 12 months, particularly because of the impact they can have, their ease of use and their ability to promote positive learning opportunities for our young people in our classrooms the world over. 
That is why, today, we have the great pleasure to open the third calendar door and recommend the fantastic WriQ to you, from the company Texthelp.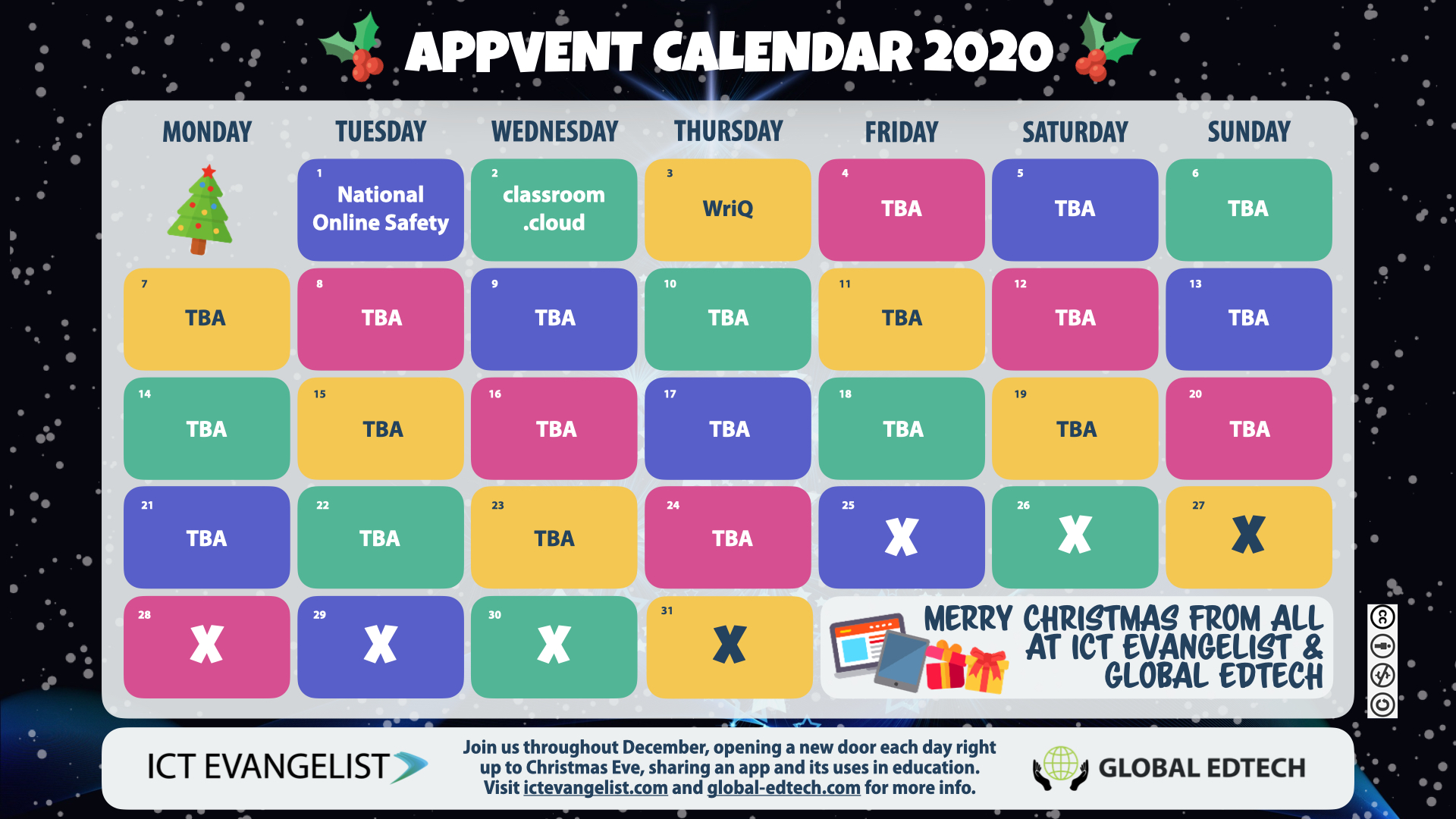 Texthelp's mission statement reads:
We want to see a world where difference, disability or language are no longer barriers. At Texthelp we see a world where accessibility doesn't have to get in the way of everybody leading more satisfying, productive lives and a world where nobody's held back by age, language, difference or disability.
Now that's something I suspect all teachers can get on board with and WriQ really does marry up so closely with the Texthelp mission statement. 
What is WriQ?
WriQ is a writing tool that easily assesses and motivates student writing, giving clear visibility of progress over time and delivering a standardised benchmark for grading. 
Marking, delivering feedback and tracking progress of writing is a time-consuming process. WriQ was developed by Texthelp to help alleviate some of that pressure and workload and easily help you to monitor student progress and analyse the growth in student writing over the course of the academic year.
Even on a personal level, it is superbly helpful in not just motivating me with my writing but giving me very clear insights into what I am writing about too. 
Over time it has helped me to be more productive through the 'writing bursts' feature, creating longer and more frequent writing bursts but has also allowed me to think more creatively whilst I'm writing too. 
The insights it gives you are super helpful, and the same is translated over to when your learners use it when undertaking writing tasks too. 
The handy word cloud feature has also helped me to pick up on the keywords I'm using in my writing, using more targeted language, picking up on my spelling, punctuation and grammar whilst additionally helping me to ensure I don't go crazy and forget to put in my full stops! 
With my teacher hat on too, I can easily add my classes from Google Classroom and it works directly within Google Docs too – there's even an add-on which you can use in Microsoft Word if that's your Word Processor of choice.
What else?
Writing has always been an important skill and with WriQ you can easily track, motivate and if necessary, intervene with your learners to best support them with their writing.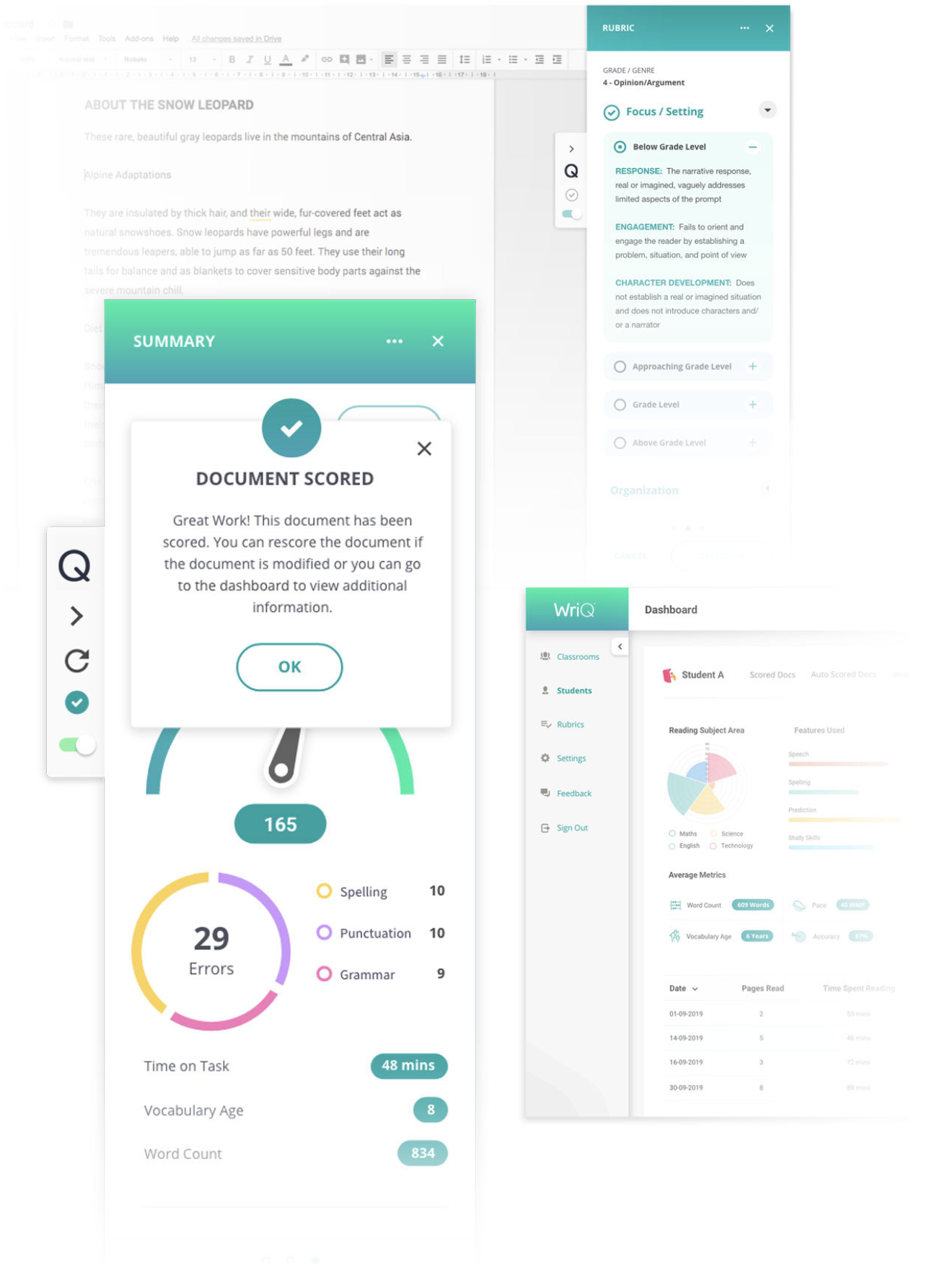 This is easily done through the scoring system that is built directly into WriQ and available via the Teacher Dashboard. Students can see this information too picking up on key areas for improvement such as Spelling, Punctuation and Grammar. 
As educators, we all know that timely feedback is one of the most important influences on student progress. Having access to a tool such as WriQ which can help take some of that strain away, helps give you the information you need to best support your learners. WriQ helps you to not only be the teacher you want to be but that guide on the side too, with the information you need to help you give that all-important feedback to your learners to support them with your feedback. 
As a teacher, you can also set up your own rubrics to use with your classes so that you are still the person in charge of setting robust, personalised and aspirational targets for your learners. You can even work closely with your colleagues and share the workload by sharing your rubrics across your faculty, department or year group teams, making it perfect for working both in Primary, Secondary and FE settings. 
As described by Dan Fitzpatrick of the EduFuturists in a recent webinar with Dan that I was involved with exploring workload:
WriQ is the literacy edtech tool that not only reduces the marking workload for teachers, but puts live data into the hands of the student. This 'Fitbit' for literacy provides real time progress updates for students when they are writing and reading, ensuring a motivation that is intrinsic.
To sum up…
As a tool supported by the Department for Education and available to try out via the LendEd scheme, we think it's definitely worthy of attention and certainly worth checking out to support writing in your classroom, school or Trust. 
In a year where we have all had to make huge strides into moving into the world of online learning, WriQ is a tool that can not only help reduce your marking load but simultaneously assist in improving the writing outcomes of your learners. With that in mind, we think it is a no-brainer to add it to the growing list of essential tools in this year's Appvent Calendar. We hope you agree too. 
---
This is a sponsored post.