Merry Christmas everyone. Thank you for joining me on this journey throughout December this year. It's been a fantastic experience, sharing tools that work and opportunities on how to best use them. It's been lovely too, to have the opportunity to invite a variety of guests to join me on the calendar.
From Olly Lewis sharing ClassroomScreen, Paul Tullock with Quizlet, Philippa Wraithmell with AR Makr, Kristian Still with Anki, Em Bell and Nearpod and Bukky Yusuf with Google Keep, I've been blown away with the support both from those contributing to everyone on social media getting involved such as Barri Mock and Linda Parsons:
Another fantastic example of an app that is super useful for teachers and saves time. This is great! Thanks for sharing, Mark. @msofficelens is 👍👍🙌👊

— 🏴󠁧󠁢󠁷󠁬󠁳󠁿Mr Mock🏴󠁧󠁢󠁷󠁬󠁳󠁿 (@RCCS_MrMock) December 21, 2019
Thanks @MrsWraithmell and @ICTEvangelist, I can really see how this can be used across the ages to bring an abstract idea or imagined object into real life 😊 https://t.co/hqToObxhA9

— Linda Parsons (@DigiLin_) December 15, 2019
Enough of the thanks for now though – I'm sure you're keen to learn what is behind the door today!
Well actually, if you've seen the banner image or the title of this post then you'll know what it is already. Originally I had made the post today about the fantastic Apple-only app – Keynote. I love Keynote. It's so versatile and can be used for so many different purposes beyond making a presentation.
From animations, explaining topics, templates for learning activities, posters, infographics – you name it, Keynote can probably do it. I've used Keynote, for example, to make all of the AppVent posters. I use Keynote to make all of my Periodic tables. It is superb.
The problem is, it's not very agnostic and ultimately then, for an AppVent calendar, it doesn't sit quite right with me making it the app of the day, despite loving Keynote as I do.

With that in mind, the activities you can undertake in Keynote but wanting the versatility of a multi-platform app – today, I choose Google Slides.
As Tony Vincent recently shared:
If I could teach with only one app, it would definitely be Google Slides!

— Tony Vincent (@tonyvincent) December 13, 2019
Google Slides has many uses and has many features that you can access that are similar to Keynote. There are many things you can do with Keynote that you cannot with Google Slides but its versatility, availability on every device make it a great choice for learning and teaching. Whether you want to make resources, export your presentation as a video or gif (using TallTweets.com) or if you want to easily embed audio or add a YouTube video to your slides, Slides has you covered: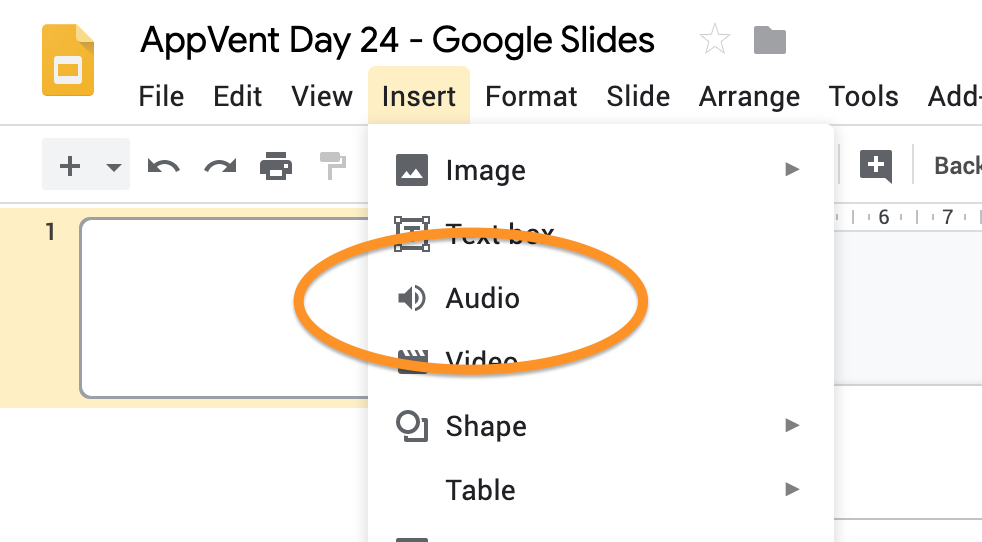 The collaboration options in Slides are fab too. I've had students in my classes collaborate on many presentations and the ease at which the tool works makes it a true collaborative tool. You can divide the slides up to assign to different students and as part of the Google Suite for Education offer, it works really well with the Google Classroom and Drive set up.
It supports digital citizenship too as the images you search for, through Google Images built-in to Slides, automatically searches for royalty/licence-free images.
I also love that you can do things such as develop charts for analysis from data gathered in Google Forms and have those charts automatically updated within a Google Slide: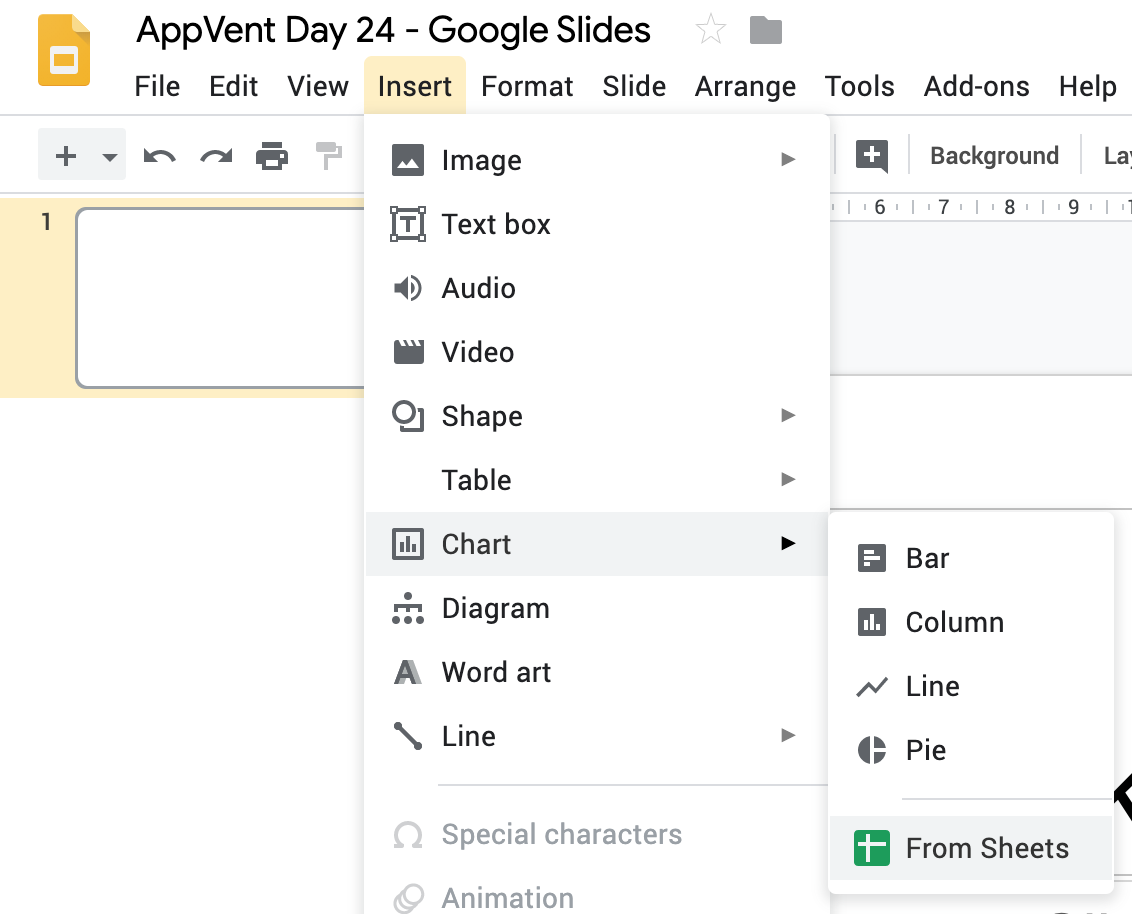 The opportunities for versatile, purposeful learning and teaching activities are huge and just like with Keynote and the ADEs who support that, there are hundreds of educators who feel the same way about Google Slides. For me, each (including PowerPoint) are equally similar in terms of main features, but the openness, ease of collaboration, additional add-ons to improve functionality and the agnosticism of Google Slides make it my firm choice for today's entry on the calendar.
If you'd like to learn more about Google Slides and activities you can work with using Slides in your classroom, I strongly suggest you check out Eric Curt's site with these fab posts for using Google Slides.
I'd also recommend checking out the fab add-on for Chrome, 'TextHelp' who have fab assistive technology solutions for reading, writing and language learning that work inside Chrome. Definitely worth checking out.
---
I hope you have found this post useful. I'd love to hear your thoughts and your feedback in the comments or on Twitter. I'm looking forward to sharing my final AppVent entry for 2019 with you tomorrow!
---
If you like the resources I share and my approaches to teaching and learning with (and without) technology, I work with many schools supporting them with consultancy, training, support and more. If you feel like I could help you, drop me a line via my contact page and I'll be in touch.