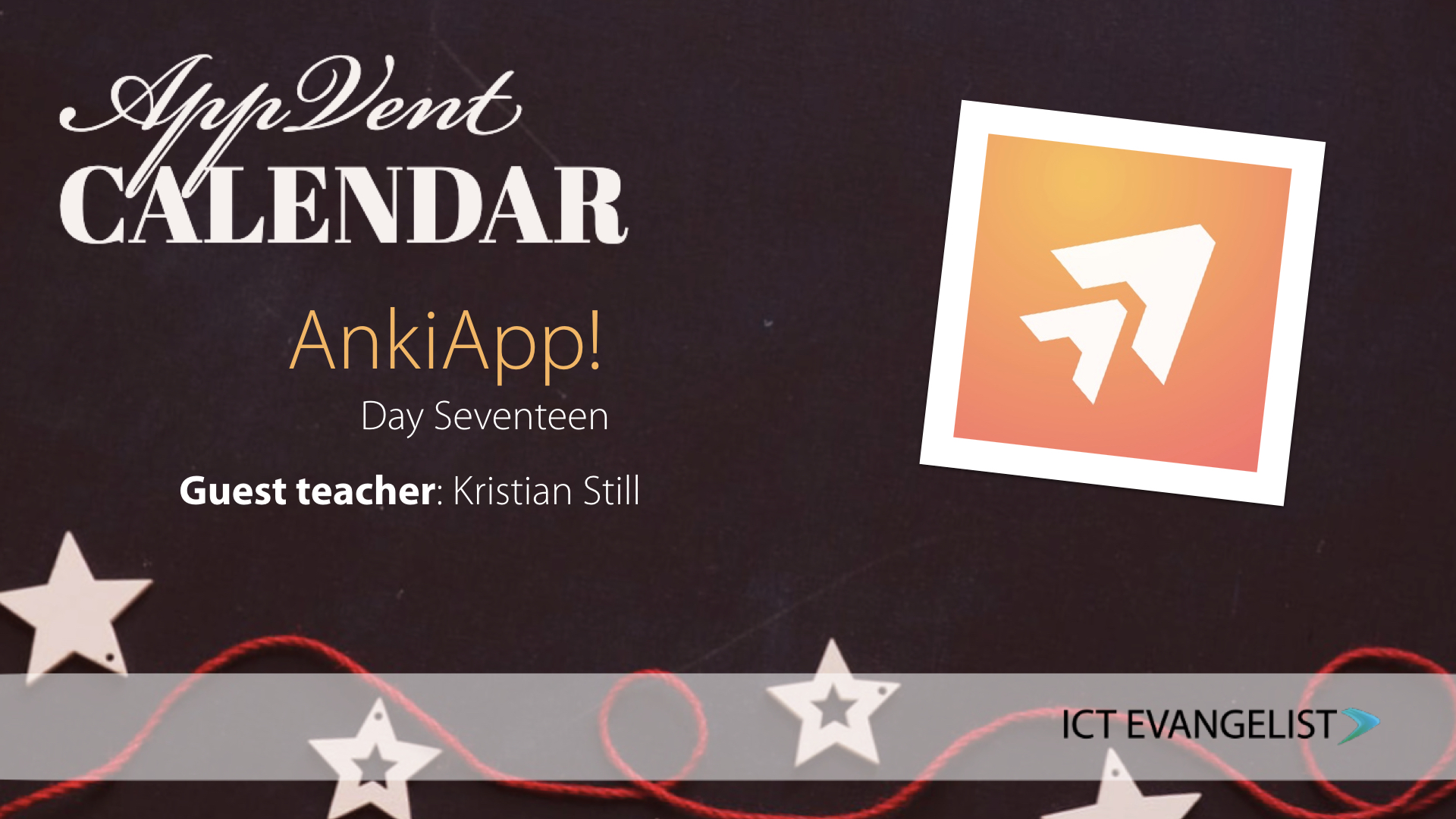 Morning and welcome to day seventeen on my edtech AppVent Calendar! I can't believe how quickly the days are rolling by through December in the build-up to Christmas!
Today's recommended app comes from somebody that I have known for many years now. When I was first developing my PLN and using social media to help me do so, there was one person who was super helpful in lots of ways and that person was Kristian Still. Kristian was the person who first introduced me to the idea of Student Digital Leaders and inspired me to start them in my own school which led me to start the national student digital leader network with Sheli Blackburn.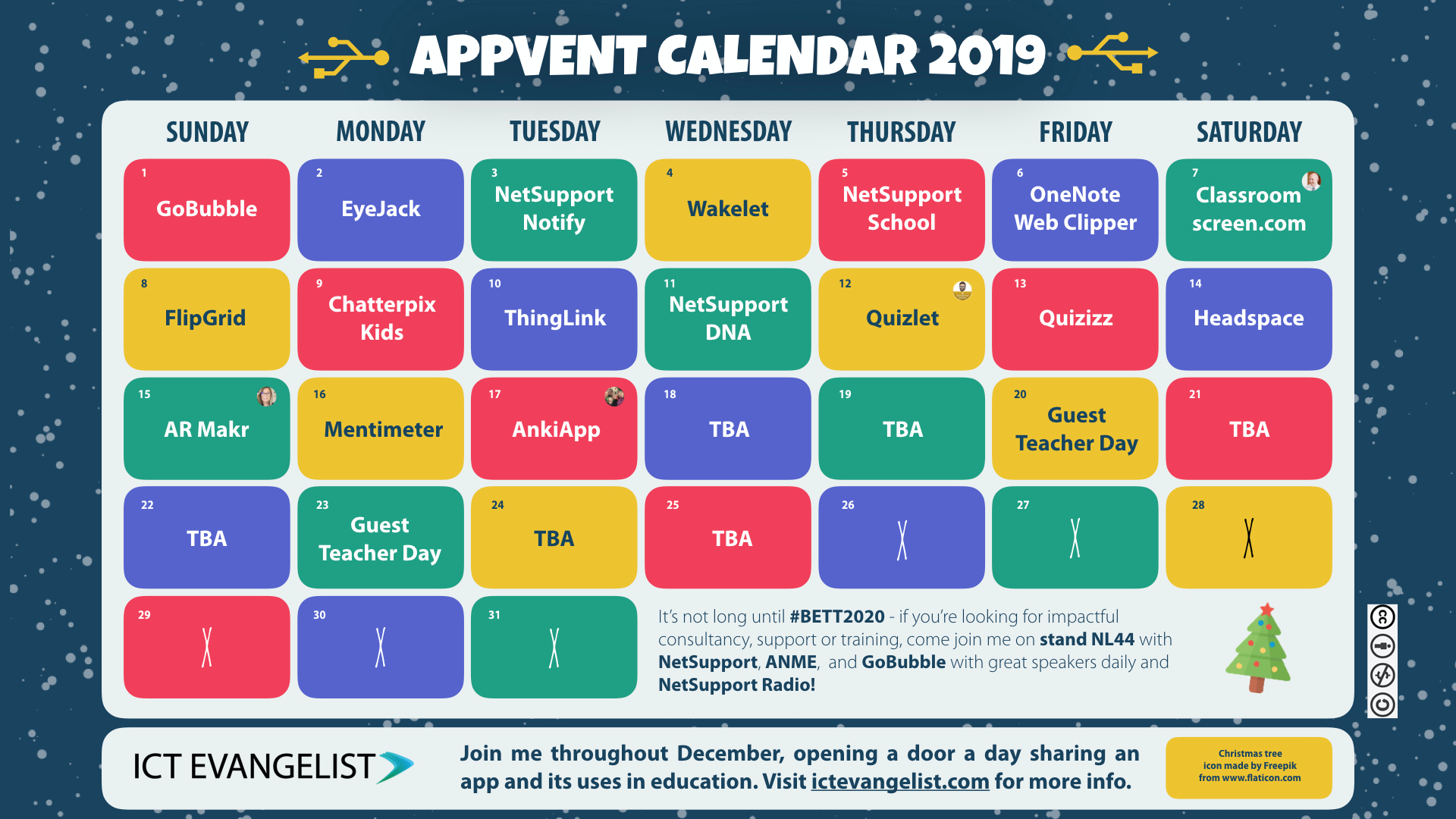 Kristian Still
Kristian assures me he has records of us discussing 'remote mouse' apps (allowing teachers freedom in the classrooms and to disconnect from their keyboards), from as far back as 2013! But our friendship goes back even further. (BT) Before Twitter (2006) when wikis were… cutting edge. We first met in person at The Wellington College, Mandarin classrooms, when Kristian came over to support me at my presentation at The Education Festival in 2016?
His focus and use of technology is two-fold, either technology "for learning," or "staff efficiency and wellbeing." He is either leveraging for his students or for his staff.
Kristian has a MsED and has been a teacher, HoD, AP, VP – whole school Teaching, Learning and Assessment, Headteacher, engages with remote teaching and learning through video conferences, and more recently Coaching and Mentoring. 
Currently, he is back in the classroom teaching English full-time, and it was of little surprise to me, when he dropped me a note about today's Appvent App tool.
What is today's app?!
A free App that he has been trialling with his classes impart develop knowledge with his students, and for revision. Today's App – is Anki.
Available for Mac, Windows, Android and iOS, Anki is a cross-platform mobile and desktop flashcard app.
Case Study
Context: Fully comprehensive school.
This case study shares the experience of using AI informed flashcards with a low/mix prior attainment, male Key 3 English class, a top set Y8 English class. I am using a "Retrieval Roulette" Excel task to present low-stakes quizzing at the start of class with the aim of building "success-motivation-success" momentum. As success builds and seeps into and positively influences the class so the climate for learning deepens and evolves.
Having written approaching two hundred questions for both Year 9 "A Christmas Carol" and Y8 "Hound of the Baskervilles" – I wanted an even greater return on this investment (ROI) than daily quizzing. There are a number of platforms that offer flashcards creation and quizzing tools, notably Quizlet. I selected AnkiApp. The key feature is Anki's algorithm for "high-efficiency Learning," which basically means the app learns how well you learn each "Card," then prioritises those "Cards" you need to learn, over those you do not. AnkiApp offers a performance summary on each card and each flashcard deck. App and browser versions are available. It has sharing capabilities but no administrator panel.
"Remembering is greatly aided if the first presentation is forgotten to some extent before the repetition occurs." – Henry L. Roediger III
There are just three easy steps.
Step 1: Upload questions / answers (and tags) to create a "Deck" of [flash] Cards. 
Step 2: Share with students via their email. – Decks appear in their Anki accounts.
Step 3: Students "Review"  "play" or "practice/learn" the Deck. Once a month we hold a class Anki session via laptops/phones. Or we may use Anki via laptops/browser if a lesson is disrupted for any reason. Eg 40% of the class out on a trip/vaccinations. 
Analysis – Students experience intense, one to one learning. Away from class, some students (30-40%) are using the Deck regularly. A small handful achieved an 'A' rating on a 200 flashcard Deck, investing hundreds of "Reviews." Collectively as a class, the student's average grade on formal, centrally set, written assessment, has risen from 3.4 to 5.8 on a ten-point scale. 
Student feedback
80% of student would prefer 3 taught lessons and 2 lessons of Anki. 20% would like 1 Anki lesson a week. This is unlikely to occur, however, it shows their enthusiasm for learning with Anki.
Likes

Logistics

Instant feedback

"I can review a Deck anywhere, at any time. My parents see it as learning and not me being on my phone."

"It feels like recapping a lessons."

Can be quite relaxing. (Low stakes)

Anki enables us to catch up on missed classes (that may be true to an extent).

I can practice selected areas or chapters (via tags)

I like questions around the books as well as questions about the book (contextual)

Offline* this is highly regarded

Notifications remind me to practice

Accessible in and out of lessons

Available even if Mr Still is not

Students now create their own flashcards for other subjects
You can read more about Kristian's successes and the potential pitfalls of AnkiApp here on his blog at http://www.kristianstill.co.uk/wordpress/?s=anki
---
My huge thanks to Kristian for sharing on the calendar today. You can find Kristian on Twitter @KristianStill and he blogs at kristianstill.co.uk.
---
If you like the resources I share and my approaches to teaching and learning with (and without) technology, I work with many schools supporting them with consultancy, training, support and more. If you feel like I could help you,
drop me a line via my contact page
and I'll be in touch.