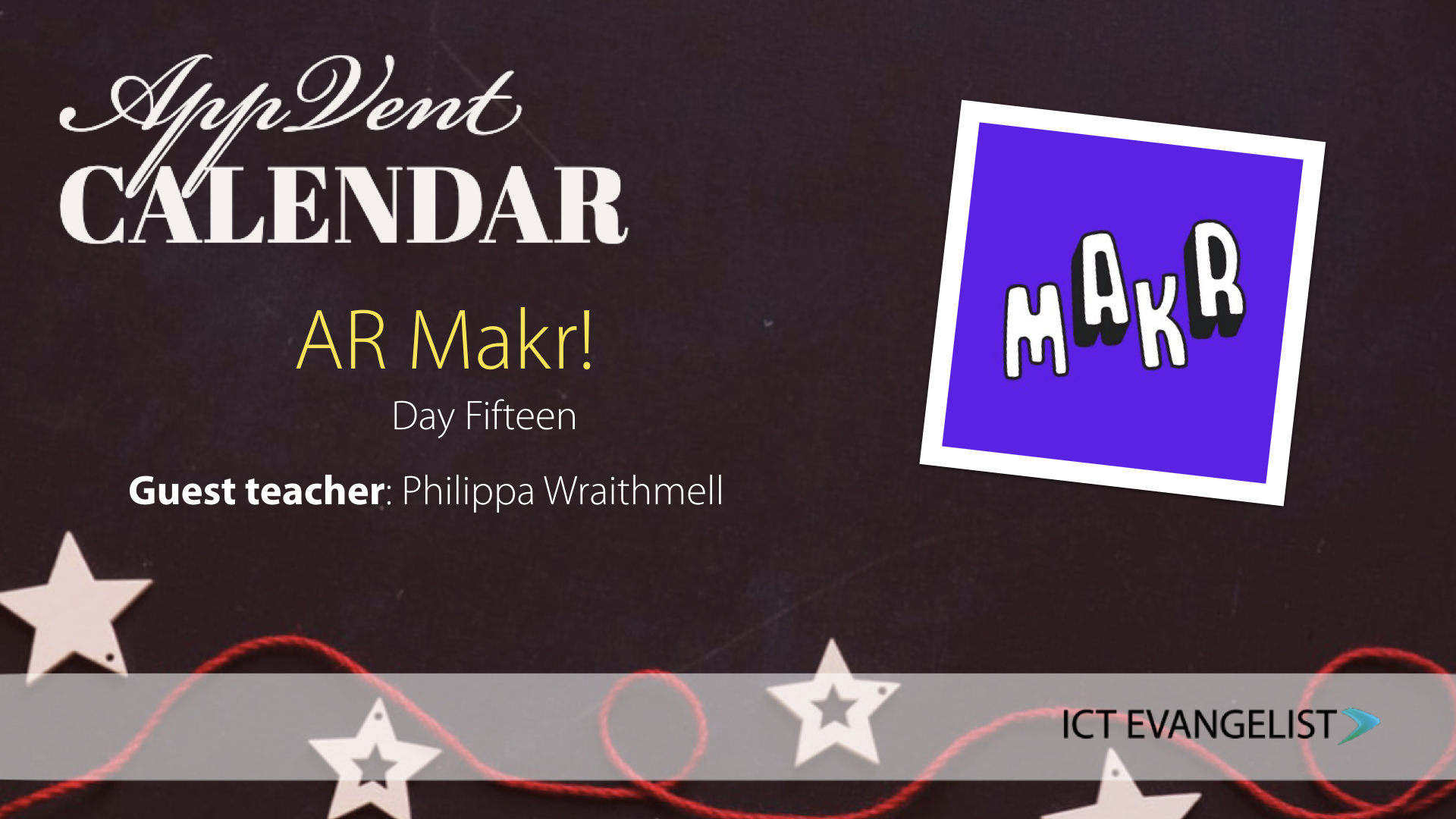 Hello and welcome to another post on the AppVent Calendar!
Something I love about the work I do is seeing how my work inspires others to do the same and the AppVent calendar is no different!
It's been fabulous this year to see other's start sharing their own edtech focussed calendars for the holiday season.
I've seen calendars to support edtech companies, calendars from ADEs and many others besides.
I always share that education is a force for good and that education unites us rather than divides us. It is fantastic to see so much sharing and creativity going on by educators across social media.
---
Today's post is another educator recommendation although this one is one I've been itching to share myself on the calendar. It was great to learn that someone else shared my enthusiasm for this tool and its potential!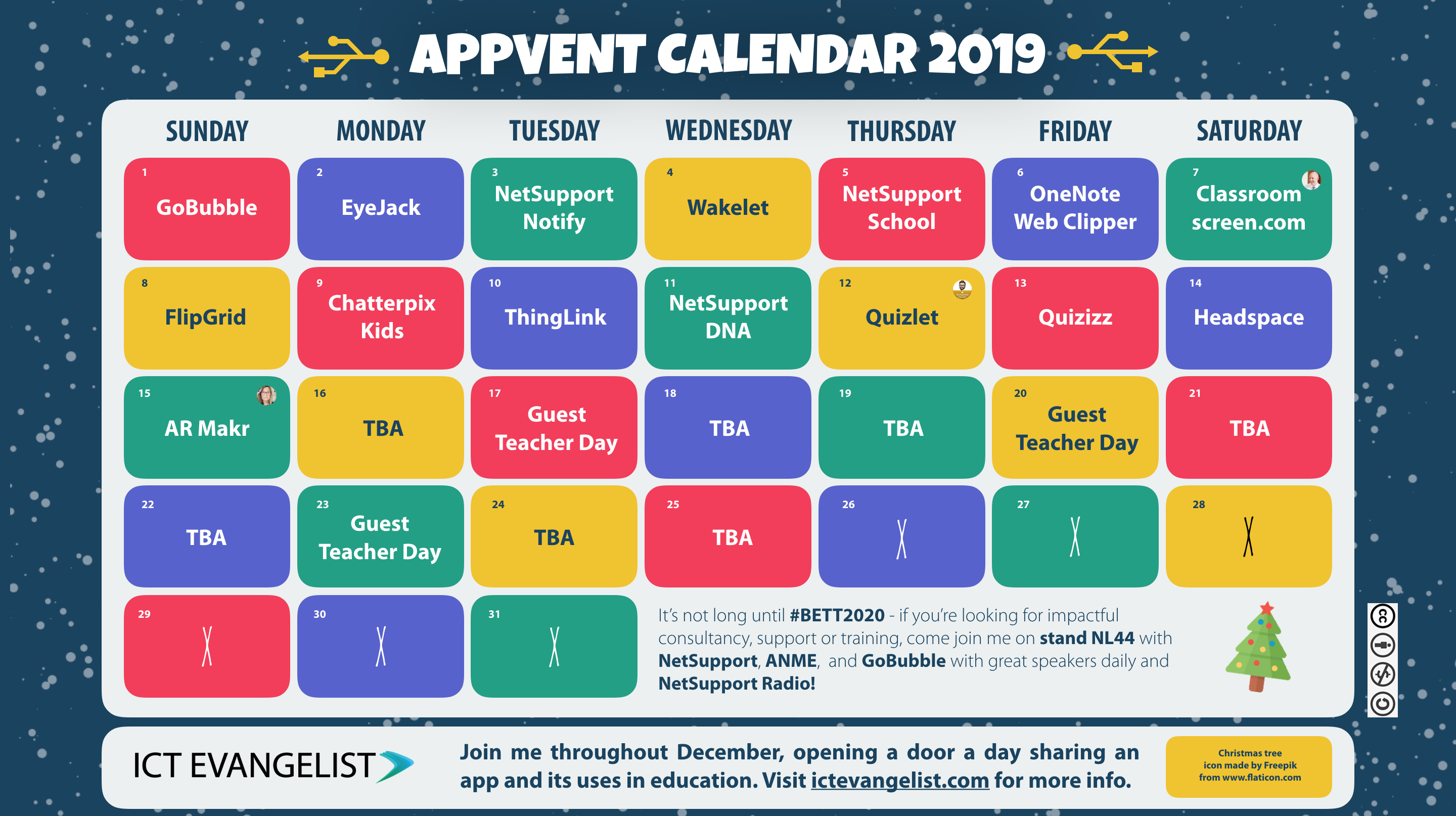 Today's Guest Teacher is the fabulous Philippa Wraithmell. Philippa is the Director/Head of Digital Learning at Cranleigh School in Abu Dhabi. Formerly the Head of Digital Learning at Repton Abu Dhabi, Philippa has contributed to other projects I've coordinated such as this collaborative Book Creator project I ran a few years ago and is someone I've known for even longer.
I made my page! so excited! I can't wait till next week to speak to @SLuptonRAD to see if we can get our teachers to create one as an end of year CPD project! Thank you for tagging me to join! #Collaboration #EduTech #AppleEDUchat @BookCreatorApp @AppleEDU pic.twitter.com/oC8ghMDRdX

— Philippa Wraithmell ADE2019 (@MrsWraithmell) March 15, 2018
I know Philippa to be someone who always places her learners and colleague front and centre of the work she does. Coming from a Secondary background but more recently working with younger children in her role at Repton, Philippa starts a new job in January with teaching and leadership responsibility at every key stage at Cranleigh School in Abu Dhabi. Over to Philippa!
---
Hi! My name is Philippa Wraithmell,
I have been teaching for just over 10 years with my specialism being in Design, Technology & Engineering and more recently Computer Science.
The past two years my teaching path took on a whole new direction, becoming Head of Digital Education at an Apple Distinguished School and teaching Computer Science to primary students at Repton Abu Dhabi.
The UAE has a huge focus on innovation and digital technology which has allowed me to experiment with a range of different technologies and applications for teaching and learning, many of which have already been highlighted on this AppVent calendar!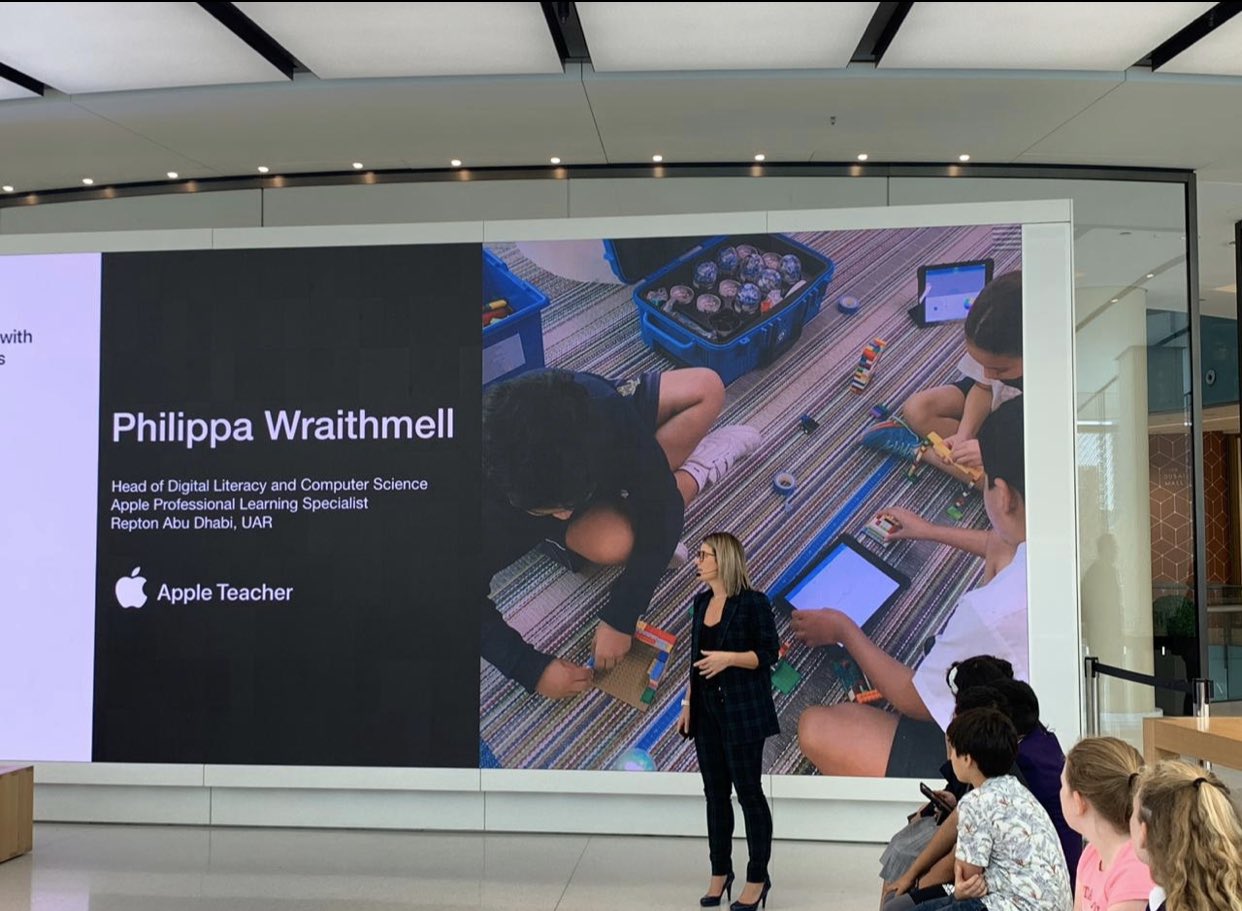 One of my favourite apps is AR Makr, this free iOS augmented reality app allows very quickly a classroom to innovate & create.
Having worked with a range of disciplines across education, for me this app can be used to support so many different teaching strands, giving it a real WOW moment for students in your classroom as they see concepts brought to life and ideas they have created in front of their eyes. This app can be used to help students develop ideas for English, visualise concepts and push boundaries with creativity.
In my first workshop #ARMakr using #Keynote shapes to make my own scene, I can't believe how simple it is 100% getting teachers into it come September #ADE2019 #Literacy #comprehension #English #AppleEduChat #Amsterdam #AR #EveryoneCanCreate pic.twitter.com/4QcRHrYMXW

— Philippa Wraithmell ADE2019 (@MrsWraithmell) July 28, 2019
Students are able to place objects, draw and design their own as well as using a range of "Templates" in augmented reality. Having recently been updated with new features such as "Tiny Town" and "Space Missions" students are able to make links with guided reading and comprehension, Maths, 3D shapes or look at the planets in order and size next to one another.
The app also allows students to screen record the scene they have developed, save and share them. This means the project can be shared with parents on platforms such as SeeSaw or Showbie, or just to the teacher for feedback on their work.
I love this app because of the way it can help you personalise student learning; being able to develop and draw your own shapes and images to create your own AR story is just amazing. Photographs of objects can be taken and embedded into a scene too, for example, students could be on a school trip and taking photos which they then can swiftly recreate the journey as a reflection of their day and what they have learnt to share with others all within augmented reality.
The thing which got me most excited about this app was a fellow ADE, Aarti Daswani who, in an after school club, got students to create an augmented reality fashion show. I thought it was such a great way to use an app such as this. The ability for students to model a version of something which they would not be able to create themselves without a lot of teacher and school support, they drew and imported their designs to the app and brought them to life with movement.
You can use this app with pre-schoolers and older students or even differentiate between students who are tech-savvy and those who are just beginning their technological journey. Due to its ease of use, integrating it into the classroom is much easier as staff too can be up-skilled bit by bit allowing for their confidence to grow too.
The possibilities with this application really are in the hands of the user!
---
AR Makr is an iOS-only AR app available for free from the App Store. Having used it myself numerous times both with learners in a Primary setting and with many teachers supporting their professional learning about tools for learning and creativity in the classroom, I completely echo Philippa's points about its versatility, ease of use and opportunities for learning.
As always, the best app for learning in any classroom is the teacher. However one of the things I know teachers do best, is to be creative in their approaches to making learning stick with their students. Whether something as simple as live-drawing using a visualiser to develop concrete examples and support dual coding or something as versatile as this inspiring yet simple-to-use tool, technology can engage, inspire and support learning at all ages.
Thanks to Philippa for sharing her thoughts for today's AppVent Calendar. You can find Philippa on Twitter @MrsWraithmell and she blogs at https://designedtoteachdigitally.com/ Please do say hi!