I regularly share that I believe good edtech in the classroom has three purposes: it enhances learning, supports teaching, and reduces teacher workload. Another key factor in successful edtech in the classroom, which I often call my Bananarama principle, is that "it isn't what you do, it's the way that you do it." More often than not with many tools on the market, we are now spoiled for choice because there's more than one way to use them successfully; presenting purposeful opportunities for teaching and learning! 
Enter Kami
Kami is somewhat of a Swiss Army Knife of creative edtech thanks to packing in so many tools, integrations, and features before you even get started on the accessibility options. Kami shares that it is an "online document and markup tool" but thanks to the way in which you can creatively integrate multiple modes of media within the platform it's more than worth checking out.  
Kami integrates with Google Drive, Google Classroom, Canvas, and Schoology, but worry not, Microsoft users, because you can upload any document straight from OneDrive and it integrates with Teams too. The way in which Kami is laid out impresses one of the most important features of a quality tool, it drives efficiency, which in turn improves marginal gains.  
Options, Options, Options…
Depending on what your need is, Kami has got you covered! Whether you're looking for subject-specific, age/phase-related, or specific activity types, the Kami library has templates to cover every learning opportunity. Not only will Kami help you go paperless and reduce the time it takes to distribute learning resources, but Kami will also support real-time collaborative learning.  
While consistency is important, rather than asking students to use a single method such as written or typed text to convey their learning, why not ask them to include a blend of written, verbal, and video content so that learners have more opportunity to develop a wider set of skills such as Oracy that complement literacy. 
Collaboration
Collaboration in the classroom can take many forms, for example through live teacher (or peer) modelling that can be recorded (for future reference) using the Screen Capture Comment, peer assessment, group challenges, quizzing, and so on, but what jumps out about Kami here is that the collaborative actions all lead the teacher to be able to have a laser focus on what learners as individuals and the class as a whole will need to do next to develop their knowledge and understanding. 
Did I mention there's also a built-in Read Aloud tool within Kami – another great accessibility tool to help all learners? Plus, a great example of the technology working for us by supporting learners.  
Formative Assessment
A key tenet to formative assessment is using the information and data from activities in your classroom to inform your next steps in teaching so that all learners make deeper connections and understand the content you are teaching. 
Why not use Kami's hexagonal thinking or PEEL (Point, Evidence, Explain, Link) templates to really dig down into the nuts and bolts of what your students know, and don't know, so that you can adjust your teaching accordingly; providing stretch and challenge, or support, to the right students, at the right time, in your classroom. 
Do you need two activities that provide scaffolding to activities in your lesson? Not a problem, with Kami you have Split & Merge which allow you to mix and match pages or entire documents together into a new sequence so that you can craft exactly the conditions to suit teaching and learning.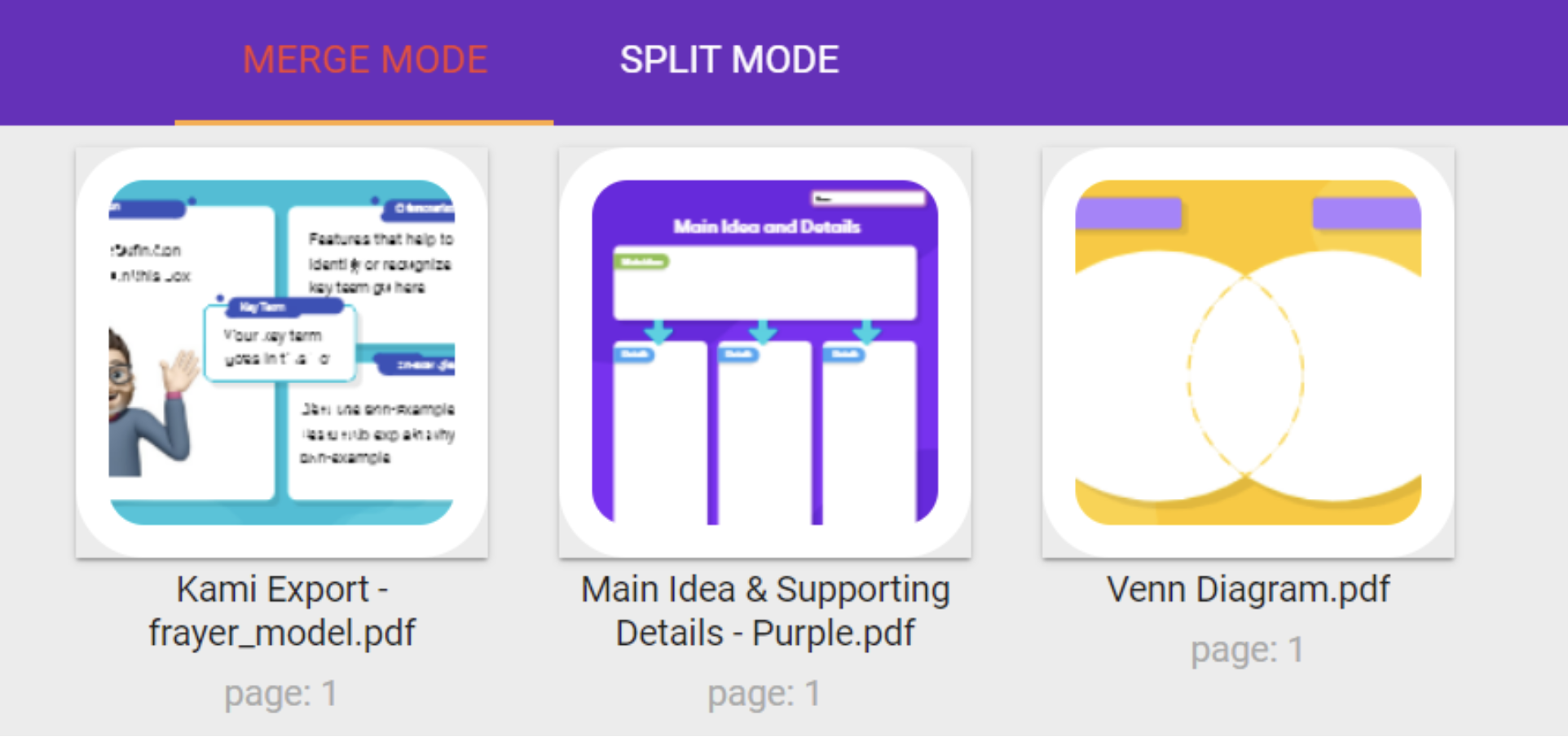 Merge 3 documents, into one for a clearer transition in a lesson.
Feedback
In January of this year, 2023, I wrote about "Five ways that technology can promote effective feedback for students" where tools should support feedback by being timely, formative, and personal to the recipient, and the tools used for facilitation should be consistent. Kami again offers excellent feedback opportunities for the recipient (and donor if students are collaborating), the dexterity of opportunity of how the feedback is given via a plethora of options such as digital inking, written notes, audio notes, or Video Comments and/or screen recording. What's great about all these options is that you can tailor your feedback to suit the recipient and the task all while being available synchronously or asynchronously.  
With great features, come great opportunities
Here are 7 ideas to get learning kick-started in your classroom using Kami 
Use Kami to create interactive activities that check for understanding using quizzes or the Kami library's "interactive" templates. 

 Use the built-in accessibility tools, such as the Read Aloud feature, to support learners with reading independently. 

Create an activity where learners have to spot and correct the mistake(s) using the video tools to model what the error is and how to fix it. 

Create an immersive audio experience by embedding soundscapes into Kami.  

Use the annotation features to highlight key information to learners. 

Ask learners to create storytelling videos or audio clips to help develop their Oracy and presentation skills using Kami. 

Ask learners to create mixed media content to share with the school community that showcases their learning or school events.  
To conclude, Kami is a versatile tool that supports teaching and learning for primary and secondary-aged learners. It offers teachers and students a wide range of opportunities through content that promotes real-time collaboration and feedback. In a world of Bananrama with Kami, how you make use of the awesome array of tools in Kami is entirely up to you!
Why not give it a go by getting Kami free for the rest of this academic year in the UK/EU by visiting Kami – Bring Learning to Life (kamiapp.com) 
---
This is a sponsored post written for Kami. The post, review and infographic have been written by ICT Evangelist.