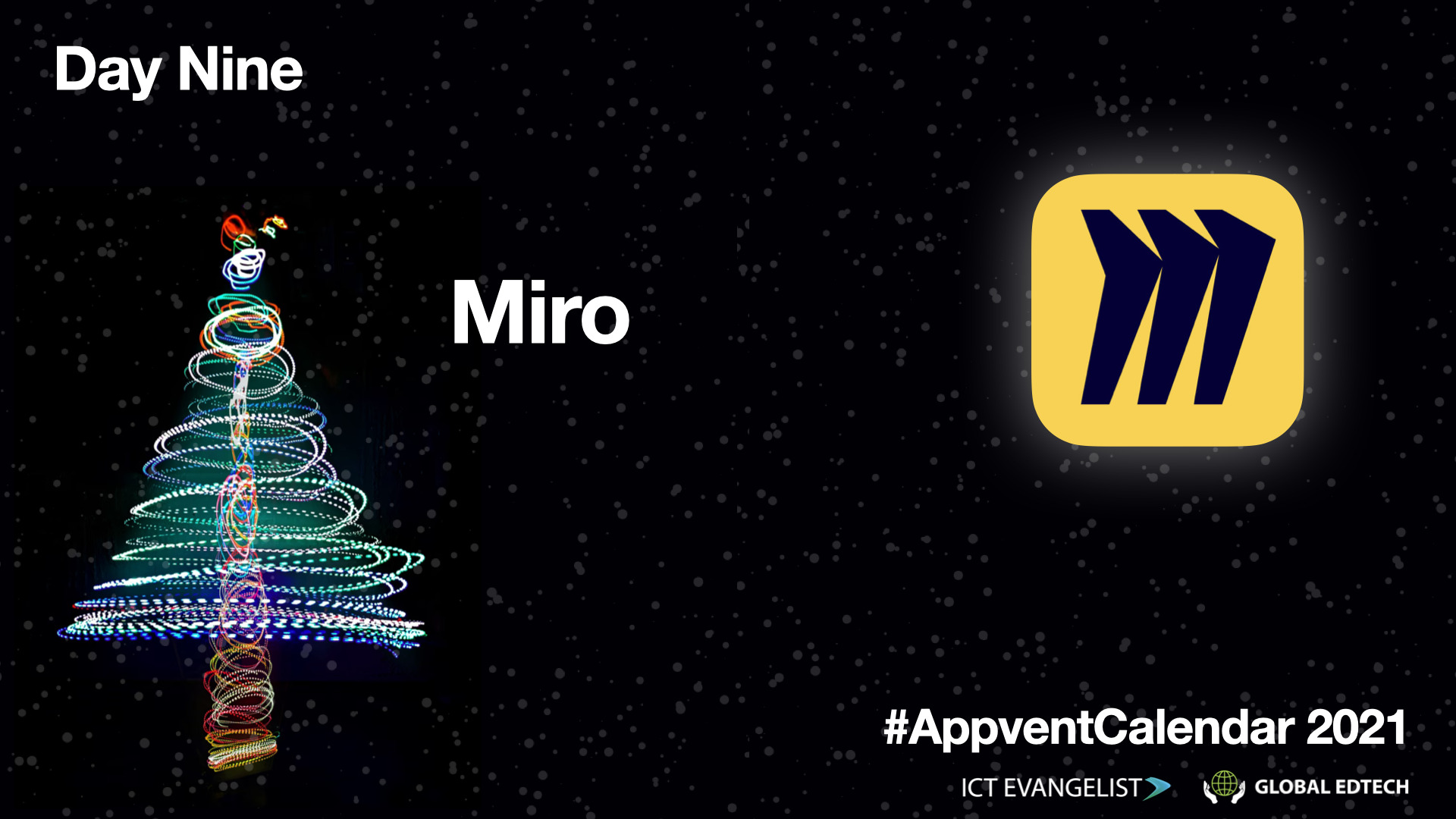 Welcome to the ninth day of the #AppventCalendar for 2021. Today our recommendation comes from Marie-Clare Kelly, a Global Edtech author, eLearning manager and an all-around edtech knowledge house. The tool she shares is the somewhat nifty Miro, an interactive whiteboarding tool with many strings to its bow. Learn more about it below!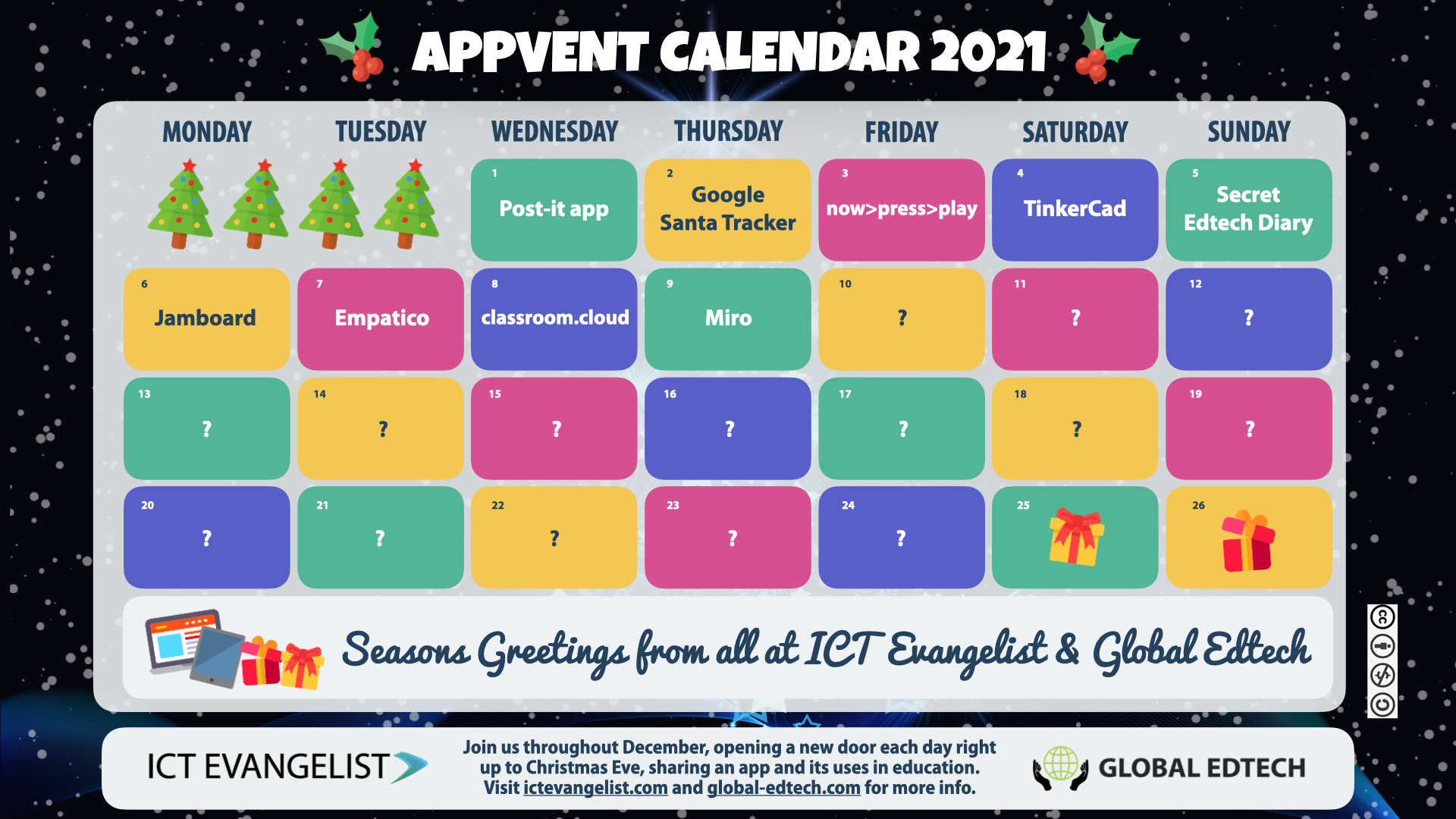 Today I'm sharing a tool that has many varied and exciting uses, and which works beautifully with a host of platforms you probably already make use of in the classroom: it's Miro!
Miro is an interactive, online, collaborative whiteboard platform that helps people to contribute ideas and feedback. It's a platform that I started using with teams of teachers and advisors, but the applications for pupils are endless, too.
Miro starts with a wonderful free package that offers 3 editable boards and all of the core integrations you could wish for. It's a fabulous way to annotate documents, collate feedback, brainstorm ideas, or gather a team together for a gap task. However, if you find yourself using Miro more frequently, there are packages starting from $8 a month which allow you to customise templates and make unlimited boards.
So what can you do?
Miro is a blank space for you to populate as you and your collaborators wish. You can use a premade template such as a brainstorming board, or sticky-note stacks, or you can just set one up for yourself. Our favourite use is creating big pastel-coloured rectangles, almost like virtual "frieze paper", for our collaborators to work on easily.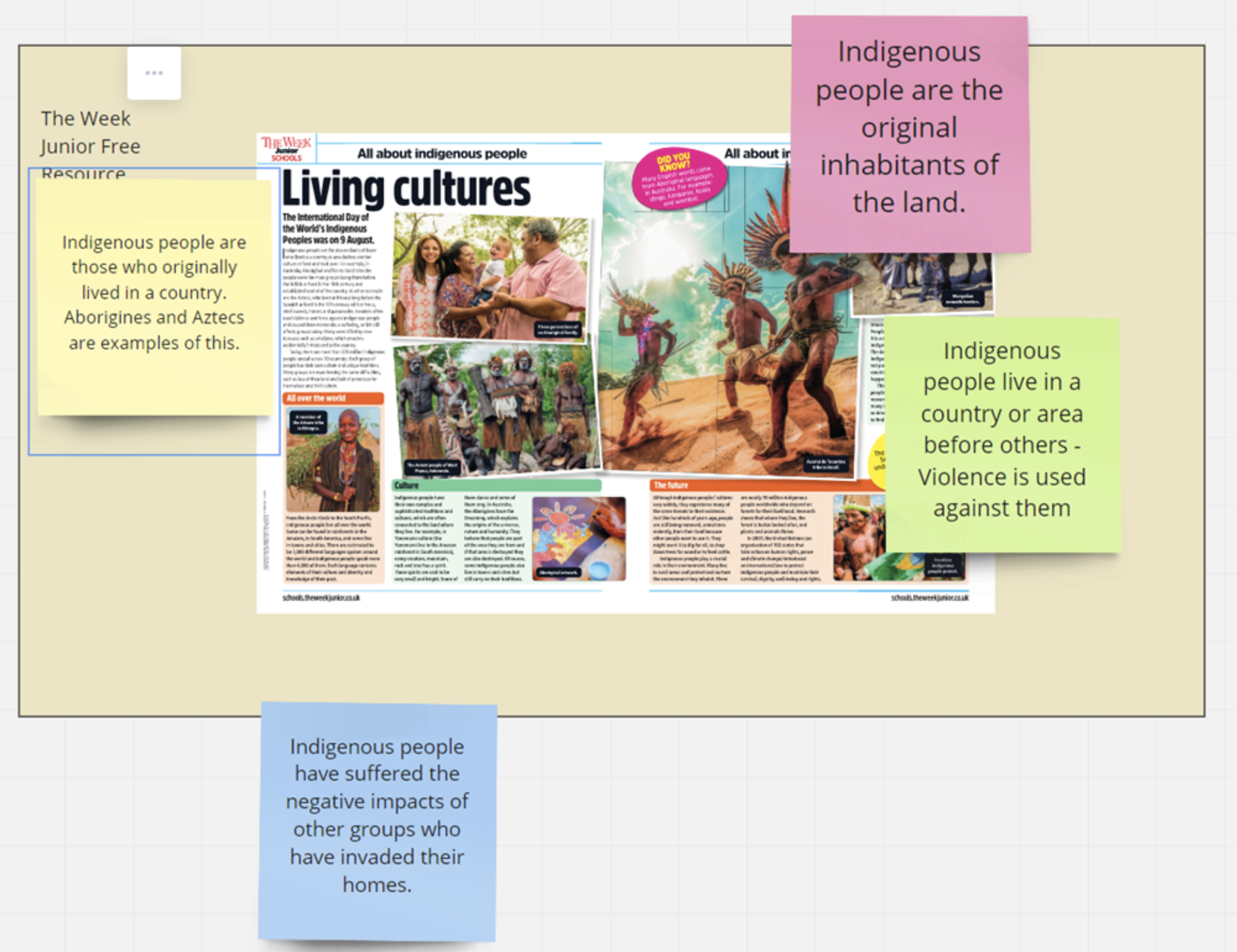 Each user who visits the board has a small colourful cursor and identifier and can edit the parts of the board left unlocked with pens, markers, highlighters, sticky notes, comments, shapes, and stickers.
Users can also make connections between ideas with simple arrows and connectors which snap to the edges of items in an instant.
The board creator can prepopulate the board with a document or PDF, for the collaborators to annotate or comment on. The board creator can also lock elements to prevent visitors from moving things around accidentally.
Users can easily see who has contributed to the board, or it can be anonymised.
Permissions can be set so that users can edit, view, or comment on the board, just to offer you even more granular control over what can be done.
There are lovely accessibility features, such as being able to hide the cursors of other users: this is really helpful if, like me, you start to feel a little seasick when lots of people are moving around the board!
But the highlight?
The best part of Miro, for me, is its integrations with other apps and platforms! Miro works seamlessly inside Microsoft Teams, Zoom, Webex, Whereby, Livestorm…you name it, Miro will provide a fantastic whiteboard experience. It also has integrations with things like Slack, to send you comments and mentions directly to your workflow, and Google Calendar to add a board to your meeting ahead of time and ask for prior comments and suggestions.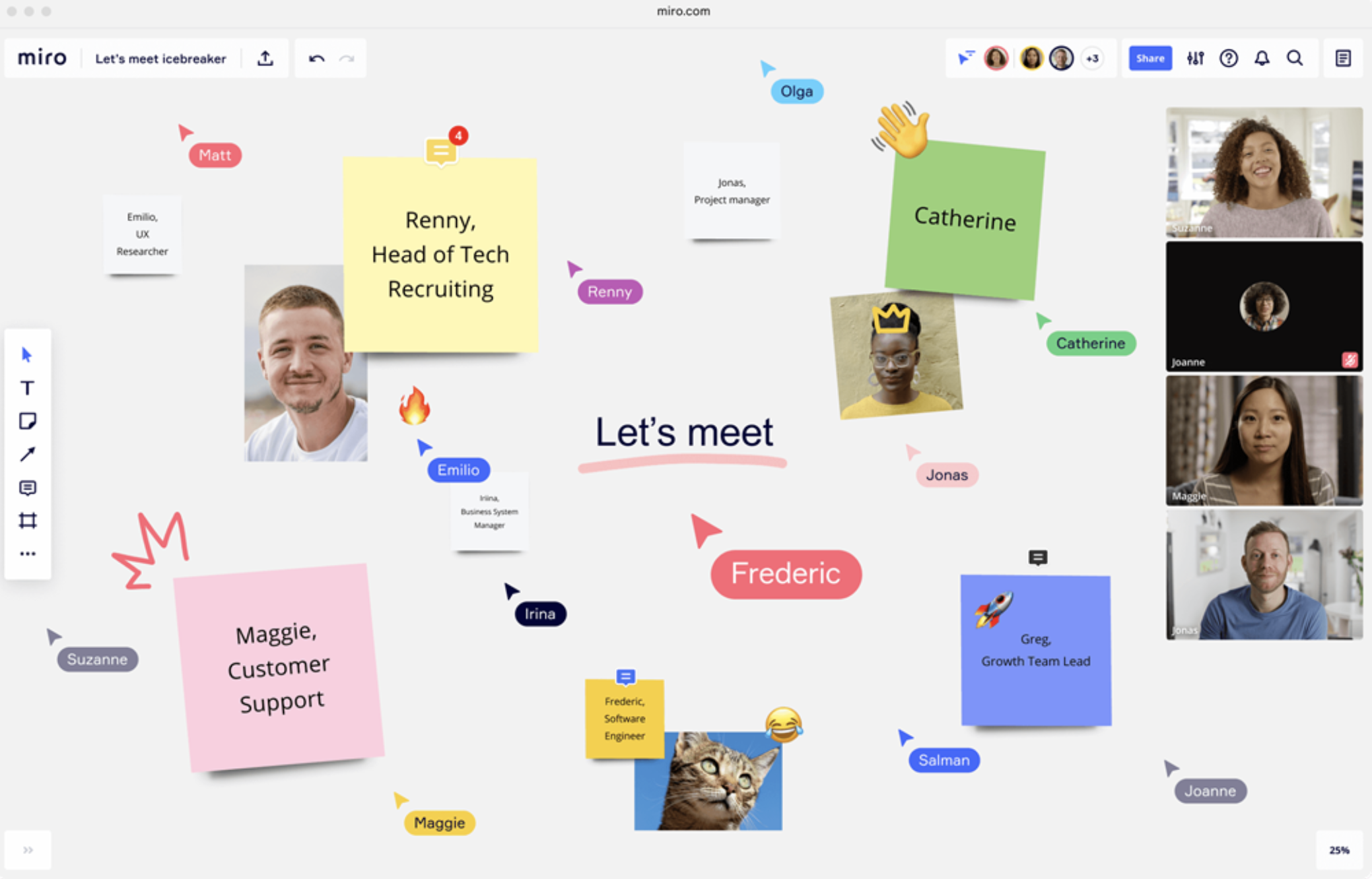 Personally, I'm an experienced Teams user: I love how I can add a Miro board as a channel tab and have pupils annotate a text or make sets of revision notes together. The experience of Miro within Meetings is also commendable. It's an incredibly slick, elegant whiteboard and it's so easy to learn to use. I also love that I can share a Miro board in a Teams meeting and have users contribute to it without ever navigating away from the meeting – keeping all of that valuable engagement.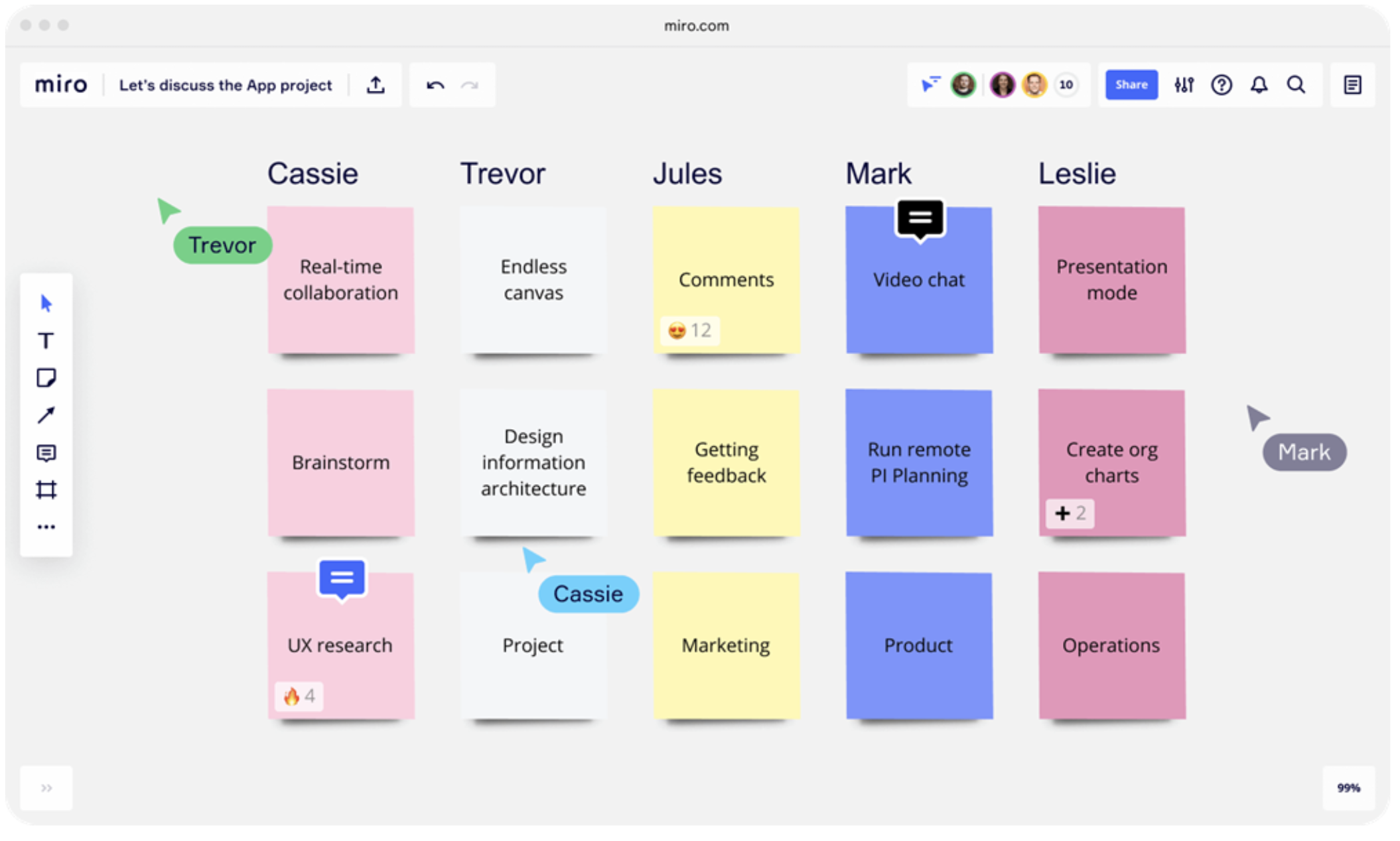 For the classroom, and beyond
My main use of Miro has been with other teachers and adults, but it's a straightforward, simple-to-learn interface, making it ideal for pupil use. The integrations mean it will slot very easily into your pedagogy with the smallest of learning curves.
All in all, Miro is what I'd call a "wee gem": it has style and substance and can really enhance your classroom practice, whether face-to-face or online/hybrid. Give it a try!
Learn more at miro.com.
Thanks to Marie-Clare for sharing this post. Read more from Marie-Clare here at global-edtech.com