I've been I had some training there today with a teacher from High Tech High, Chris Wakefield and two local Ofsted inspectors who also work as part of the local school's partnership. What an afternoon of learning it was!
I've been aware of 'Critique' and 'Project Based Learning' for a fair while now, particularly after reading Ron Berger's "An Ethic of Excellence" and conducting other research and developing my pedagogy through networking and learning from the likes of Tait Coles & Pete Jones and have been attempting to embrace its use with students. I've found this quite difficult given time constraints with course coverage and 1 lesson per week at KS3, but I've given it a go with some success, but never as much as I'd have liked. Today marked a definite increase in my learning curve in this area.
Chris went to some lengths to explain to us what PBL was and what it wasn't. This video from Geoff Robin was particularly on the money: http://howtovideos.hightechhigh.org/video/265/What+Project+Based+Learning+Isn%27t
Well, that cleared that up!
For those who aren't aware of Critique, it's a formal, guided process where students give each other Kind, Helpful and Specific feedback to each other. Students are asked to then refine and improve their work following the receipt of their critique.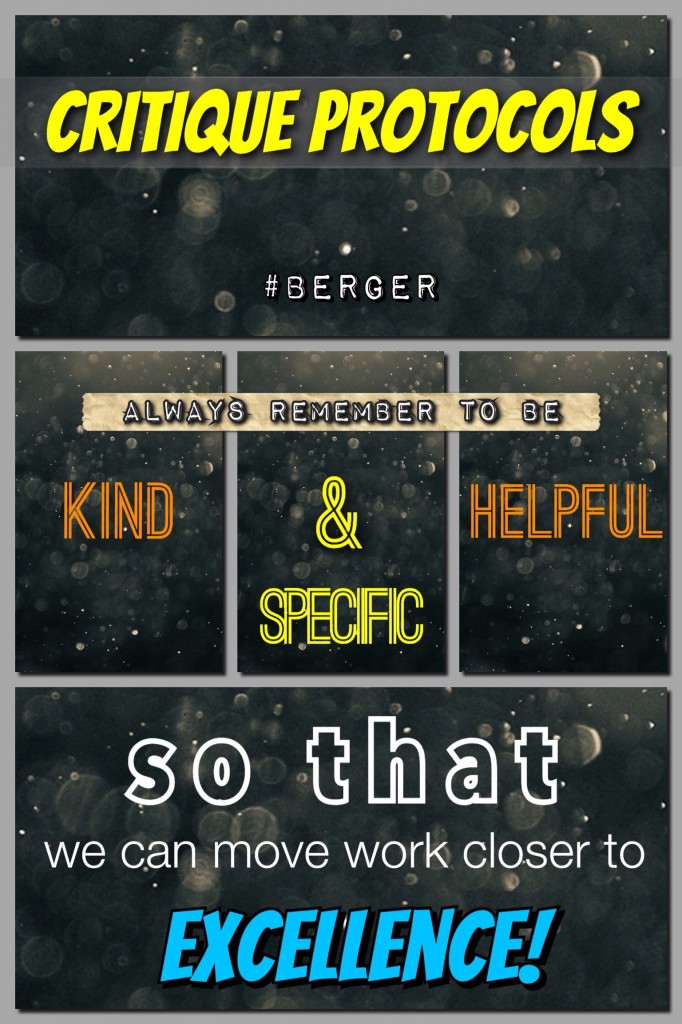 Chris walked us through lots of examples from his own classroom practice. What impressed me was not only the relentless approach to his work but the innovative projects that he and his work partner (from another subject area) came up with. Physics fonts was one example that was simply brilliant. Every question given to Chris was met with more and more examples of rigour in the work of the students and the results from his classes spoke for themselves. Another project that stood out from those that he showed us was his 'Consumption Project'. Check out the inspiration for students too via the Chris Jordan website – inspiring.
What Chris was able to demonstrate was that with a 'schedule' (timetable to us) that facilitated longer times working with students across different subject areas that facilitated these projects, students were able to take the time to complete their multiple critiques and drafts of their work. As seen clearly in this video with Berger talking about Austin's butterfly, and in the work of his own students, you can see  the effect that the refinement/drafting and Critique process can have:
This for me is what has been missing from my own practice. The opportunity and time to give students the reflection and improvement time through serious drafting. Through careful 'scheduling', students are able to work on cross-disciplinary projects which facilitate the building in of time to allow students to re-draft their work. It was evident from talking with Chris that this is one of the key elements to ensuring student success in PBL. This was not the only thing that he focussed on, however. He also spoke of the need for:
Correct ethos – impressing upon students the need for failure in order to develop. Linking to the likes of Edison and so forth and so on.
No didactic teaching but a guide on the side rather than a sage on the stage. Facilitation rather than lecturing.
Use of systems such as three before me
So forth and so on (which was great to hear as these are things I like to embed in my pedagogy too)….
As mentioned earlier in this post too, the level of innovation and ideas from the projects that Chris and his partner created was high. I queried him about this and asked about the process. Do all teachers teach the same projects? No, was the answer. Teachers have core intellectual missions which outline the things that need to be learnt – he went on to talk about how at HTH teachers are designers who craft learning episodes for students through the projects they complete which pervade the entirety of their learning experience.
What I've neglected to mention too is that all work completed by students is displayed in a public exhibition too. Use of sites such as blurb.com and lulu.com are used to showcase the work of students too – work is published and parents are able to buy copies of the books that their children have created as part of their learning process such as this one here: http://www.blurb.com/b/1069347-absolute-zero. Fantastic!
For me, I'm looking forward to working in this way and seeing how it develops. If we're able to follow in the footsteps of these giants of the PBL world, then it's going to see some fantastic developments in student resilience, independence and their ability to get their work (and learning) right.
Further reading:
Tait Coles: http://taitcoles.wordpress.com/
A great example of a student exhibition via Pete Jones: http://deeplearning.edublogs.org/2012/12/02/meet-the-ancestors/
If you have any experience of this kind of work I'd love to hear from you in the comments. For the record, this is draft number 5 of this post. Hope it's good enough for a public exhibition!