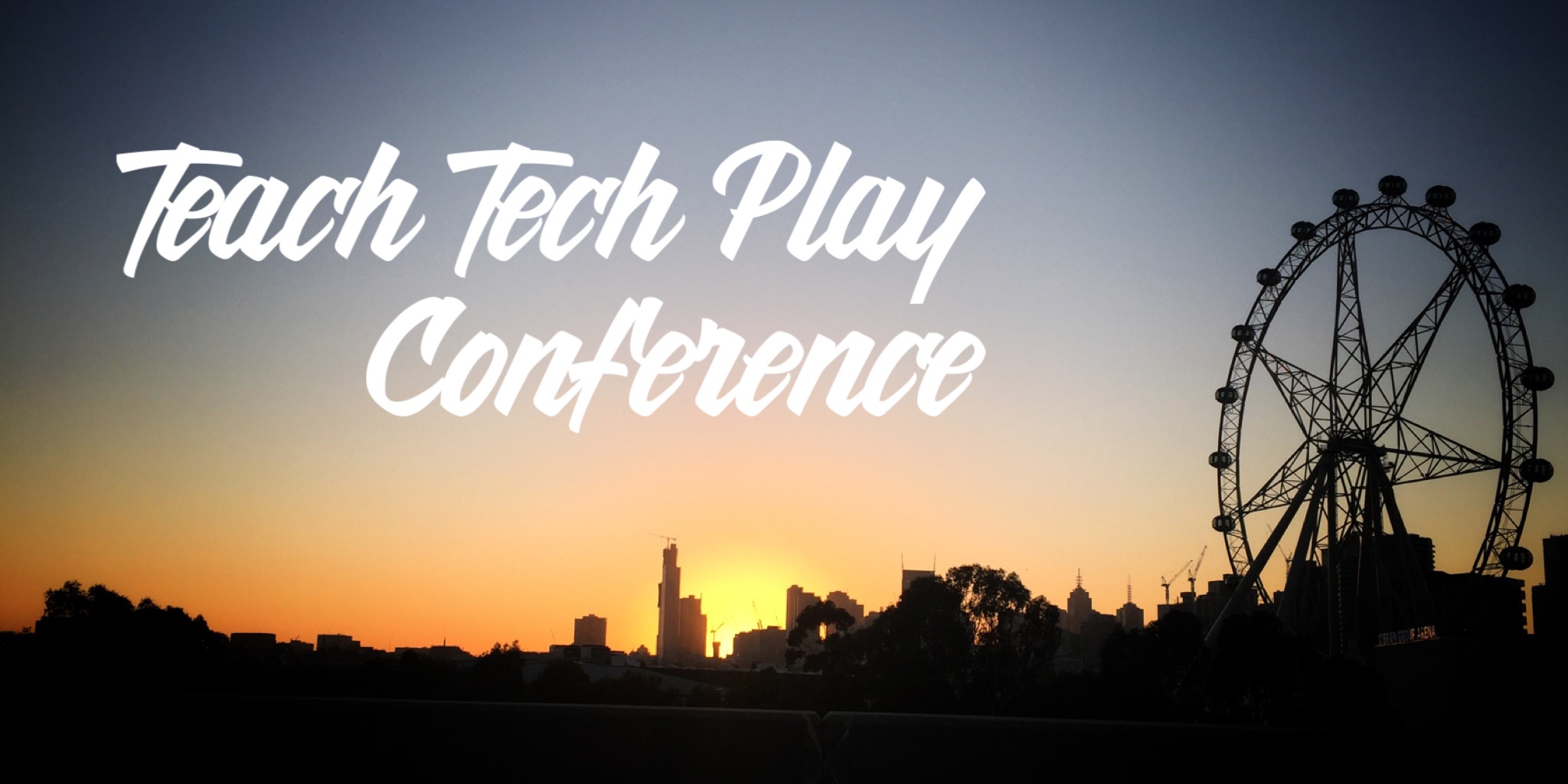 Do you remember when you first started teaching? Did you want to change the world? I did and still do. It's still my driving force and mantra even now. To be able to share my ideas to such a wide audience and to spend time with educators face to face is a real privilege.  I'm just returning now from Melbourne, Australia from the 'Teach Tech Play' conference organised by Eleni Kyritsis, Michael Ha and Corey Aylen and these are three educators who really do want to make a difference.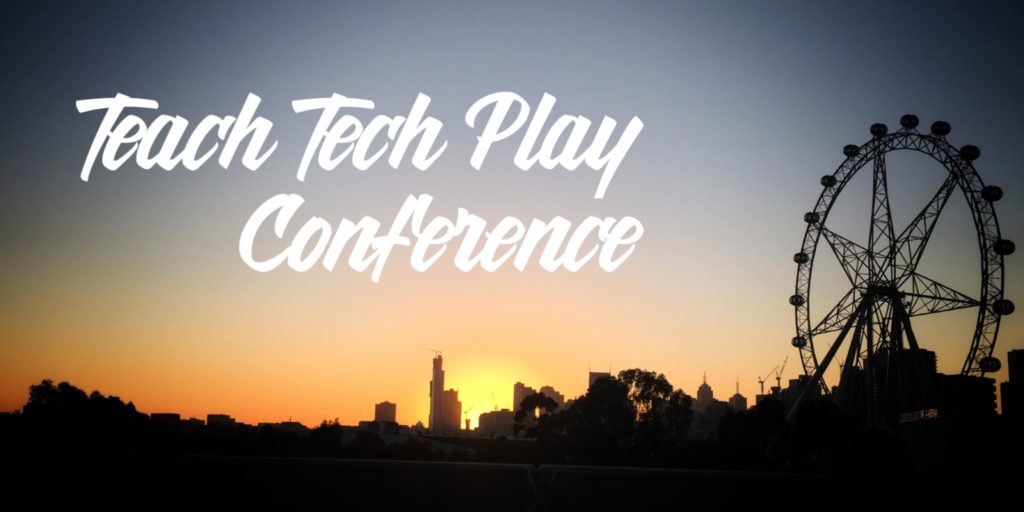 I first came across Michael Ha a few years ago . Since then Michael joined forces with Eleni to create 'Teach Tech Play', a monthly online Google Hangouts on Air events. These events ask different educators on as guests to share one #edtech idea in a short period of time on the show. The audience then vote for their favourite idea from the presenters and the winner is then crowned the Teach Tech Play King or Queen for that month. You can catch their show on the first Monday of every month. 
The conference was organised following on from the success of their monthly event. When I was asked to the be one of the keynote speakers I was obviously very excited, not just because of the opportunity of keynoting in Melbourne but additionally as the other keynote they were looking to ask to come over was Alice Keeler. What a lineup!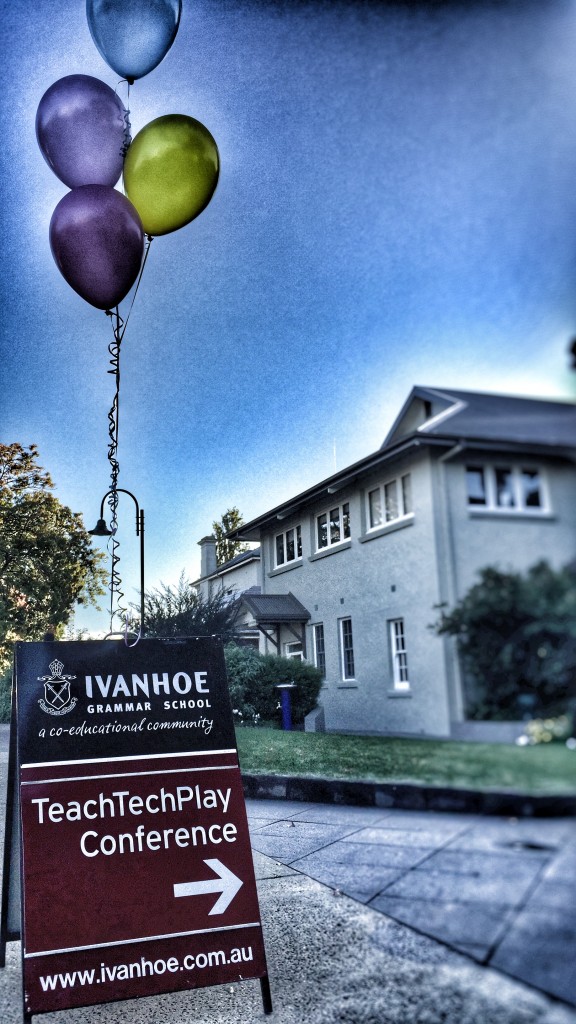 The event was simply a massive success. Two days of slick, well organised, highly specialised training, PD and learning and sharing offered at the Ivanhoe Grammar School, just outside Melbourne.
Alice's keynote on the morning of day one was super and had plenty of salient and impactful key points which got us all thinking (and laughing with some of her great videos). Across the rest of the day there were workshops on virtually every #edtech topic imaginable. From Google Expeditions, spreadsheets, Adobe products, iPad workflows, creative apps, gamification, teaching & learning, design thinking – it was all there.
I enjoyed visiting a number of the other sessions running on the day, such as Tim Kitchen's Adobe sessions and the fab workshop from Notosh's Tom Barrett and Hamish Curry. It was particularly good to catch up briefly with Tom on the day, having not seen him since he came out to Australia to work a while ago. Definitely worth a follow on Twitter!
The day ended with a fantastic closing keynote from local entrepreneur and tertiary education sector revolutionary, Ryan Trainor. I learned a lot from Ryan and certainly gave me food for thought, particularly in relation to how some of our UTC's work and their links with other schools. An inspiring bloke – please check out his work at his various tertiary sector colleges through Republica and much more.
Day two saw me open the day with my keynote. I focused upon a few key areas' my main desire to give lots of practical ideas, pedagogues and real life stories of excellent use of technology in the classroom. I finished with my central mantra which is of course to; Make IT simple, Keep IT real and Make IT count.
I've been completely bowled over by the responses at the event from both the sessions I delivered on:
Creative apps for creative kids

Adobe apps to make your life easier

iPad Ninja skills

Augmented reality
…and in particular my keynote. My timeline on Twitter has been so full of positive comments, thanks and praise it has been really humbling. Thank you so much to everyone who took the time to comment, take photos, run with some of my ideas already and practice using them and sharing them publicly. On my journey back to the UK I keep seeing a new Ditty video every time I look at my phone. Here are just a handful of some of the tweets I saw from during my keynote. 
THIS. @ICTEvangelist you inspire me. #TTPlay pic.twitter.com/bwytcm2FLK

— Lauren Hopkins (@itsMrsHopkins) April 7, 2016
Great keynote by @ICTEvangelist at #TTPlay – thanks!#madewithpaper pic.twitter.com/1ih0rjLh67

— Guido Gautsch (@gheedough) April 7, 2016
"Technology can not replace poor teaching." @ICTEvangelist #TTPlay

— Alice Keeler (@alicekeeler) April 7, 2016
Such an inspiring keynote. Thank you so much @ICTEvangelist #TTPlay

— Sarah (@Sare_teach) April 7, 2016
One of the best keynotes going around @ICTEvangelist @alicekeeler Awesomely inspiring #TTPlay

— Benjamin Lannen (@bjlannen) April 7, 2016
Keep it Simple. Keep it Real. Make it Count. Thanks @ICTEvangelist #TTPlay

— Mikaela Logan (@miklogan) April 7, 2016
Amazing keynote @ICTEvangelist. Downloaded pingpong and PostIt notes already for Monday #ttplay

— Jayde Allyse (@AllyseJayde) April 7, 2016
@ICTEvangelist #TTPlay yet again another inspirational educator

— Melissa Dioguardi (@missydioguardi) April 7, 2016
Every day is a learning day.
Lead without a title.
Have student digital leaders.
A really inspiring keynote!@ICTEvangelist #TTPlay

— Fiona Mackie (@FionaF68) April 8, 2016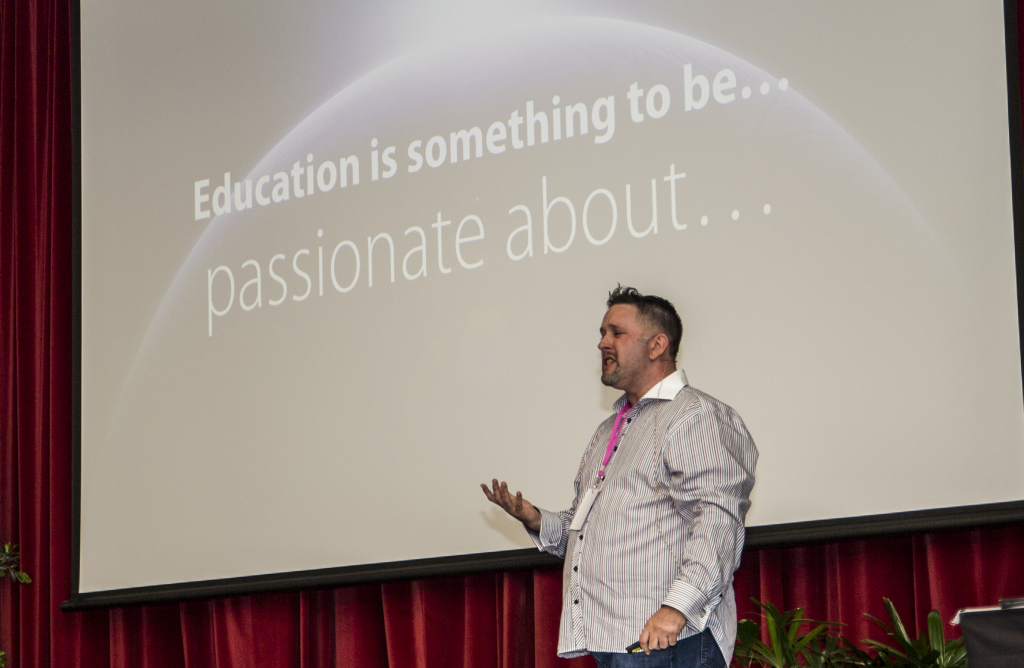 One of my favourite things I've seen in tweets following the event have been the inspirations people have taken on board in relation to Student Digital Leaders and Kidsmeet events. For information on Kidsmeet events in the UK, please visit the Kidsmeet wiki here.
I had the opportunity at Teach Tech Play to make new friends but also to cement virtual friendships through my PLN to one with real face to face analogue connections. I simply loved the opportunity to hang out with Alice, Bron, Steve B, Lauren, Kara, Mike, Tim, Brett, Cameron, Trav, Dean and so many more new friends. Thank you all. 
Massive thanks to Corey, Michael and Eleni too for bringing everyone together for TTPlay 2016. It was the number one trend on Twitter in Australia the day before the event and as I sit on a plane writing this somewhere between Iran and London, I'm pretty confident it'll still be trending too. 
Please do follow the Teach Tech Play twitter account and I look forward to catching the full Storify for the event when Corey has finished compiling it. A mammoth task, for sure!
The big question now is – how do you top this next year?! I hope to be there to join you again and find out.
I couldn't help myself and so I made a little video to sum up my experience of the two days of the conference. I hope you enjoy it as much as I did making it and remembering the memories.
Over and out!