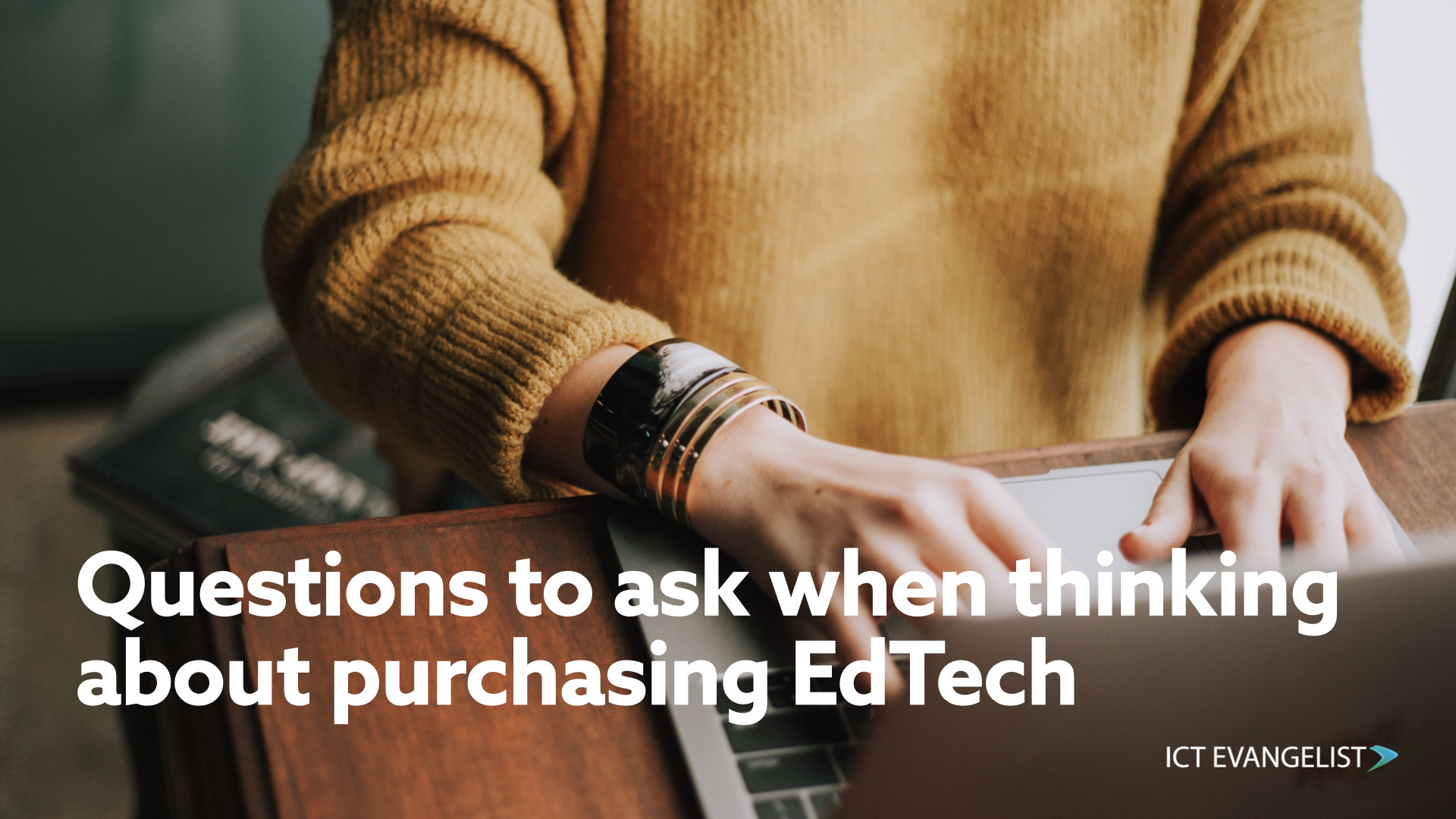 An adaptation of an article I wrote for the NetSupport guide to Bett 2022, this post seeks to share advice about the conversations you have with technology vendors when considering purchasing them for your establishment.
Buying technology can be a bit of a minefield so how can you distinguish between truth, fiction, techese (the technology equivalent of legalese) and what the company is trying to do to persuade you to part with your increasingly limited funding for resources? In my experience, I'll put my hand up, I firmly believe that on occasion I've allowed myself to be drawn into the bold claims of a company which, without support around implementation, has meant impact with those purchases hasn't been as immediate as I might have liked.
Techese – the language used by those who know more about technology than you do which can be confusing
So, what can you do? 
It's not easy to find your way through the murky waters of what's hot and what's not – but go in with your eyes open. Make sure before you get into a conversation with a company, make sure you have a clear focus on what your set-up at school is like and what you're looking to achieve. 
Perhaps too, if you're a budget holder, but not that technical, see if your Network Manager can attend the meeting with you or at the very least, get their perspective. Due diligence is important and when the sums involved can often be considerable, it's important to do your homework. Either way though, don't sign on the dotted line while you're in the meeting! Gather information. See it as reconnaissance that you can check out further once you get back to school when you can share your findings.   
Sure, you might find it useful to talk shop and lock in some discount, but any company worth their salt will be open to you going away and discussing things further. Additional to that, the best companies I've worked with will always give you a free trial to explore how their solution could work in your setting, including implementation and training support – and that should stand for hardware just as much as for software.  
Questions you can ask vendors
What research has informed the development of your product?
Whether the product has been co-developed with a school or educational setting to address a significant problem, or in response to some research into efficient teaching practices such as Spaced Practice, make sure that companies aren't using buzzwords just for the sake of using the lingo.  Drill deeper. 
Many companies use educator buzzwords as a vehicle to help sell their products. Ask hard questions. Ok, so how exactly how does your product reduce my teacher's workload by implementing theory X? Can you point to an action research trial that demonstrates these results? Who can I speak to in that setting to find out more?
Has your product been reviewed by an independent third party? If so, what did they say? 
You might also like to ask this question. In my role at NetSupport, we've engaged several times with Education Alliance Finland, which offers such a service and their approach helps benchmark the great things our products do, whilst sharing things that we could do better! Be mindful that there are some companies that talk about impact with edtech and quote positive feedback, but that feedback is sometimes a bit like the 'evidence' shared in shampoo product adverts on television: 1) not statistically significant, and 2) often given by friends of the company. Be wary of wolves in sheep's clothing!  
How does your product help to raise standards/reduce workload/improve teaching etc?
All edtech products seek to solve a problem within education, so dive deep into what it does, gather information and be prepared to walk away. There will likely be competitors with similar products, so ask them what differentiates their products from their competitors. What is their USP? What makes them better to work with than the competitor? Then take that information and pose questions around it to the competitor. Make the companies work hard for the possibility of a contract with you and your school. If it looks and sounds like it's too good to be true, it most likely will be!  
What support do you give for the adoption of your product in schools?
If you've been teaching for a few years, you'll most likely have encountered a technology initiative that hasn't worked in your setting. Use that knowledge to dig into the opportunities the company will provide you with to help make sure you get the most out of your engagement with the product. Ask them: what professional learning opportunities do you provide? What help will we get in terms of onboarding? What ongoing support opportunities there are when products are updated? Do you continue support for legacy hardware, software and operating systems? Ask how many customers they already have – whilst a start-up might offer affordability and the promise of a new shiny solution, without ongoing sales, if the company goes down, then where would that leave your school (particularly if it is a critical system)? 
How often do you update your product? What is the process for this happening and what hidden charges might we experience? 
One of the best things about technology is that it normally gets better with age; developers simply do that – develop their products! The issue is that when products change, it can have an impact on adoption and usage. Therefore, ask vendors when they do their updates and how frequently. Are these done in ways and at times that have the least impact on curriculum delivery or usage in the classroom? Do they provide support for any training that might be required to learn how to use the updated software? Ask too about licensing and whether you might encounter additional charges. Be very clear about what you will be expected to pay for and, once you've found out, benchmark those costs against what alternative providers charge for the same service. 
To sum up
I recognise that I have probably sounded like Scrooge McDuck in my advice here; I haven't meant to. I'm just a firm believer that just like education, technology purchases are too important (and expensive) to leave to chance! My sincere hope is, that with my few pinches of salt shared here, we may just help you a little bit in your conversations with vendors.