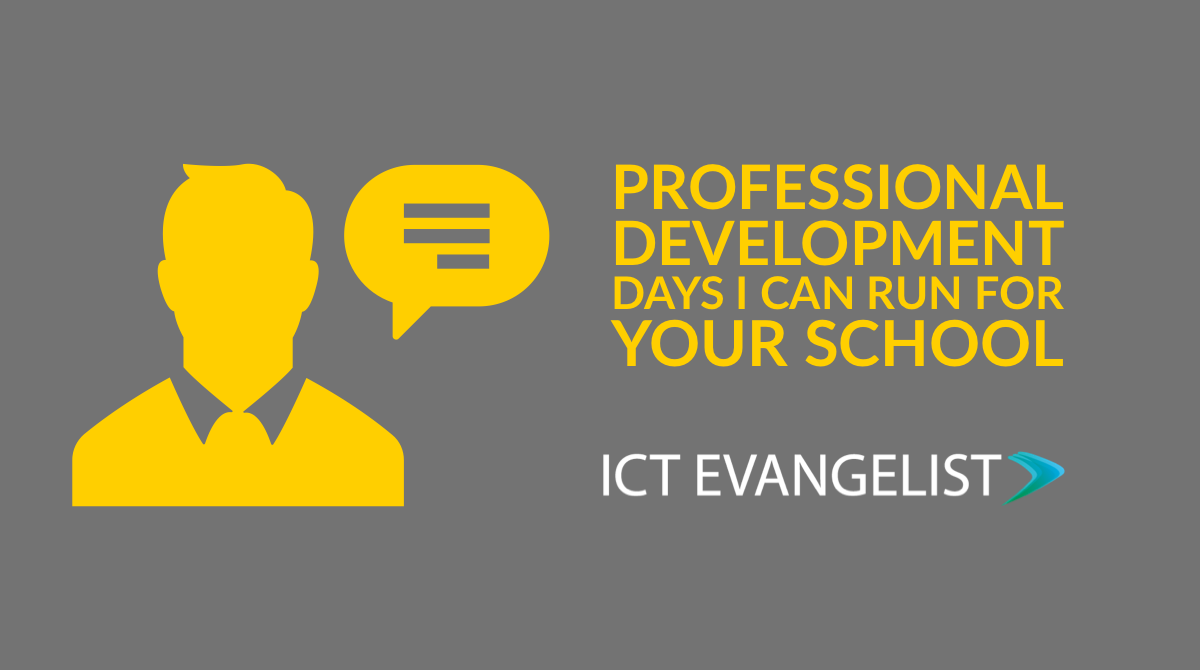 Since I started working freelance, a significant part of my work has been working with schools supporting them with teaching and learning and providing consultancy and training. At a glance, you can see I've been pretty busy…
The feedback I get for my work is exemplary too:
Amazing afternoon training @ELISMurcia @ELISVillamartin with @ICTEvangelist thank you for sharing! Everyone left feeling very inspired! #CognitaWay pic.twitter.com/bU0SrDcVYH

— Anton Robinson (@antonrob_mc2) February 22, 2019
Great ideas and recommended free IT resources from @ICTEvangelist opening our #NQT conference today @CLF_Institute Thank you Mark! pic.twitter.com/XSbE1hCcBl

— Alison Fletcher (@aj3fletcher) March 30, 2019
Today was awesome! @ICTEvangelist shared bucket loads of practical ideas & resources with the staff @bis_ad that I'm certain will lead to huge gains for the Ss! #edtech #elearning #AppleEDUchat #iPadED #edchat #aussieED #TeachUAEchat #ukedchat #edtech50 pic.twitter.com/V1qys2oxub

— Olly Lewis FCCT (@OLewis_coaching) November 8, 2018
What can I do for you?
Every school and college is different and so the following examples of sessions were created specifically and in a bespoke way for every school or college I work with. Many schools I work with appreciate the importance of tailoring a bespoke training and/or consultancy for their needs. For some schools, the consultancy is important to assist them in making important decisions about their use of technology to support and enhance teaching and learning. Other schools just opt for support and training. I am happy to help teachers and schools in any way that I can.
Another area I help a lot of schools, based upon my own hands-on experience, is to work with specific departments exploring how technology can help in the teaching of different subjects. There are lots of tools which transcend subject areas but equally, there are plenty of uses which can be specific to a subject. As someone who has successfully implemented technology projects and supported hundreds of teachers in their subject areas to develop confidence and competence, I am ideally placed to help teachers in your school too.
I have much experience of working with iPad, Chromebook and Surface 1:1 initiatives and have supported schools with the development of teaching and learning in these areas. Linked to that I have also conducted visits to schools to support and audit usage to then inform purposeful and impactful training for colleagues. I have also worked with and supported schools working towards Apple Distinguished status and those schools looking to inject more creativity, rigour and purposeful use of technology into the curriculum. I have also supported many schools with initiatives linked to raising literacy standards using technology too.
Whatever my engagement though, my overriding principle is that the work I do must have an impact and so I work closely with colleagues in the different schools I work in to provide activities and support which best fits their needs. This is the approach I would take if I worked with you too.
I have been encouraged to share the sorts of sessions I could run for your school, so here is a list of some of my popular sessions for you which can be further tailored to meet your needs:
Free edtech tools and how to use them in the classroom
Formative assessment, low-stakes quizzing and technology to help
Getting started with iPad / Chromebook / Office 365 / Google Suite
Making the most of your technology in the classroom
Using technology to reduce your workload
Developing middle leaders
Technology to support independent learning
Evidence-informed strategies to support teaching and learning with (or without) technology
Use of video in the classroom
Higher-order thinking skills and how technology can support them
AR, VR and Mixed Reality in the classroom
With more than 20 years of experience as a teacher, middle and senior leader, I know the pressures faced by teachers in the classroom and factor this into all that I do. Additionally, as an Apple Distinguished Educator, Google Certified Teacher/Innovator and Microsoft Certified Educator, I am also able to work with and support teachers regardless of the digital ecosystems you may use in your school. So whether you're iPad 1:1 or using Surface with Office 365 or Chromebooks with Google Suite, rest assured you're in safe hands.
All of my sessions can be tailored to suit your school level (Primary, Secondary, FE) and the time you have allocated for professional development. I also offer remote training which is a cost-effective way of getting training into your school for small groups of teachers.
Previous clients include:
Dubai College
Plymouth College
JESS – Jumeirah English Speaking School, Dubai
Al Najah School, Abu Dhabi
British International School in Abu Dhabi
Academies Enterprise Trust
Feltonfleet School
International College Spain, Madrid
Frensham Heights
Layton Primary School
New Wave Federation
Wetherby School
Thomas' Clapham
Girls Day School Trust
Freemens School
St Albans High School For Girls
St Andrews, Samakee, Bangkok
French International School, Hong Kong
English Schools Foundation, Hong Kong
Cardiff and Vale College
Bury Grammar
International School of Amsterdam
and many many more…
If you are interested in having me work at your school, then please get in touch using my contact form on my contact page here.