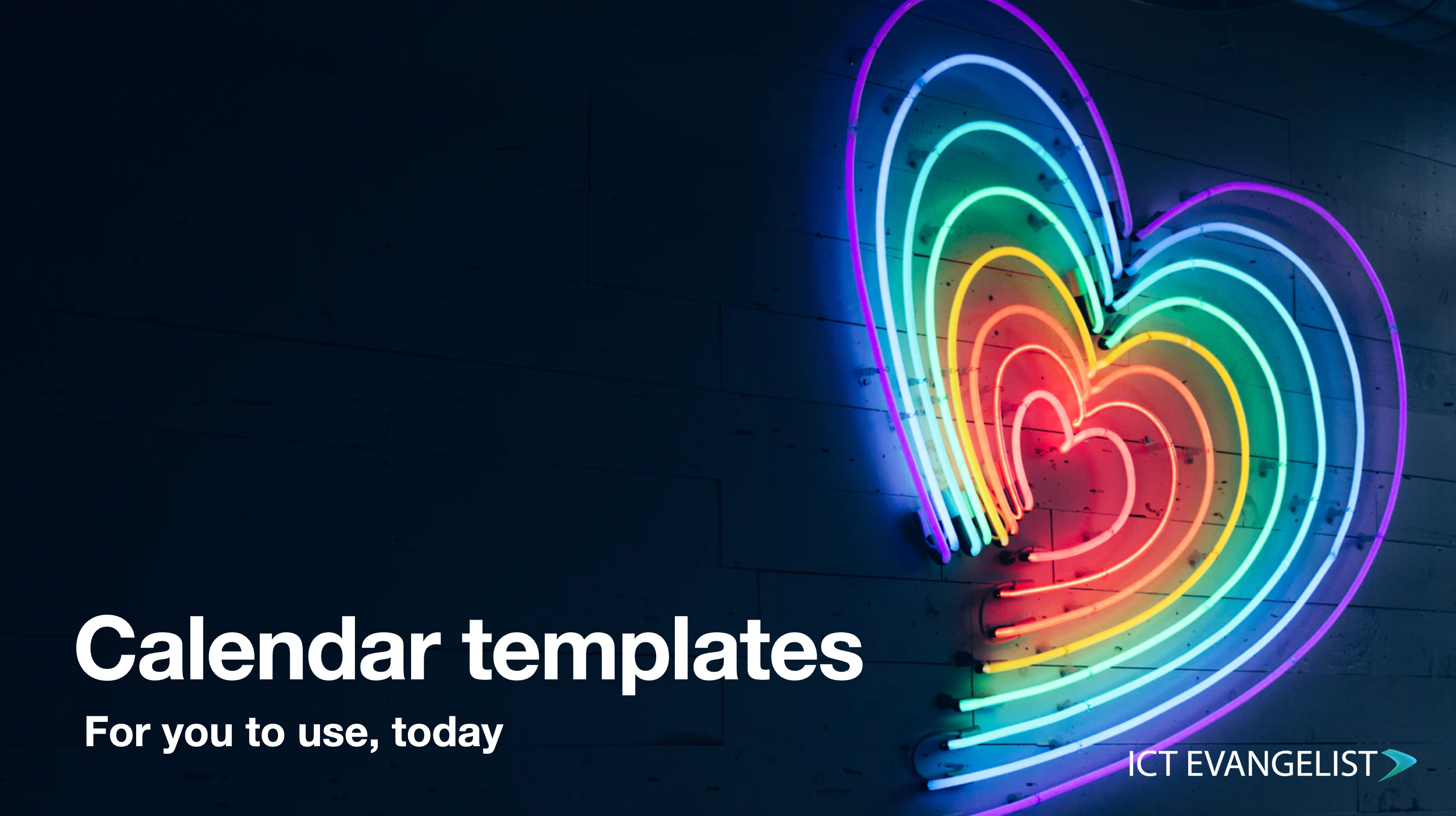 Beautiful calendar templates for home learning and other activities such as those linked to positive mental health activities are all the rage at the moment.
I was thrilled to work with GoBubble to create the calendar for their month of activities this month. It also meant I got to work with Philippa Wraithmell and Kellie Williams again which is always a delight, in coming up with the different ideas and activities to go onto the calendar.
I shared my #AppVent calendar just before Christmas, which was a great way to share a variety of tools and apps in the run-up to Christmas in a fun and interesting way too.
So what?
With that in mind and knowing how busy teachers are but also mindful of how using things such as calendars can support the sharing of asynchronous activities with pupils, students and parents, I thought it would be helpful and beneficial to share the template I've created to:
help teachers and schools to make it easier for them to create their own
save time for everyone
give a framework for different types of activities
help share mindful and/or asynchronous activities within your own class or school context
All elements of the calendars are editable so you can do as you wish with them.
With that in mind, I've created a series of four calendar templates/designs for you to use, right out of the box: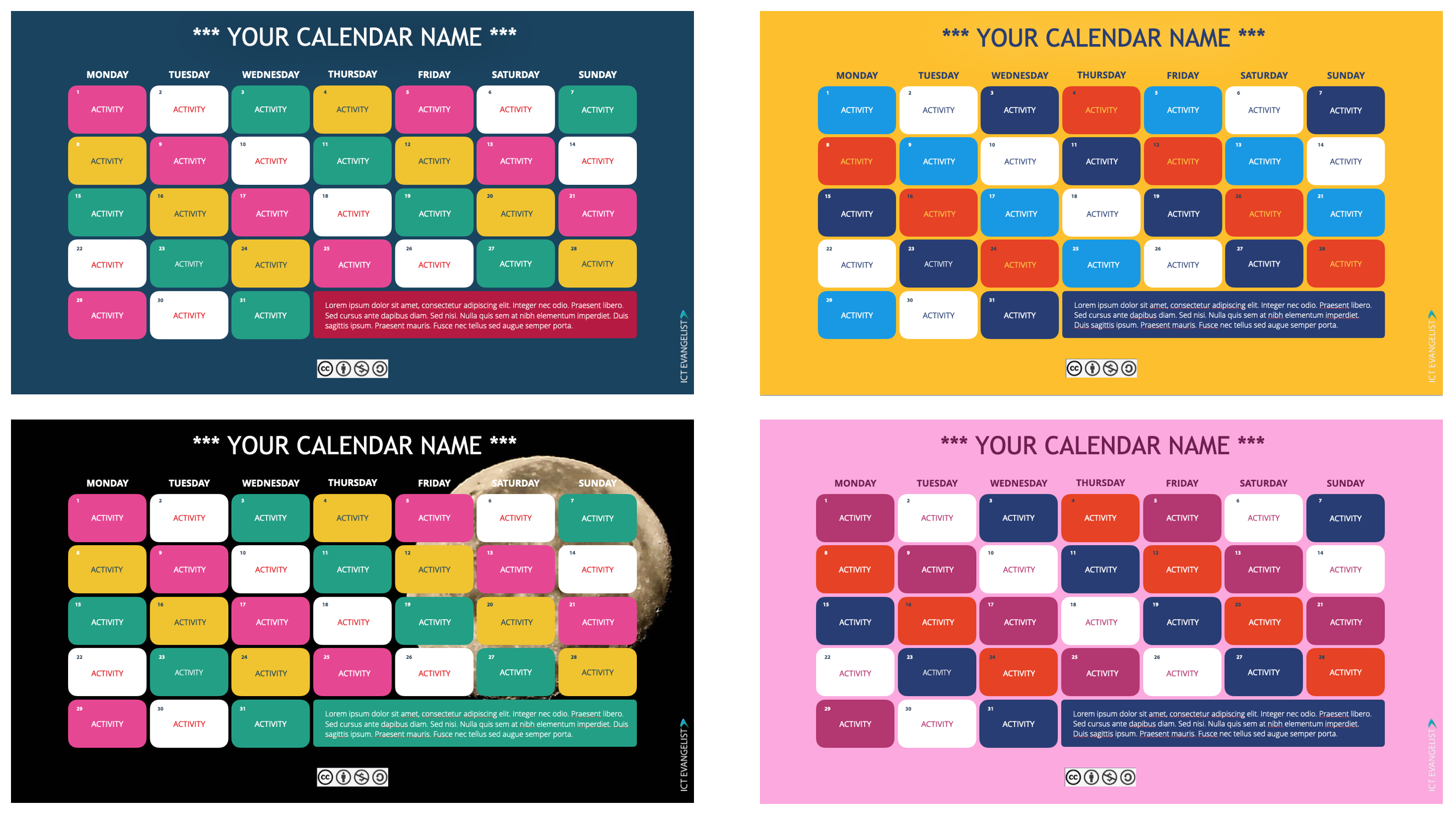 I do have some caveats in their use however which is that they are for non-commercial use only. As you can see on the image above, each of the calendars is branded with both the ICT Evangelist logo and a Creative Commons license. As I outline in the resource, I am happy for you to remove those things and that they are only in place to reinforce the message that the templates are for non-commercial use only. When you have downloaded the template, you are welcome to remove both of those from the slide for your own purposes.
For those who take work such as this and then repurpose it to sell on the TES resources or other such sites, please be mindful that they are digitally watermarked albeit not visible to the naked eye.
If you like this, why not click here and share it on Twitter? >> Download @ICTEvangelist's Monthly Calendar Templates here
I have made a variety of versions of the templates available for download to suit your school's ecosystem, so when you go to download them, you can access a Keynote, PowerPoint or Google Slides version of each of them.
Please note:
You do not need to ask permission on Google Drive to edit these templates, particularly the Google Slides version – you just need to take your own copy.
I regularly get asked for permission to edit my Retrieval Practice Challenge Grid templates. That simply isn't possible as they are templates. If I give you edit access to the template, they cease to be a template and have all of your work on them. Simply go to the File menu in Google Slides and choose the option to 'Make a copy' as demonstrated below:
To access the templates, I have saved them into a shared Google Drive folder with view access: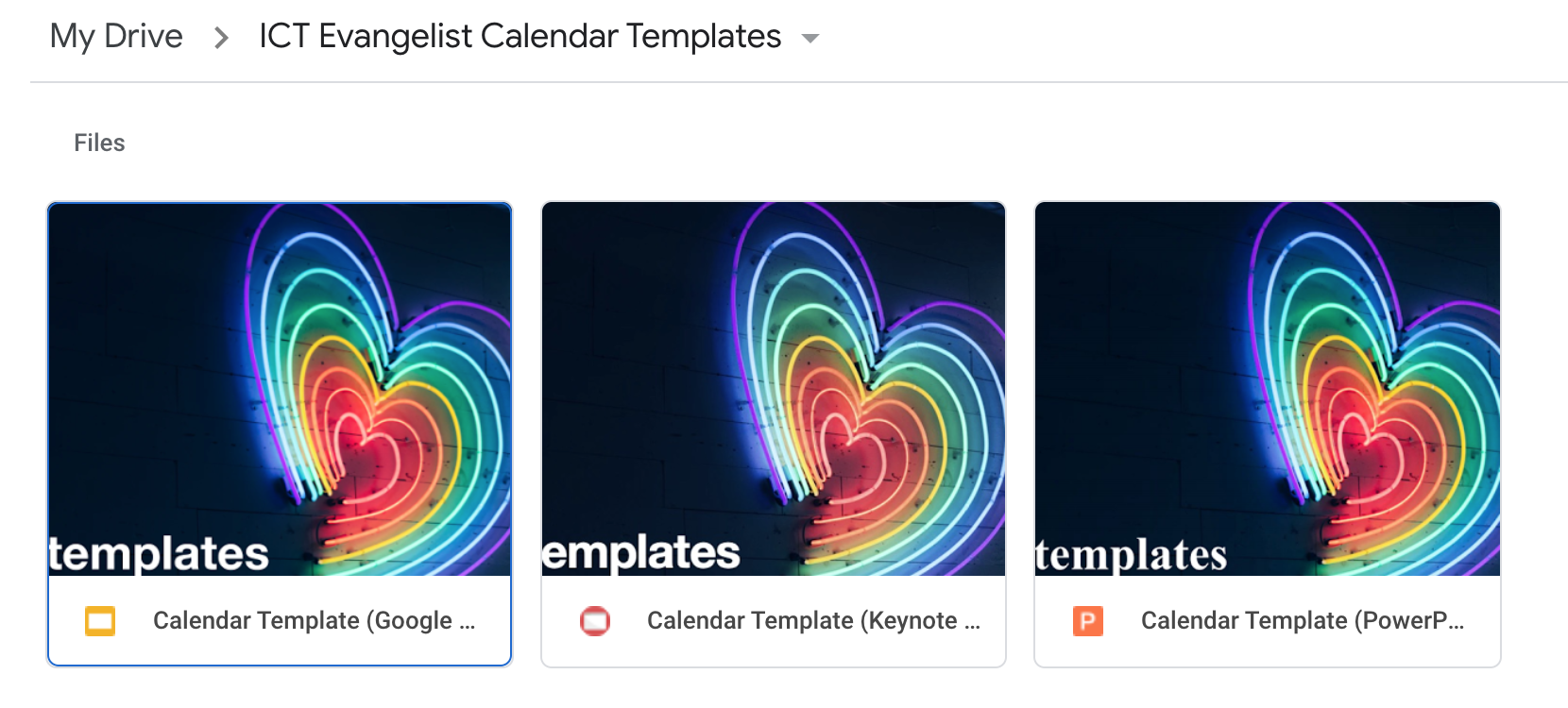 Simply choose the format that works best for you, either:
Google Slides (Make a copy!)
Keynote (download it to use)
PowerPoint (download it to use)
… and you're good to go!
If you missed the link to the templates above, here it is again: https://bit.ly/ictevangelistcalendartemplates
---
I hope you find this post and resource useful. If you do make something with it, I'd really love to hear back from you with how you've used it and what you've made. I hope you are keeping safe and well in these difficult times.