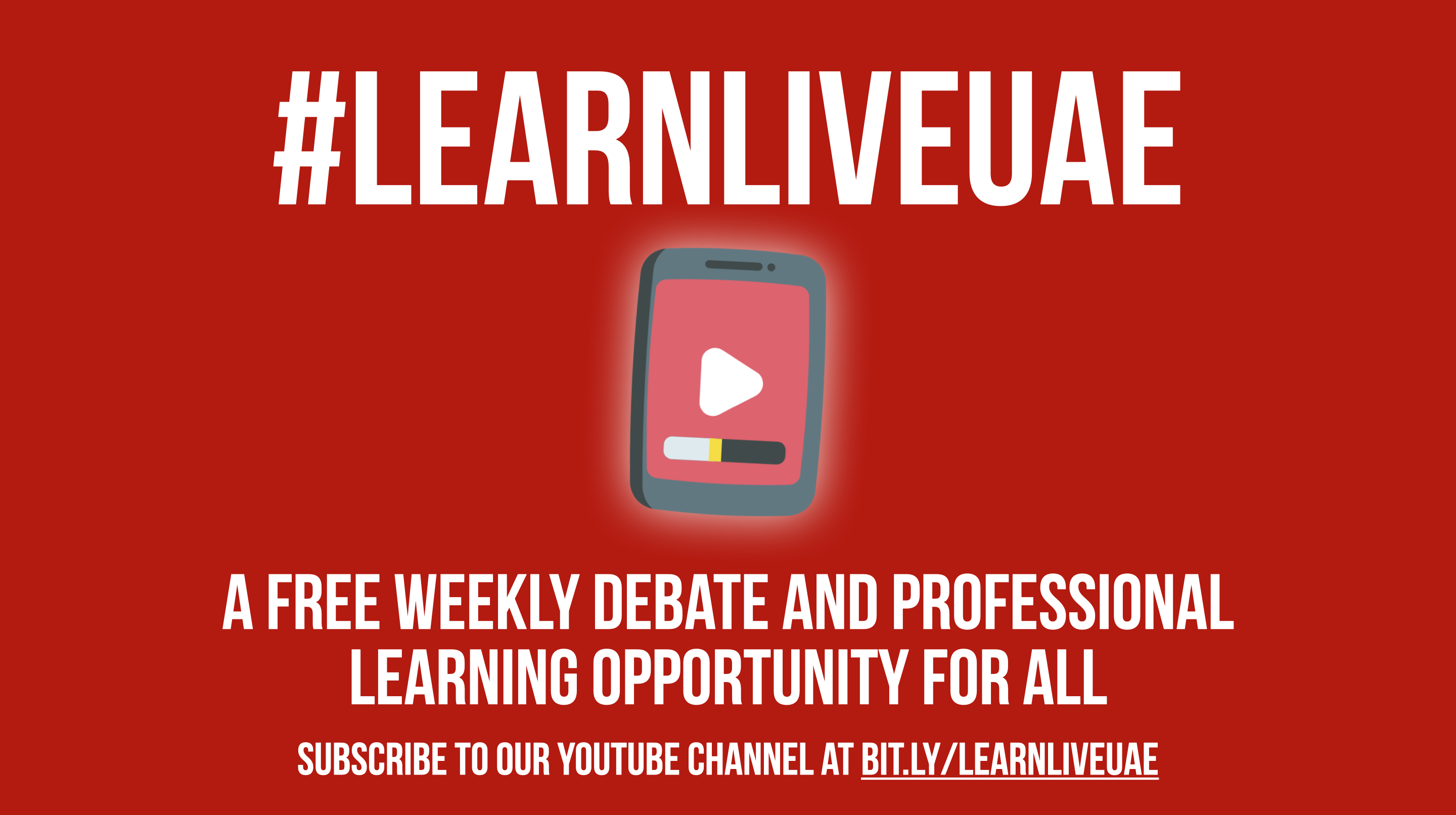 I've been proud to work with lots of schools in the United Arab Emirates. I was the first keynote speaker at the now well-established, annual JESS Digital Summit, I've keynoted at events such as EdExMENA, worked with many schools such as Dubai College, BISAD and Repton Abu Dhabi and spoken at and chaired areas at BETT MEA.
I have very fond memories of all of my trips to the country and I am always blown away by the innovations that occur in the country, particularly in the field of education.
Throughout the lockdown and before the pandemic, I have been live-streaming a number of different weekly shows, with an upwards progression in the quality, duration and platforms for sharing. I've proud to have introduced a number of people to the platform I use for my live shows who have gone on to some great successes with their use of the platform, such as Graham Andre and his work in the various BrewEd online events.
In conversations with my friend, Olly Lewis who is a member of the leadership team at BISAD – British International School in Abu Dhabi, Olly was keen to start something similar to what I had been doing with Bukky Yusuf on #UKEduStories and I said why not let's do it together, and so #LearnLiveUAE was born!
The show has a variety of foci which we've outlined in the infographic below.
Subscribe to LearnLiveUAE by visiting its YouTube channel here: bit.ly/learnliveuae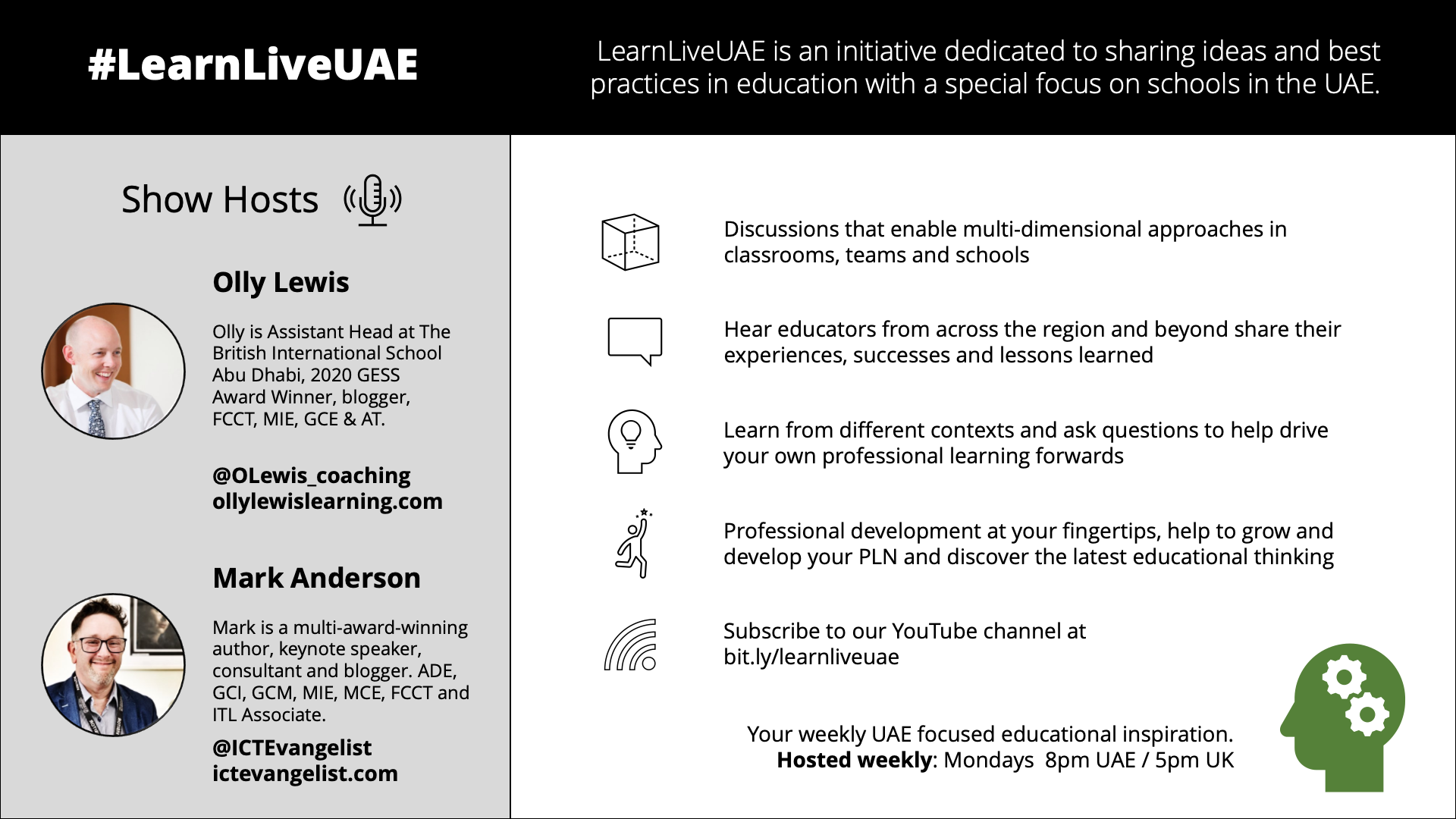 We strongly support hearing from all voices because as a profession we all have a voice to be heard and we can all learn from each other. Our aim as is the same as our approach to all things in education, which is to not just be great teachers and educators, but to do everything we can to make a difference to the lives of the young people we work with. LearnLiveUAE is just that. An opportunity to help share great practice, successes, lessons learned, provide CPD opportunities and help us all learn from different contexts. Education is a force for good and we do so much better when we are able to hear from others to inform how we engage with our learners in our own contexts.
What topics have we covered so far?
Since our first show on 1 May, we have had a show every week with a different focus on each show related to topics of interest to UAE and MENA based educators and we have covered a lot of different topics. As you can see from the topic lists below, we have a broad range of topics including cognitive science, use of technology to support learning, future technologies, feedback strategies and more.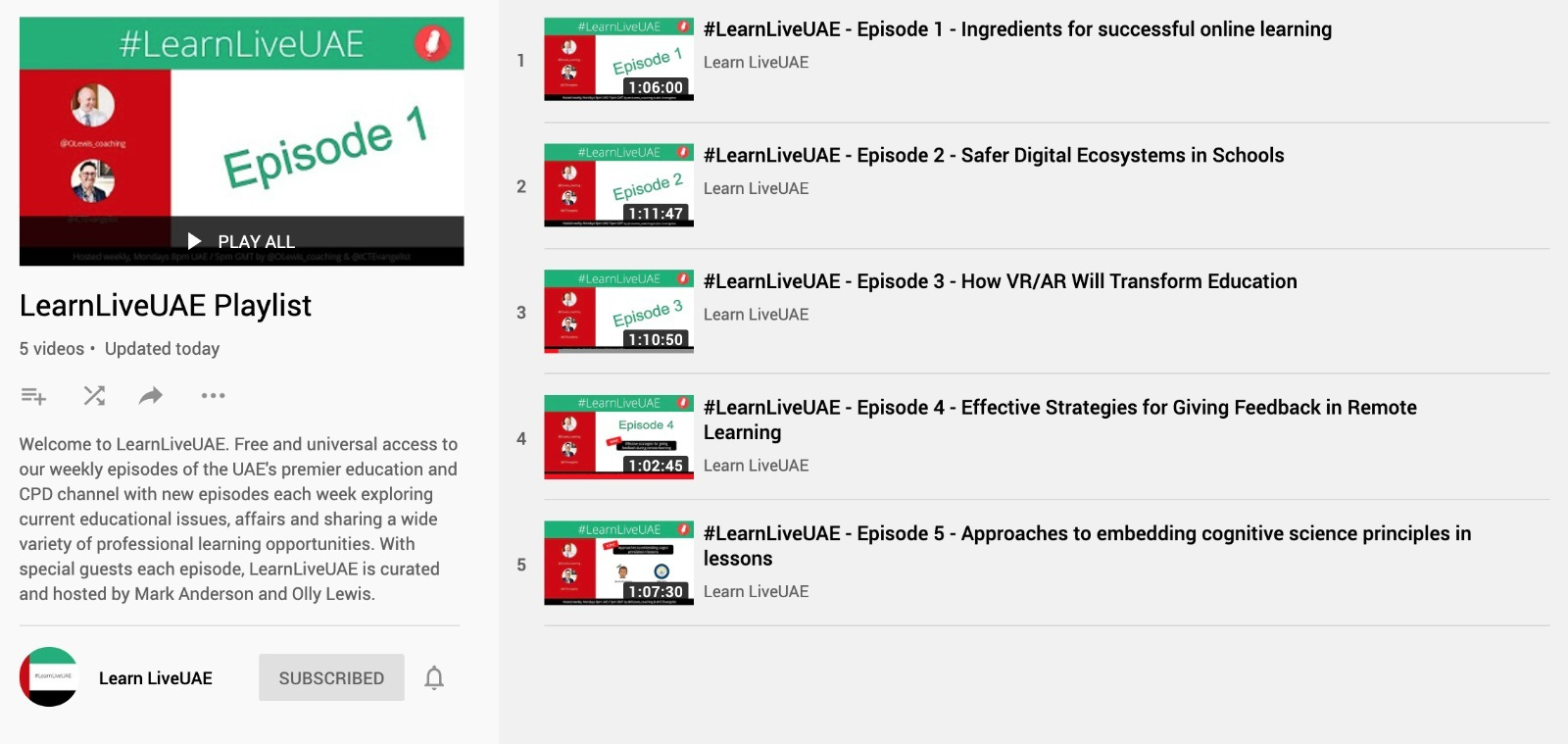 If there are any topics that you would like to see discussed on the show, please get in touch. We are also keen to hear from a multitude of voices on the show. If you would like to be considered as a guest on the show, we are open to suggestions.
Subscribe to LearnLiveUAE by visiting its YouTube channel here: bit.ly/learnliveuae
Great hearing from @Fergusonteacher now live on #LearnLiveUAE on strategies for feedback during #remotelearning talking about @Seesaw – join us! https://t.co/QHVrgDYOXp #edtech #elearning #edutwitter https://t.co/GwldV4qCHG pic.twitter.com/EQ9Hs2kpfZ

— Mark Anderson #AskICTEvangelist ✨💻👨🏽‍🏫🏆🌈 (@ICTEvangelist) May 25, 2020
How can you get involved?
We overtly aim for our shows to be as inclusive as possible, not just in terms of the topics we cover but also in the guest that we have on the show too. Therefore, we are very keen to hear from Arabic and Emirati teachers so that our show is as representative as possible. If you know of or would like to suggest a colleague who would make a great guest, then we would love to hear from you too. You can contact me directly through my contact page or Olly, via his site ollylewislearning.com.
Sponsorship opportunities
We recognise that many companies, such as educational technology companies, publishers, conference organisers, school chains and more, would find topic discussions on our show valuable. If you are interested in commissioning a debate or sponsoring a series of shows on a given topic, we would welcome you getting in touch to discuss the options we have available.
And, if you haven't guessed it yet, we'd love for you to subscribe to our channel too and why not help us out too by spreading the word about what we are trying to do by sharing the tweetable text below too:
Subscribe to LearnLiveUAE by visiting its YouTube channel here: bit.ly/learnliveuae
Our huge thanks go to all of the amazing guests we've had so far on the show. We can't wait to welcome you to our next episode either which is focusing on wellbeing strategies to support teachers in the region who, for many, are likely to be unable to travel during the holidays to visit families and loved ones. Join us this Monday evening at 5pm BST / 8pm GST.