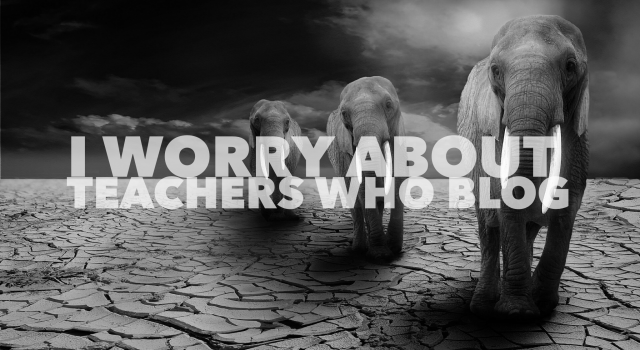 I worry for a number of reasons.
Why I worry
Teachers blog and don't think about their audience and say things that show poor judgement.
Teachers blog and use images that aren't licensed for reuse and think it's ok because they've used 'Google Images'.
Teachers blog and use images which aren't referenced and think it's ok because, well… it's ok.
Teachers blog and use images that they have taken in their schools which feature faces of children from their school.
Teachers blog and don't consider any of the things above.
What advice is there?
Audience
In my recent post on Staffrm talking about why teachers should blog, I talk about writing your blogs as if no one will ever read them. I also add the important caveat however that you must be mindful of your audience. Just like we talk to children about being mindful of their digital footprint, so should we as adults. Here are the rules I try to follow for me:
Don't write anything you wouldn't be happy for your headteacher to see.
Don't write anything you wouldn't be happy for your chair of governors to see.
Don't write anything you wouldn't be happy for your own children to see.
Don't write anything you wouldn't be happy for your children in your classroom to see.
Don't write anything you wouldn't be happy for your Mum to see.
Don't write anything you wouldn't be happy for your colleagues to see.
If you follow those simple rules one would hope you shouldn't stray too far from the path of correctness. If in doubt, don't post it. Save it to drafts and sleep on it or ask a friend. Better that than get in some hot water or regret it.
Google Images
Google is a search engine. It can bring up result in a number of different ways. Sometimes it will bring up websites, other times map locations, directions, so forth and so on… it can also bring up images, based upon a text search. Just because it can find the images, doesn't mean that those images can be used. Also, be mindful – Google isn't using those images itself. Google simply references the original location and pulls the image from where it is stored. For example, take this search here…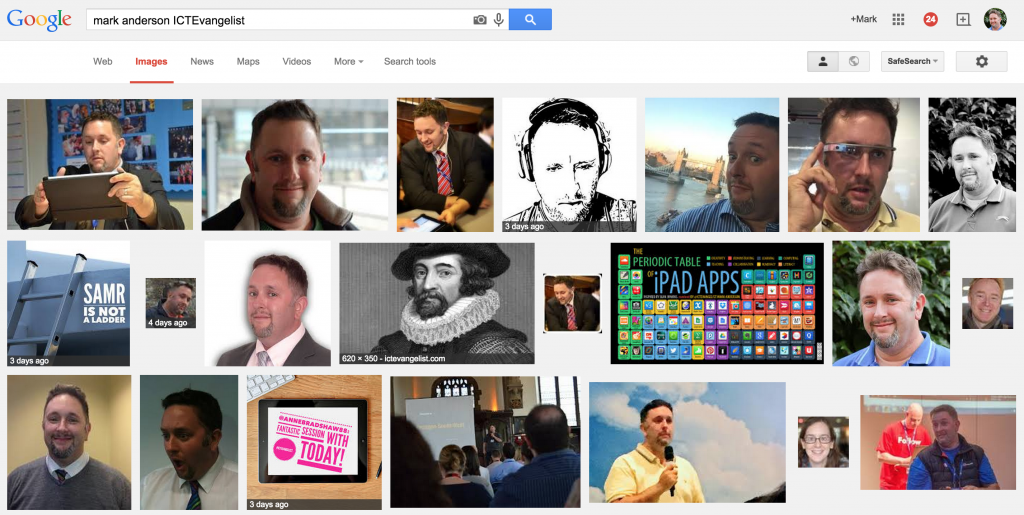 None of those images could or should be used (probably because they're of my ugly mug) but without further research, you won't know that they are subject to a creative commons license and their use is limited by that license. REMEMBER –  those images are NOT on Google Images, they are referenced from their original location. Knowing them as I do, they are mostly on Twitter or on this blog, but they are not there to be used.
A better way to find images that you can use is to make use of the 'usage rights' element of the search tools within Google's Image search:
An even better way might be to not use Google Image search at all and to use a site such as CC Search, filtered for Flickr which will bring up image results of a high quality that does allow for reuse of the images.
Referencing
Even using a site such as https://search.creativecommons.org/ it is still good practice to reference your sources. You can do that in a number of different ways. Let's take this image as an example. I found it using CC Search and it resides on Flickr.
The image has certain usage restrictions…
Therefore you can do this in a number of ways:
Images of children
This one is pretty contentious, I think. And I don't have the answers – I'm not a legal professional. That said, I see more and more images of children being used in photographs that have been taken teachers that are being used in blog posts or in tweets as part of things such as #PedagooFriday.
As a parent, I would find it unsettling if a teacher from the school of my children were posting images of my children. Yes, I have ticked the box to allow for their image to be used in pursuits of promoting the school, but does using any old image taken in the classroom cover that kind of use? For me, I would always err on the side of caution.
I saw a post this morning on Staffrm by Natalie Scott, where she has an image of some children in a classroom (thank you to Natalie for allowing me to reference her post). The image is one where she gained permission from the students (now much older) and in fact, the ex-students gave her the image in the first place. This is great. However, what if it had been that that wasn't the case? This is a safeguarding issue. What should be happening?
The teacher should seek permission from the parents of the students whose faces are in that image. It may be that the teacher has checked that the 'box was ticked' for images to promote the school, but that doesn't really cover it when images are being used in this way.
Images could/should, ideally be pixelated (see below about use of Skitch).
Include images that don't have children in them.
A fantastic free tool for doing this easily is Skitch. A free tool made by Evernote, Skitch works on every platform going. Simply open your image in Skitch, choose the pixelation tool (shown below) and click and drag over the image to pixelate the face. Simples.
It is highly likely that your school will have a social media policy and a safeguarding policy too – there will be likely to be some alignment between the two policies in this area. Know what is allowed. Know what is correct. Please do not use this post as a bible too, I may have missed something out! Either way, be mindful of what you post.
Ignore the above
By all means, ignore the above thoughts and blog away to your heart's content. I can't stop you. But hopefully, just hopefully, albeit you write like no one is reading to help you grow and develop professionally; hopefully you'll just stop for a minute. Do what's right. Think about your audience and credit where appropriate. I know that I could've done better in the past. As I've learned, perhaps we all can too?
---
Other considerations:
Images of your school
Use of names
Names of colleagues
Names of departments
Names of students / pupils
Resources made by others
Linking to blog posts
Referencing ideas of others
Thanks for reading.
Title image credit – image taken from Pixabay with kind permission. Image made using WordSwag App.