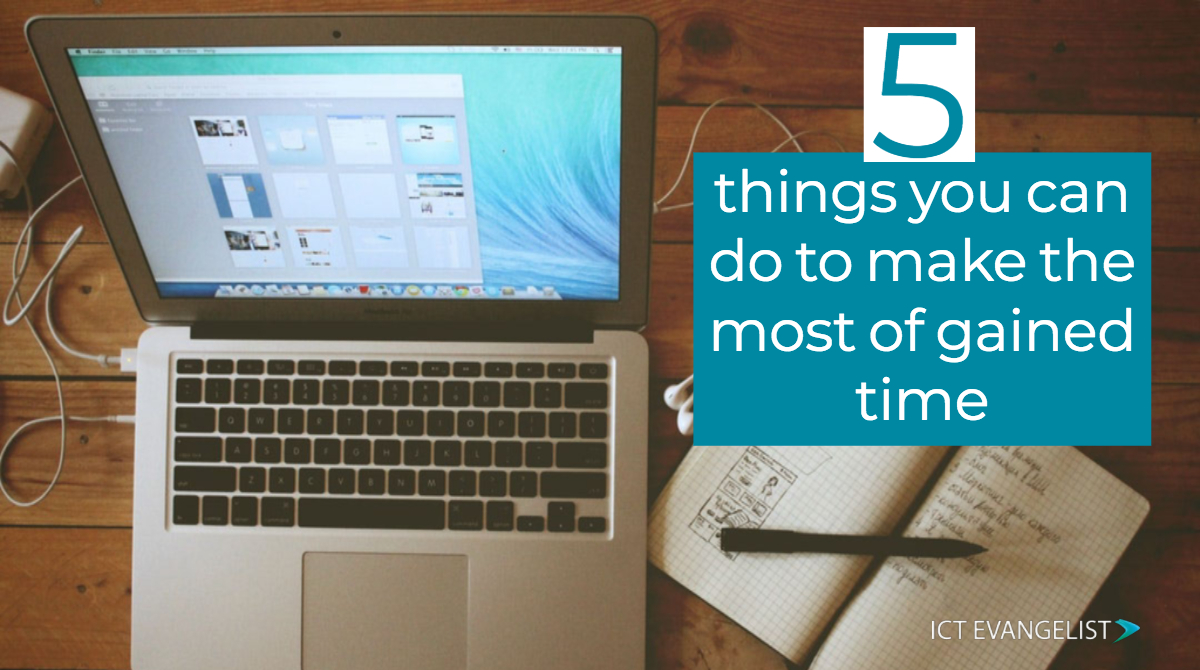 I always remember looking forward to getting some gained time once my Year 11s and 13s had gone. Making the most of that time though is always a difficult thing to do. Something always seemed to get in the way. Whether it was other people asking you of your time with their gained time projects, or helping or training others or going on a school trip in activities week; I found it difficult to get headway in the things I wanted to do such as develop schemes of work, refresh displays, engage in some CPD. Despite the cumulative number of hours gained time gives you, it was difficult to show the impact of that gained time. To help with this I came up with a number of different strategies to make sure I was able to make the most of that time.
Plan!
I planned my gain time pretty meticulously and set targets for completion. I recorded these on a calendar and shared this calendar with colleagues. I learned to do this in advance of gained time so that if someone else wanted to work with me in that time, I had specific slots where I planned in where I would be available for things like training or collaborative projects. The key to the success of this strategy is the sharing element. It helps in a number of ways:
You know what you are going to be doing and when
Colleagues can check your calendar before emailing you to see if you're free
You can record and then see the progress you have made on your various projects
If you are a Microsoft or Google school, it is very easy to share your calendar with colleagues. Both systems have similar ways of sharing your calendar with colleagues:
Making your planning clear, transparent and shared means that you will be able to make the most of the time available. Remember to be realistic with how much you and colleagues can complete within certain time frames. In order to make meetings as effective as possible, keep the various sections on your agenda to time and don't try and do too much. Finally, don't hold meetings you don't have to. If it's about sharing information, then share it digitally. There are instances where face to face dissemination of information is important but if you don't have to meet face to face, then don't! Show some trust in your colleagues and pass it on for their information. I'm sure if there are any questions, they'll be in touch!
Keep a book in your bag (or on your phone or tablet!)
Something which many teachers try to do during the gained time is to engage in some CPD. One great way of that is reading a good teaching and learning book.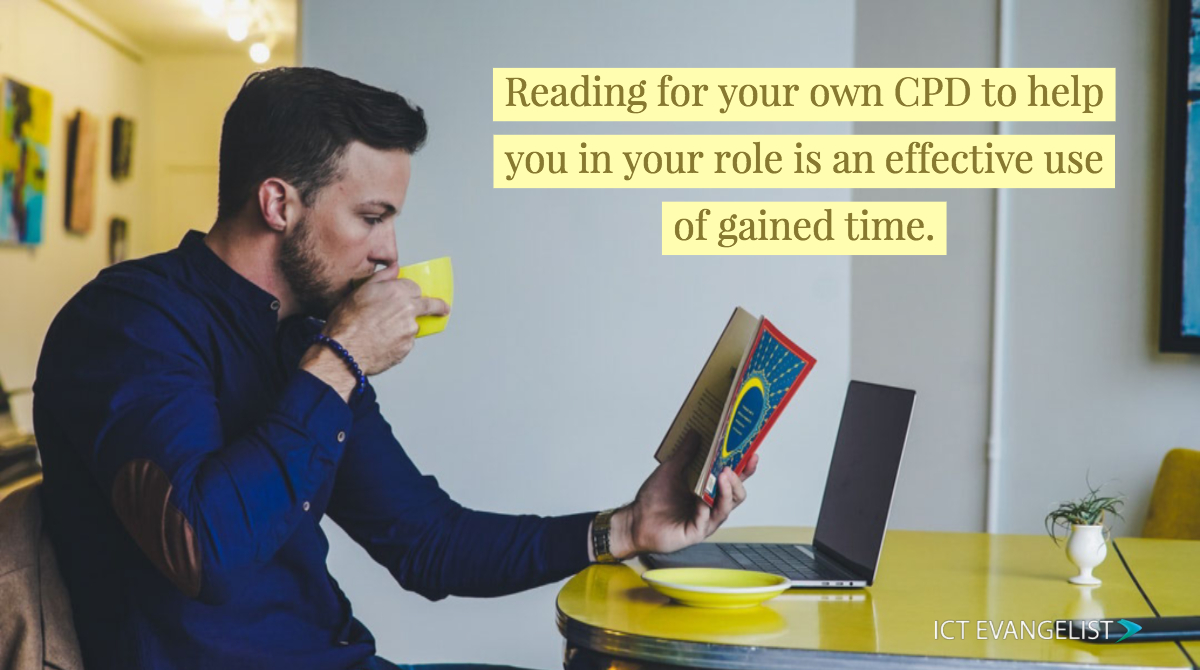 Hopefully, your school has a mechanism for recording CPD you undertake in this fashion but if they don't, don't worry. Reading for your own CPD to help you in your role is an effective use of gained time. The things you learn from your reading could be likely to impact on the other planning work you will probably be undertaking either for your own classroom or if in middle or senior leadership, for colleagues, classes or teams. The reading doesn't necessarily even need to be the latest recommendation from my newsletter, it could be information from one of your exam boards about developments to the syllabus, it could be anything related to what you're focusing upon. By having it to hand you'll be able to grab moments (for example if that planning meeting finishes early) to get yourself back into your reading. I realise that having dedicated time for reading is helpful and important but sometimes you have to fit it in when you can.
There are a number of ways you could read from your device too such as the Kindle app or the iBooks app. In fact there are lots of apps you can use, even if it is just a PDF copy of something, access to it in your device means you are likely to often have it with you and frees your memory about having to remember to pop it into your bag.
Work without interruptions
One of the problems I found was trying to get work completed in my classroom. As with all classrooms, the rooms are bookable but with my room having a suite of computers in it, my room was often one of the most popular ones to book. My office was adjacent to that room and so interruptions were frequent. Whether it was colleagues asking for help or students doing the same, it was not a good way to try and be productive and get things done.
Finding another room to work in isn't always so easy either. Packing up, moving somewhere else, having a few corridor conversations with colleagues or students before reaching your destination and before you know it a quarter of your hour has gone and you haven't even started yet, and that's if you have found somewhere to go.
If your school has a quiet teacher work area, then ideally head for there. Alternatively, I used to speak closely with colleagues from other departments to find spaces where I knew I'd be able to work. There is no quick answer to this but if you want to make the most of your time, find a decent space to work, and if it is bookable – then book it!
Visit another school
If you are reading this then you are very likely a connected educator. By that, I mean that you use social media as a form of CPD and that you interact with other teachers using platforms such as Twitter. If you are a connected educator then you are likely to have connections that work in schools local to you. One great form of CPD I love to undertake and I'm very fortunate that I get to do that a lot in my job now, is that of visiting other schools. I can guarantee you that you will come away from your visit with a whole bunch of new, fresh and exciting ideas for you to think and reflect upon implementing in your own classroom, department or school.
Sometimes working in a school can be quite an isolating experience. For whatever reasons, sometimes you can have negative thoughts about your school. Another benefit of visiting other schools is your ability to share experiences with colleagues in other institutions. What can sometimes feel like a problem or issue you are facing can sometimes be a shared experience and that kind of conversation doesn't often come from limited character conversations on Twitter. Meeting face to face and seeing how things are in another institution is a really powerful thing to experience. Why not get in touch with that head of a department from that local school you've got in your connections and ask if you can visit. By the same token, why not ask an open question on Twitter asking if anyone would like to come and visit you. You might not get as valuable a return on the investment in time if it is the only exchange that happens but it probably won't be. It is still even worthwhile getting together for a coffee away from your places of work too. Having a friend from another school who is more than someone you tweet with every now and then is a great friend and ally to have.
Complete a qualification
With my edtech hat on I have to share this one with you. If you didn't know, Microsoft, Apple and Google all have a variety of different qualifications that you can complete online. There's:
Microsoft Innovative Educator
Microsoft Certified Educator
Apple Teacher
Google Certified Educator (levels 1 and 2)
Google Certified Trainer
You can access the Microsoft qualifications via their 'MEC' – 'Microsoft Educator Community' via education.microsoft.com. Alternatively, with Apple, you can visit appleteacher.apple.com and for Google, you can visit their training centre edutrainingcenter.withgoogle.com.
Whichever you choose, one thing that is common now to all which is lovely to see if the focus not just on the technology, apps, programs etc but most importantly on how each are helpful in supporting learning #win!
Bonus!
One of the best things I did in my career was to start my blog. If you have ever thought about it, then do it. Head over to wordpress.com and get yourself one set up. There's loads of help both from them and from educators such as me on Twitter. Do it. You won't regret it.
---
So, there are my five things for you to think about how you can get the most out of your gained time. I hope you found it helpful. I wish you some quality productive time over the next few weeks and your students the very best of luck in their exams.
Thanks!