First up, this isn't a paid endorsement or anything like that. I don't do those kind of things and if I did I'd tell you up front, a bit like I am now.
I first met CV Plus creator, Harriet Churchward back in 2015 at a TES Labs event in London where she introduced me to her #edtech product, CV Plus. I was really impressed with it and her and I said that I would write up a piece here on the blog about CV Plus as I thought it had great potential. Apologies for it taking so long to write about it, but here it is.
Essentially, CV Plus is a CV builder for students to add in information to build up relevant information about their learning, experience and skills to help generate a decent CV. What's that got to do with ICT or even learning you might ask. Well – for me, ICT works best when it's dead simple to use and fulfils a function. Now, you're also probably thinking, why do I need this, can't I just use a CV template in Microsoft Word (or whatever) and just build my CV there. Well again, yes you could. The thing again with CV Plus is however that this CV continues to build. It's dead simple to use. Additionally, I don't know about you, but when it comes to creating a CV, often people tend to (in my experience) create a CV when they have the need to create one; often forgetting about many of the great CPD or learning or experience that you've gathered since you last filled in a CV.
The CV element of the product did capture my attention but the thing that really grabbed me was the idea of using it as a digital record of achievement. I was one of those children who, whilst at school, had a Record of Achievement folder. I still have it now with various certificates and awards and other such recommendations from when I was younger. I still take it with me now to interviews. The plastic inserts inside that Record of Achievement file though mean that the ink and bits of paper are firmly lodged in there forever. If I had had access to something like CV Plus all those years ago, I would not have to worry about losing any of that and I would have found it much easier to keep together and then share when appropriate.
Since I first met Harriet, the product has (quite rightly, I think) gained much popularity and is currently a featured #edtech startup business at this year's BETT exhibition in the Futures arena.
To give you a flavour of some of the things you can do, check this: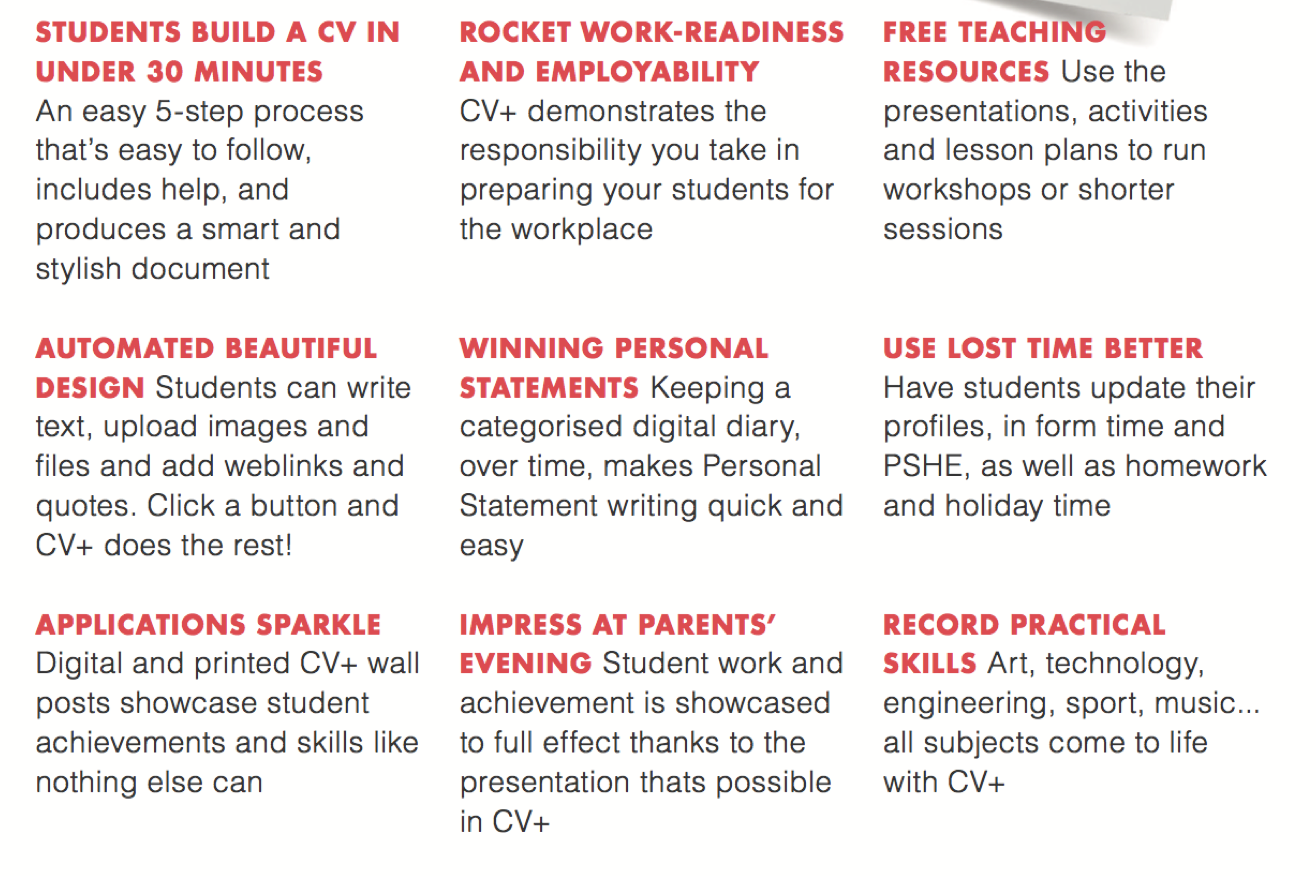 So, is CV Plus going to change learning forever? Probably not. Is it going to be right for every school? Probably not in Primary. That said, I think it's something that would be truly helpful for secondary aged kids (and their teachers) to start working with sooner rather than later to help them prepare their evidence on what makes them great, ready for when they are applying for jobs and looking to their future. It gets a
big thumbs up from me.
For more information, check https://www.cvplus.co/ or contact Harriet via @_cvplus on Twitter.