I'm a big believer in random acts of kindness and paying it forward. I do it all the time and am really inspired when I see some of the amazing things others do. With that in mind and particularly at this time of year, why not have a look at the app 'OLIO – The Food Sharing Revolution'! The idea behind OLIO is that it connects neighbours with each other and with local shops so surplus food and other items can be shared, not thrown away. They say, if you love food, hate waste, care about the environment or want to connect with your community, OLIO is for you.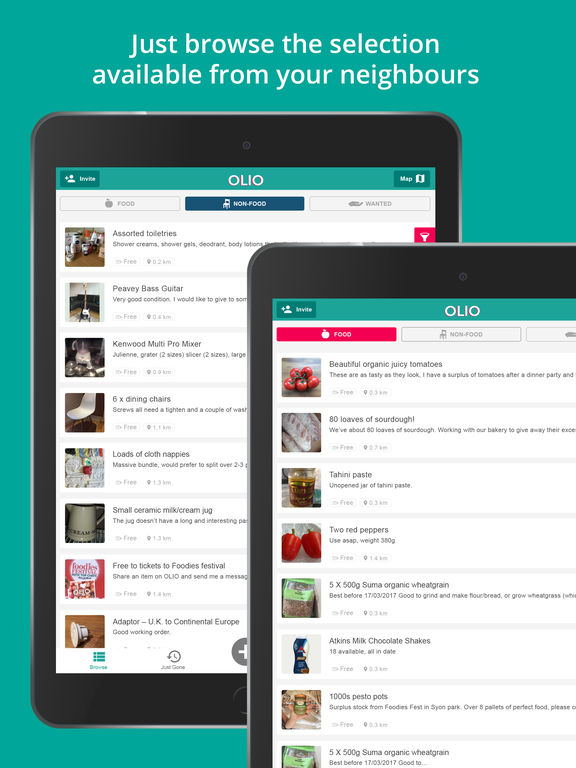 Does it work?
It seems to be making some impact.OLIO, which has been featured three times as a 'Best new app' in the App Store is the brainchild of two friends who met while studying for their MBAs at Stanford. Following a popular pilot in North London, the app was made available across the UK earlier this year, and since then has attracted 120,000 users and enabled over 175,000 items of food to be shared – equivalent to 35 tonnes of food and 80,000 meals. To tackle the problem at scale, OLIO is now partnering with major retailers such as Sainsbury's, and the app has been made available for use worldwide.
How do you use OLIO?
To use OLIO, first of all you need the app. You can get it here for iOS, and here for Android.
To make food available, users open the app, add the item with a photo, description, and when it's available for pick-up.
To access food, users browse the menu of available items, request what they want and arrange collection via private messaging.
To make it even easier to share items, Drop Boxes are available in local stores, allowing users to leave items for pre-arranged collection by a neighbour at their convenience.
So what?
In the UK the average family throws away 22% of their weekly shop, which is worth £700 per year. In the US, the per-family equivalent is worth a staggering $2,275 each year! So, the bad news is we are half the problem. But the good news is….. this means we can be half the solution!
Why not give it a go. You can download it here for iOS, and here for Android.