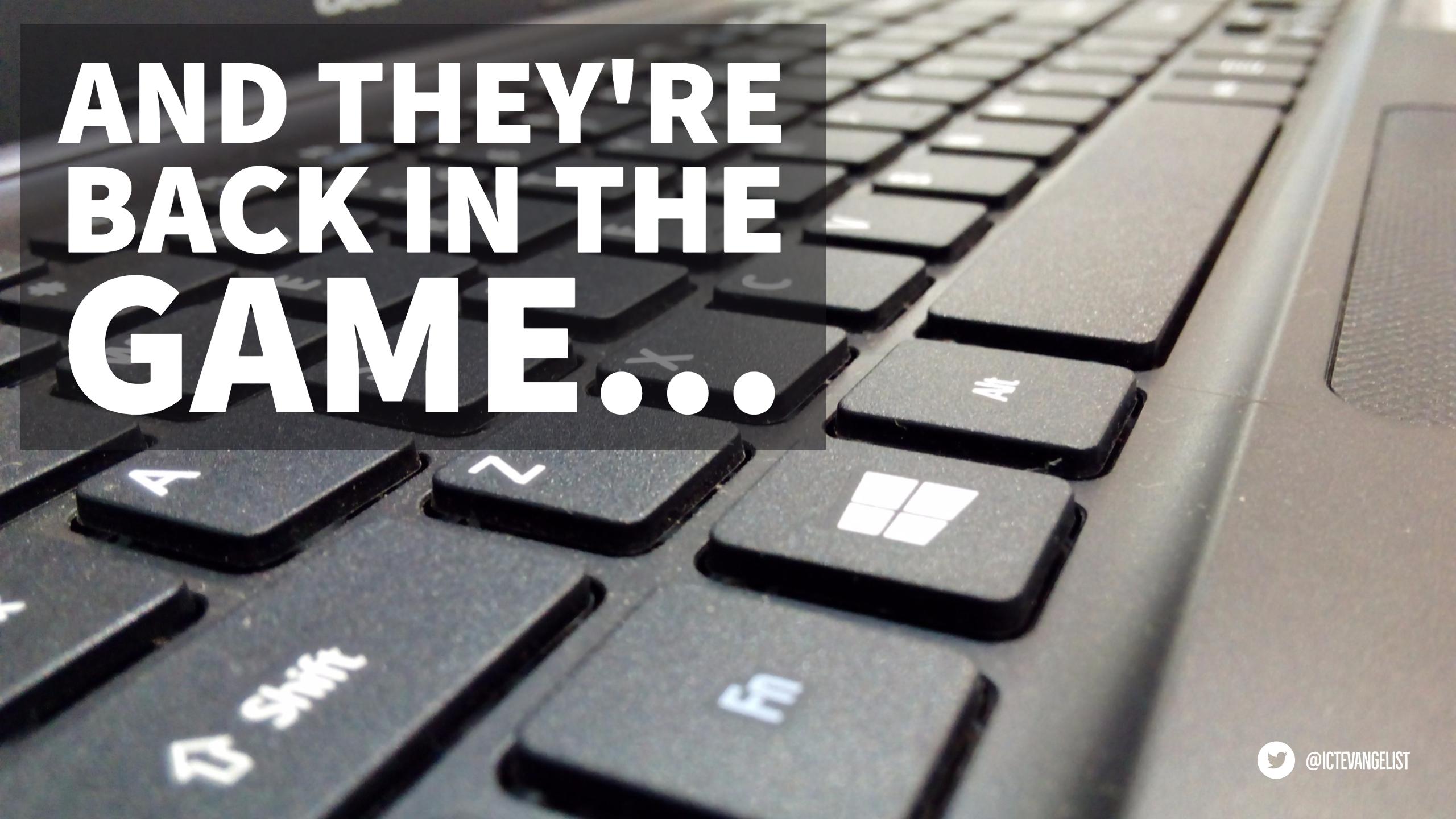 If you missed the Microsoft update event this past week then you missed something I think could have marked a changing of the guard. You can watch it again here.
Just like I'm sure there were things to learn from the dad-dancing at the launch event of Windows 95, the slow chipping away at Microsoft's education market by Google Apps for Education and the brilliance of the iPad as a tool for learning in the classroom have clearly impacted upon what happens over at Microsoft HQ. Clearly influenced too by Apple's update events too, the Microsoft update event was slick.
The words used by presenters such as Panos Panay to describe the products such as; elegant, beautiful, smooth, so forth and so on, and the other language used made the event feel more like something you'd see delivered by Apple rather than Microsoft. As Panay was describing the new Surface Laptop for example, it was more reminiscent of a voiceover from iconic Sir Jonathan Paul "Jony" Ive (Chief Design Officer of Apple) than something from Microsoft. Gone is the dad-dancing. Now we have real Headteachers on stage talking passionately about the opportunities for great workflow in the classroom using Microsoft Teams (which looked GREAT!).
For a significant part of teaching career, Microsoft products were the cornerstone of my productivity, output and my classroom. I was and still am a huge fan of Excel and their other offerings from MS Songsmith to Visual Basic. In the mobile learning market however, Microsoft have often seemed to be the poor relation to the offerings from both Apple, Google and the App Store market.
I won't spend any airtime talking about the history; I will however talk about the future. It is clear to see that Microsoft are positioning themselves very well back into the education market. Obviously they would argue that they were never out of it but the influence of competition is clear.
Windows 10S not it's clunky younger brothers. Windows 10S is a stripped down, more lean version of the operating system. Sacrificing user control in order to gain security, speed and reliability is a new aim for Microsoft. They are trying to pare down the operating system to help deliver speed to draw themselves level with the likes of iOS and ChromeOS.  And why not. Many of the schools I work with and talk to that have moved from Microsoft to Google as their cloud / email / office solution have often done so through gritted teeth albeit they've been happy with the move. The new offerings from Microsoft in terms of:
Microsoft Teams
Windows 10S
Office 365
Not to mention the innovative things with Hololens, Paint 3D, 'View Mixed Reality', so forth and so on – these are things to be excited about if you're a school running Microsoft tools.
"The product disappears into the background" – YES! Learning with tech is best when tech disappears & is part of the toolkit #MicrosoftEDU pic.twitter.com/H08bgS2vi9

— Mark Anderson (@ICTEvangelist) May 2, 2017
#ViewMixedReality is a nifty way to use mixed reality in the classroom #MicrosoftEDU pic.twitter.com/HwMTfu2NIB

— Mark Anderson (@ICTEvangelist) May 2, 2017
Loving this application of Paint 3D and integration with PowerPoint in Windows #MicrosoftEDU pic.twitter.com/HOQ1aRy4UI

— Mark Anderson (@ICTEvangelist) May 2, 2017
Of the many things I remember in my Economics lectures is that by Microsoft upping their game in the education market will only drive to stimulate the market further. So we can expect answers to these developments from Google and Apple. The Surface Laptop will drive the MacBook Pro to have a touch screen upon which you can use and Apple Pencil (yes!) and the ecosystems of both iTunes U and Google Classroom will up their ante in response to the development of Microsoft Classroom into Microsoft Teams. These are exciting times and it is great to see Microsoft tying their flag to the mast with these great looking updates.
If you want further reading, check this great blog from Dominic Norrish where he explores in more detail what he thinks this might mean for education. For me, it's about moving forwards doing what we can to help learning come to the fore and technology disappear so it's just as obvious in the toolkit as any other learning tool.