Welcome to day fifteen of the 2021 Appvent Calendar. Today we have a great AR app for learning, creativity and so much more, suggested by a long time friend, ADE, Global Edtech author and all-around great educator in my PLN, Coby Reynolds. 
One of the most versatile apps going around at the moment, CoSpaces, sparks creativity and imagination in all of us. It's a sandbox-style beginning and allows students and teachers to create their very own virtual space, but there's so much more to it. 
More recently, I've been exploring the coding elements within CoSpaces and I'm very impressed! As many of you know, teaching coding concepts to young learners can be quite difficult especially when it comes to understanding and using variables. Variables put simply are elements in coding that can change, similar to changing variables in a scientific experiment or mathematical equation. So teaching kids this isn't so foreign just sometimes difficult to apply meaningfully.
In CoSpaces, the library has an extensive library of 3D models, and also the ability to upload your own, that with some imagination and storytelling you can create into awesome adventure style games – all while teaching about variables.
Check out my Christmas Treasure Hunt game on CoSpaces, and as you explore notice some coded elements of variables. For example, if you try to get to Santa's sleigh right away, you will be asked to find the missing gold present first. This is an example of conditional code and how a variable can be 'true' or 'false' depending on how you interact/play the game. This concept is limitless, from 'choose your own adventure' games, to code breaker style challenges it really ticks a lot of boxes for creativity and critical thinking.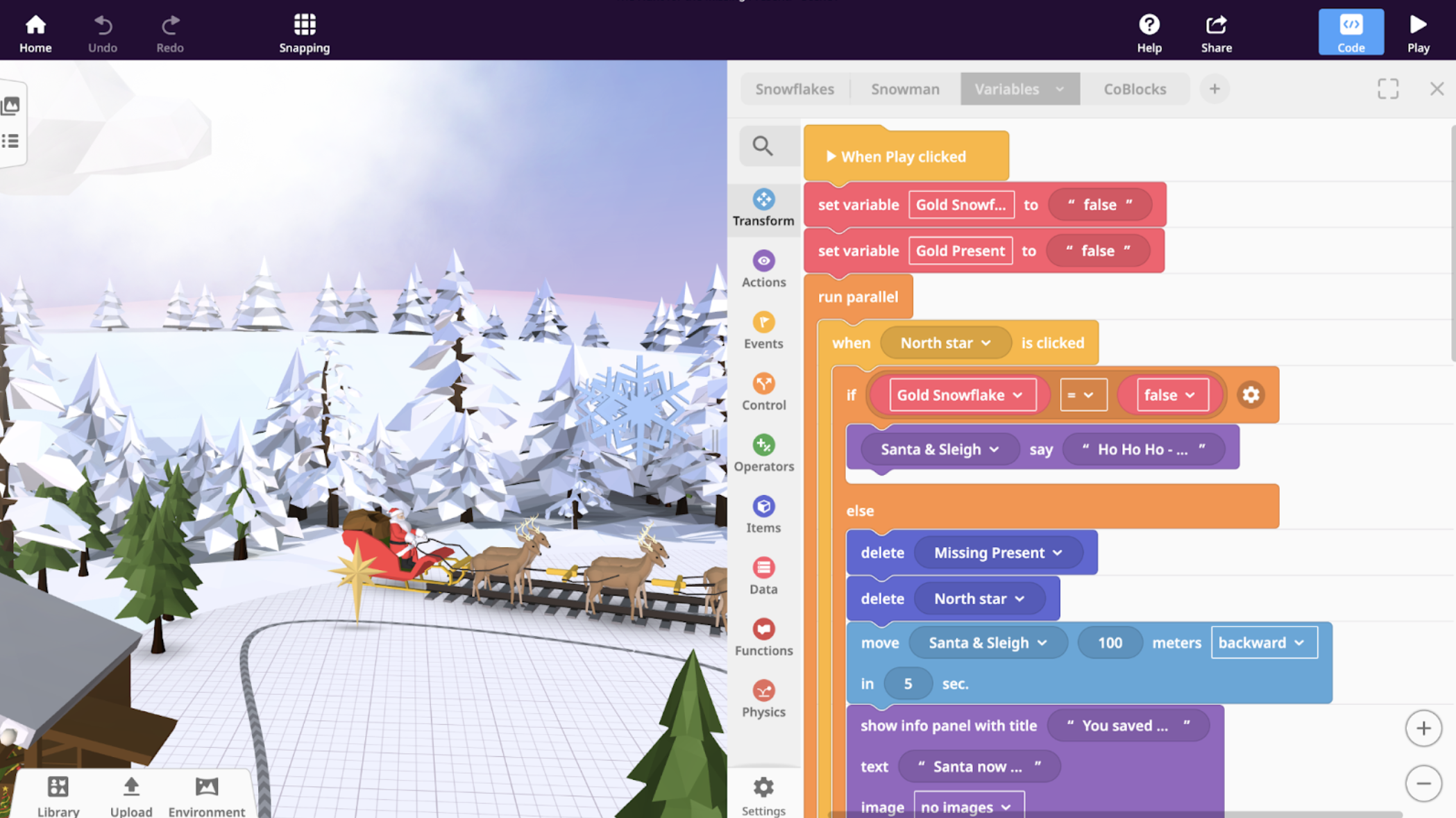 For an even more immersive experience, try out the AR and VR viewing modes within the app too!
Check out my sample game here – https://edu.cospaces.io/NQV-XQT
Learn more about CoSpaces by visiting their website here or by following their social media here.