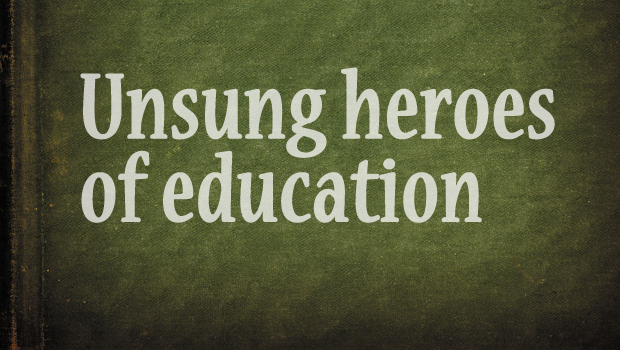 There are lots of people in our profession, particularly now on social media who have made a career out of writing blogs such as mine and from tweeting their daily inspirations. I question myself aplenty about what I do and why I do it. I started this blog simply as a vehicle to share my findings about learning and technology. I hope I still do that. It's true I'm probably in the place I'm at in my career in a way which is probably linked to the sharing I do, but I'm always inspired by those people who make a massive impact upon the world of learning without any accolade other than knowing (and sometimes not knowing – just doing the best that they can do) that they've done an amazing job.
I had the fortune of meeting one such person recently. Her role in her organisation puts her in a place where she has impact on tens of thousands of young people. Swapping her role from being in the classroom, she has moved up the ranks to have an impact on a much more global scale; this person simply rocked my world but does she get recognition for this? I think you know my answer…
We will have seen this in our careers. A previous headteacher of mine was like this. He would rock up at 7.30am and be at the school until 7 or 8pm every single day. He walked the walk and talked the talk and would always do the right thing. He was inspirational but never took any of the credit for himself. Always gave it away and helped others to achieve their potential. Had he won a teaching award? Did he get any credit other than taking his school to great heights and do the best for all of the learners? No, he didn't.
This post is one that is simply short and sweet. Just a simple request, if you will allow me?
You will know your unsung heroes in your school – can you, this week, say thank you? Thank them for all that they do, and then, perhaps ask them if they'd like to share some of what they do with the rest of us? We can learn so much from these amazing professionals. I was really struck yesterday by a post by Emma Kell (@thosethatcan) titled 'Missing Miss'. It's a great example of what I'm talking about, far more eloquently put than I can. Please read it.
So please, can you ask these unsung heroes to share. And then, if you're a Twitter or Staffrm person, share them further. Do you blog? Why not ask them to share their thoughts and put them on to your blog? Why not use one of your Staffrm invites for them? If they start blogging then help them out too? Do what you do yourself. Use hashtags, mention others to draw them to read their stories, their experiences, their wisdom.
These unsung heroes could do with some tales being told about their brilliance and we could all do with learning a bit more.