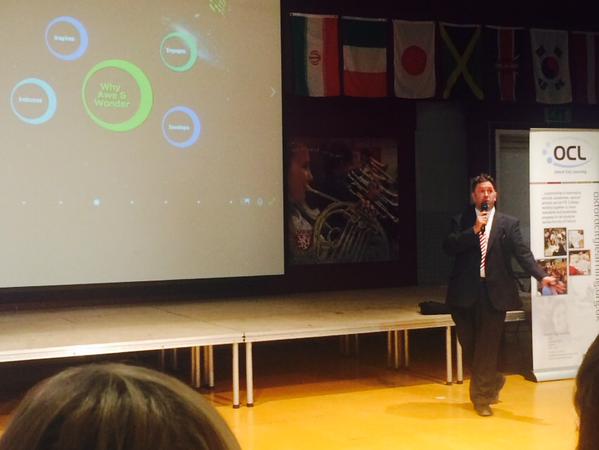 As you'll know, I'm no stranger to Teachmeets but the one I attended last night in Oxford, organised by the dapper Amjad Ali had the ingredients of a really special learning & sharing experience.
It was honest, fun, reflective, full of sharing, laughter and learning. I'll say it here – Amjad should be rightly proud of a simply amazing night. It was slick and tight (and he was a very glamourous assistant too). With a great mix of some legends of the teaching twitterati and honest, frank and inspiring presentations with lots and lots of fun brought to us by the inimitable @actionjackson – it was no wonder it was trending within minutes of it starting. For a full run down of the tweets, check my Storify from the event below:
A massive personal shout out too to @vicgoddard – you continue to be an inspiration Vic – you are one serious radiator!!!
I was going to write my favourite part of the night here but there are too many individual moments to pick one thing. What I would say is that for a school to pull off a teaching and learning event, the day before the end of the most difficult term of the year with so many teachers in attendance is no mean feat. It fills me with real joy to think that our profession has so many passionate educators that 150+ of us can get together to share their practice and ideas when we are all so tired at the end of a long hard term. Congratulations to Cheney School and in particular to Amjad for a simply brilliant night of good learning, reflection and sharing. Congratulations and thanks too to all of the people in attendance, both those giving up their time to learn but also those brave enough to stand up and share, some of whom travelled literally hundreds of miles to attend.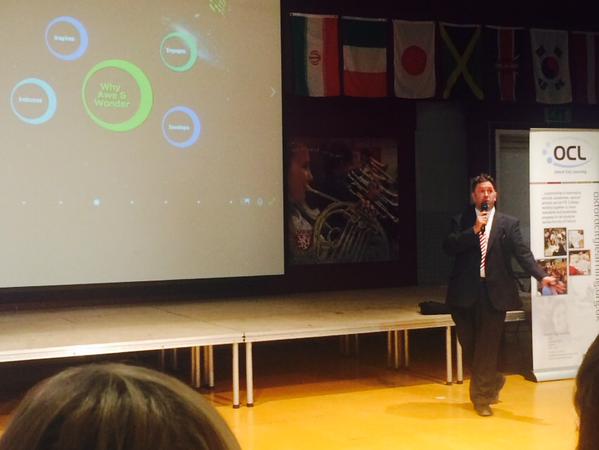 In my presentation I talked about the importance of awe and wonder to engage, enthuse and inspire students. I talked about the power of objects of wonder, how we can use students work to be some of the objects of wonder too – referencing @headguruteacher's post on the topic from part of his great lessons series. I demonstrated a number of great devices to engage students too with Sphero and Ozobot. I then demonstrated augmented reality and its uses in education. I showcased a number of free apps for this purpose:
The one I love most from these in terms of engagement has to be the ColAR app – it is so engaging, primarily because of the ownership each user has with the marker that they use for their trigger. Everyone who colours in their marker wants to see their character come to life. It is highly recommended. Great as a story-writing prompt, it's equally useful in KS1 as it is at KS4. Please do try it out.
All of the apps mentioned are free and available on both iOS and Android.
My presentation was created using a lovely presentation tool called 'Emaze' which is also worth checking out as a presentation tool. Simple to use, free educator accounts and visually stunning (I think any way), it's a great tool to have in your tech using teacher toolkit.
Final thanks again to Amjad for organising a great night. For more information and resources from the night, please follow him and check his site out here >> http://cheneyagilitytoolkit.blogspot.co.uk/2014/12/tmoxford.html