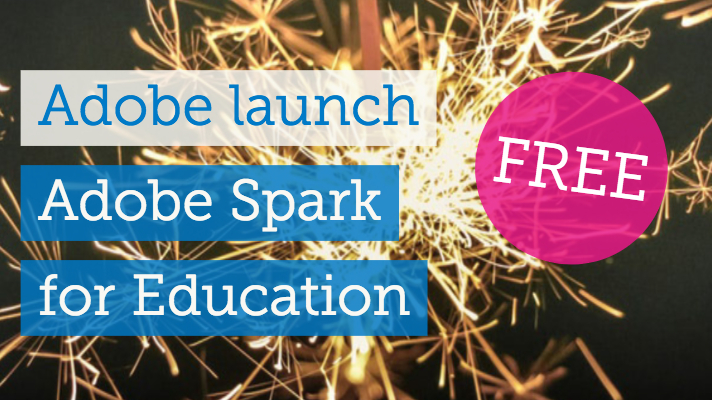 If you've met me or read anything I've written in the last few years, it will most likely have featured either something I've made using Adobe Spark Post or I've been raving about the three apps that are offered within the Adobe Spark range. If you haven't come across them before don't worry, let me explain.
What is Adobe Spark?
Adobe Spark is a suite of three tools which are easy to use, produce beautiful outcomes and foster creativity in learners. Additionally, they can be used in lots of ways to support learning. Let me quickly explain what each does and provide some examples:
Adobe Spark Post – a tool for making posters, collages and other images with text placed on top. Great for reflecting upon learning, creating revision flashcards, wall displays, presentation slides, and all sorts. If you look at the banner images on my blog and on my social media, almost all of the images I create, I create using the Adobe Spark Post app.
Adobe Spark Page – a tool for making beautiful web pages. An example of this would be my monthly newsletter. In class however it could be used in many ways such as creating a web page to promote an activity in school, a Science experiment write-up, a portfolio of images, and a portfolio of student work – again, the uses are huge. Here's an example of one I made earlier.
Adobe Spark Video – a tool for making a presentation which ends up being saved as a video. Created in a similar way to how you would create a PowerPoint presentation, Spark Video asks you to record your voice over each slide to explain the content. Again the uses here are huge. I've shared some ideas in this post here.
Each has featured in their own posts on the site here and in others and all three of the apps have featured in my last few periodic tables of apps. Their use in education both for adults and learners alike is superb. For learners, my favourite has to be Adobe Spark Video for the depth of challenge that you can add to learning activities with the app.
Adobe Spark FREE for Education
In all of my interactions with Adobe, they have always stated that the Spark suite of products will always be free for education and they have recently made further steps to open up access to this brilliant suite of tools for education. Previously, the apps had issues for Primary school users as the age of users had to be 13 and above, this obviously caused issues. It is now 4+. You can also now manage all of your learners' accounts and get them all set up simply via the Adobe Creative Cloud dashboard. For more information on how to get all of this set up and how you might like to use Adobe Spark in your school, then please check out the following links:
Adobe Spark for Education Guide for Teachers
Adobe Spark Professional Development Toolkit
Creative Cloud for Education Deployment Guide
As with many technology companies, Adobe Spark does hold data and so they have to make sure that they are compliant too with GDPR and in relation to COPPA too. Their statement explaining compliance and all related matters can be found here.

Why set up Adobe Spark for Education?
Adobe Spark for Education is the same Adobe Spark that you (probably) know and love (and like Adobe Spark, is free). There are a few key differences between regular Adobe Spark and Adobe Spark for Education though. The most noticeable difference that you will notice as a user is that it's free to access Adobe Spark's Premium features. These normally cost $9.99 per user per month which is pretty cool for education and the outcomes that learners can generate. Another key difference is how it gets deployed and installed.  For all information about this please check out the
Creative Cloud for Education Deployment Guide
. Other critical information for schools includes:
Enhanced data privacy: can be deployed consistent with children's data privacy laws (e.g. COPPA).
Easier login: Ability to set up single sign-on so students can easily log in with their existing school ID.
Enhanced control to keep students safe: Schools own the accounts and exercise admin rights over them. Plus, image results are more age-appropriate for K-12 students.
Premium Features for free: Adobe Spark's Premium Features, used to customise Spark creations, are included for free
So why not speak with colleagues in your school and start accessing all of this for free, today?
You can download the Spark apps for iOS for free on the App Store or you can access them directly from the Spark site. If I'm not using my iPad to create things with the apps then I always use Adobe Spark in my Chrome browser which works great. You can access the tools via adobe.com/express.